Uncategorized
Bryan Cranston Answers Fan Questions (Part II)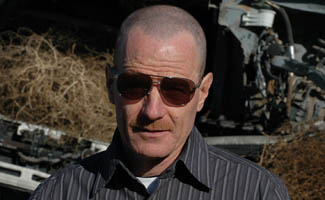 In Part II of Bryan Cranston's chat with fans, the Emmy-winning actor discusses his love of motorcycles, puppies and Philip Seymour Hoffman. Click here to read Part I.
lauraK: Your character seems to be developing a very dysfunctional father/son relationship with Jesse. How do you feel about the direction the characters are taking?
A: Walt has no interest or desire to develop this relationship with him. He's strictly there out of necessity, to facilitate my need. We have nothing in common. He is a nincompoop. I'm a man of science – I actually have some contempt for Jesse. He almost enjoys being an idiot and a drug user. He's failed in everything, and he doesn't seem to want to change. But you're right in the sense that despite all that, the way Aaron Paul plays him, he creates such compassion in people and you feel for him despite what he's doing. I figured out the other day that Jesse is like a puppy dog: He's cute, and he's messy. He shits the rug, and you have to scold him: "Stop it! Just stop it! What's the matter with you?" And then a moment later his tail is wagging and you go, "Oh, come here." And so despite yourself and despite the fact you have to clean up his mess, you still feel for him because there's almost a sense, like a puppy, that he doesn't know any better. For some reason, something skipped in him – some chromosomes were missing, and he doesn't know how to clean up his life. So where did this come from? It's awfully interesting, and we're going to continue to explore it.
kelley_b: If you were told you had a limited time left to live, how would spend it?
A: I would explore the world with my family. I'd probably make a list of the ten places in the world I'd want to see before I die – adventurous places like Machu Picchu in Peru or Easter Island. I'd make a list of the 10 or 12 people that I really want to spend time with before I die — locally one of my heroes is a baseball broadcaster named Vince Kelly and I'd like to meet him. And I'd just spend time with my family. I certainly wouldn't cook crystal meth.
oatgan: If you were to cast another actor as Walter White, who would it be and why?
A I just recently met Philip Seymour Hoffman, and he made it a point to seek me out at a gathering; he came up to me and said how much he loved the show and my character and how much he can't wait for the new season. My mouth was open, it was so cool, which made me think, "God how cool would it be to get him on our show!" He's a brilliant actor and to have another actor say that to you is really very humbling. I think Phil Hoffman would be terrific in that role. There are so many people who could do this – I certainly accept and understand that. But when you create a role you try to leave an indelible stamp. I sense that the question has a hidden thought, which is that it's hard to imagine someone else doing this. But the truth is there are hundreds of actors who could have had this role and done a phenomenal job in it.
RJ: In the video of your house, you are showing off your very nice motorcycle. Is that a Roadmaster? Do you ride the bike much?
A: I have a 2006 Heritage Softail with 16,000 miles on it. I like long-distance riding. To me a motorcycle is best when you're on the open road – when you're cruising up the coast or in the mountains, that's heaven to me. And it's like a zen thing for me, because you're alone. Even when I'm riding with my brother-in-law and other buddies who have their motorcycles, for that period of time you're on the motorcycle you're alone in your thoughts. You just cruise and have thoughts come in and out and you look at pretty scenery and it's very relaxing and exhilarating at the same time. It's an interesting dichotomy being on a motorcycle, and motorcycle riders get it. It's one of those things where you either get it or you don't. And I like that. I think Breaking Bad is that way – you either get it or you don't.
KaraA: What's the mood like on set? Are things always serious?
A: We have a blast. We have a great time, we laugh and we goof around and on our DVD extras for the first season you'll see outtakes and things like that where we're goofing around. You can't keep a somber tone – you keep a distinction between what goes on screen and what goes into making it. Ultimately, it's a suspension of belief, what we do. We're asking the audience to believe I'm Walter White, and I'm going through this ordeal. And that's the contract we have with an audience. But it's not all down – any good drama has a healthy dose of comedy or levity to it, and so do we off camera.
Lance Foxx: Do you believe Breaking Bad has the potential to make it as a feature film?
BC: I would welcome that if the story is appropriate. A story should dictate the medium, not the other way around. In other words, if a story is big enough, or needs to be told over 1.5 to 2 hours and it encompasses a larger frame, then it's probably appropriate to be a film. If a story is better told in chapter form, well that's more a television series. So this story is best told in series format, where you follow a man's life over the course of two years. I don't know that Breaking Bad would work as a film – and I say that, but someone could propose a storyline that's big and has a beginning, a middle and end that really makes a lot of sense. And if that's the case I'm all for that.
Read More