Talk Forum – What You're Saying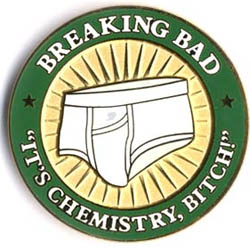 AMCtv.com awards its Talk forum commenters quoted in our weekly "What You're Saying" post with prizes like a Breaking Bad challenge coin or Breaking Bad test tubes (limit one per person).
Season 2 studio photos and downloads have Breaking Bad fans as excited about the show as ever while they continue to applaud the first season.
• "Breaking Bad has no equal on TV. You talk about two characters with chemistry: None better! Like Newman and Redford." — noah

• "I love BB so much, I talk it up to everyone I know, especially those who are interested in chemistry. My science department at school is eager to see the new season." — lisafaz
• "This program will be one that is talked about long after it's gone." — Johnny B Good
Log onto the Talk forum to join in any of these conversations, or to start a Breaking Bad topic of your own.
Read More