Talk Forum – What You're Saying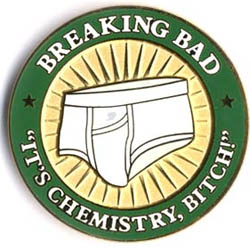 AMCtv.com awards its Talk forum commenters quoted in our weekly "What You're Saying" post with prizes like a Breaking Bad challenge coin or Breaking Bad test tubes (limit one per person).
With the Season 2 premiere only a week away, the excitement among fans is palpable.
• "It is almost here, I cannot wait. I have literally been counting down the days until Season 2 since the finale last year." — Wes
• "I commend the producers and the actors in this over-the-top success! While a drama, to be sure, the scripting is dead bang tight — truly lending an authentic air to the life of the tweeker." — gypsy
• "We can only hope that every new episode continues to hold our interest to the point that we are sitting on the edge of our couches while we watch each "unpredictable scene," week after week! — chris_smoked
Log onto the Talk forum to join in any of these conversations, or to start a Breaking Bad topic of your own.
Read More