Talk Forum – What You're Saying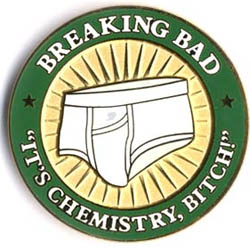 AMCtv.com awards its Talk forum commenters quoted in our weekly "What You're Saying" post with prizes like a Breaking Bad challenge coin or a Breaking Bad t-shirt (limit one per person).
Fans are buzzing about Breaking Bad's upcoming Season 2 premiere on March 8. Some, like Lech Dharma, are becoming impatient: "I have waiting for many months to see new episodes," the post says. "I am about to pull out what is left of my hair!!" Koreaneyoon argues the wait has been long, joking there will be a cure for cancer by the time new episodes begin: "Now that won't be any fun for the show!"
Shelley1 is feeling more optimistic, saying the second season holds as much promise as the first and praising Breaking Bad for "breaking the mold." Her post notes, "We need more unique shows like this and then TV wouldn't be so boring." Amazing_Bubba agrees, saying "The first episodes made many people, including myself, say that it was the best TV they had seen in a long time."
Log onto the Talk forum to join in any of these conversations, or to start a Breaking Bad topic of your own.
Read More