Talk Forum – What You're Saying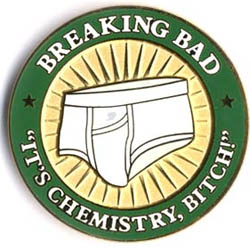 AMCtv.com awards its Talk forum commenters quoted in our weekly "What You're Saying" post with prizes like a Breaking Bad challenge coin or a Breaking Bad t-shirt (limit one per person).
As the Season 2 premiere nears, Breaking Bad fans are wondering what dangers await Walt and Jesse. laz3000 wants to know how Badger got back after Jesse left him in the desert — "Great back story. Maybe he gets back and tries to beat him up or something and Walt has to kill again!" Breaking_Bad_AZ wants to see more of Elliott, Walt's graduate school buddy and former business partner, citing "a lot of possibilities in this direction." laz3000 also thinks "Tuco has to come back! Raymund Cruz is the bomb! I mean he's awesome in The Closer, but what a psycho he is in this. I love it!"
Turning to plot developments, neonyeti suggests that Jesse should convince Walt to "diversify his portfolio," branching out from meth to counterfeiting postage stamps. The post goes so far as to suggest dialogue for Jesse: "We would only have to deal with the Postmaster General, if that. Dude, it would be like printing money, only without the, uh, scrutiny. What do you think?" Ben imagines a White family vacation: "Walt and family are at Disneyland when a user recognizes him and starts begging. Walt ends up beating him up." Milesy28 cooks up an elaborate scenario that has Walt manufacturing 4-methylaminorex as a substitute for meth: "Tuco likes the new stuff and asks for more," the post says. "Meanwhile Marie reveals to Walt she is a DEA spy, and tells him she'll do everything in her power to protect him."
Log onto the Talk forum to join in any of these conversations, or to start a Breaking Bad topic of your own!
Read More