Talk Forum – What You're Saying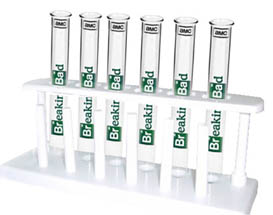 AMCtv.com awards its Talk forum commenters quoted in our weekly "What You're Saying" post with prizes like aBreaking Bad challenge coin or Breaking Bad test tubes (limit one per person).
The excitement is still building for the Season 2 premiere on March 8. After the writers' strike, Kagetsu expected to never see another new episode: "I thought this show was dead," the post states. "As the only non-scifi drama I'll watch, I'm very glad it's returning." Geederedout, happy to see new episodes for an altogether different reason, states, "I am a recovering addict and lived the lifestyle and did some time for it…You guys come really close to the real deal."
Meanwhile, Maynard84 is pondering how much Jesse benefits from his association with Walt. "Jesse can't do anything without Walt as we saw when they parted ways," the post states. "Walt is dying so he goes to the grave knowing his family is taken care of but Jesse will have the chance to use this money and get his life together. Jesse for sure has the better deal."
Log onto the Talk forum to join in any of these conversations, or to start a Breaking Bad topic of your own.
Read More