Talk Forum – What You're Saying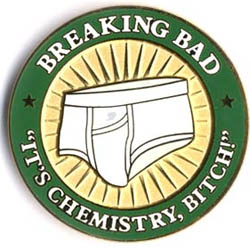 AMCtv.com awards its Talk forum commenters quoted in our weekly "What You're Saying" post with prizes like a Breaking Bad challenge coin or Breaking Bad test tubes (limit one per person).
Revelations of Season 2 plot details had fans reflecting on Breaking Bad's first season while they count down the days to March 8. Breaking Bad Fans states, "Thumbs up to the cast, crew and all involved in the making and outcome of Breaking Bad." Shelley1 writes, "You have done a bang-up job in creating the most original series on TV." Her post goes on to ponder Walt and Skyler's relationship, stating, "I just wish Skyler would give Walt a break. But she is pregnant and mood swings are prevalent — been there, done that!"
Cranston4Lyfe, 23 years old, applauds the network for "creating what is perhaps the greatest show of all time" and says Breaking Bad "put AMC on the map for a lot of people my age. We're all addicted to the show, and we need our fix. I can't handle the withdrawal symptoms much longer."
Log onto the Talk forum to join in any of these conversations, or to start a Breaking Bad topic of your own.
Read More