Press
Breaking Bad Pilot Is Best TV Episode of '08, Says iTunes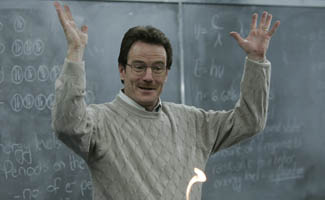 You know it's official when Steve Jobs weighs in. Breaking Bad's pilot has been named the best episode in a dramatic series on Apple's iTunes 2008 list. The year-end review of movies, television shows, audiobooks, podcasts, iPhone applications features the most purchased items this year, plus "best of" selections in several genres.
Bryan Cranston's performance in the "compelling" Breaking Bad is described as "less a guilty pleasure than a tragic look at the unexpected choices we have to make to support our families. Desperate measures, indeed."
AMC's original series Mad Men isn't left out in the cold. Its second season was the fifth-highest-selling television show this year, beating out network heavyweights Heroes and Lost.
Read More