Awards
Breaking Bad Wins AFI and Satellite Awards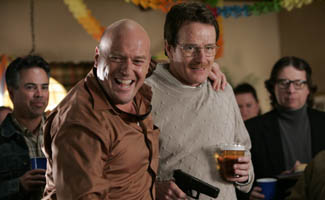 Awards season is steaming ahead, and Breaking Bad continues to pile on the plaudits.
The American Film Institute recognized the drama as one of the best TV programs of the year, placing Breaking Bad in good company with In Treatment, John Adams, Life, Lost, The Office, Recount, The Shield, The Wire and AMC's other original series, Mad Men.
Not to be outdone, the International Press Academy gave Breaking Bad's star, Emmy winner Bryan Cranston, a Satellite Award for best actor in a dramatic series. Cranston beat out In Treatment's Gabriel Byrne, Dexter's Michael C. Hall, Doctor Who's David Tennant, Brotherhood's Jason Isaacs and Mad Men's Jon Hamm for this prestigious award.
Read More