Games, Polls & Quizzes
What's Your Favorite Season 1 Episode?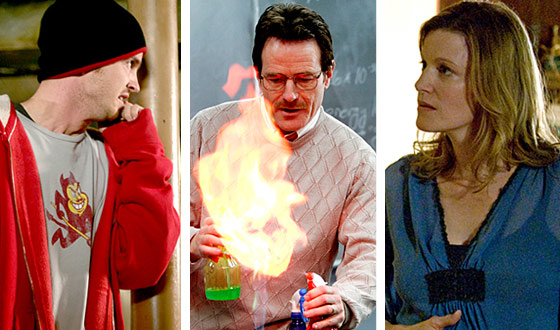 Around this time of year, it's an American tradition to create Best of lists. But for this one, we need your input: What's your favorite episode of Breaking Bad? Read the recaps below, rank them in the accompanying poll, then tell us your reasoning in the comments section and you'll be entered in a random drawing to win a set of Breaking Bad test tube shot glasses.
Episode 1: "Pilot": After finding out he has cancer, high school chemistry teacher Walter White teams up with former student Jesse Pinkman and turns a used RV into a mobile drug lab.
Episode 2: "Cat's in the Bag…": Walt and Jesse decide to kill Krazy-8; after a coin toss, Jesse is left with the less-horrifying task of chemically disincorporating the dead body of Emilio.
Episode 3: "…And the Bag's in the River": Walt and Jesse scrub up Emilio's remains; Walt strangles Krazy-8 to death.
Episode 4: "Cancer Man": Walt reveals his diagnosis to the family; Jesse moves in with his parents and tries to convince Walt to cook again, but both send him away.
Episode 5: "Gray Matter": Walt's former colleague Elliott throws a birthday party; Skyler gathers the family for an intervention to convince Walt to accept treatment.
Episode 6: "Crazy Handful of Nothin'": Walt pressures Jesse to approach a new distributor, Tuco; after Tuco beats up Jesse, Walt bombs his hideout, then strikes a deal.
Episode 7: "A No-Rough-Stuff-Type Deal": Walt and Jesse raid a chemical plant for a key meth ingredient; Skyler gets in trouble trying to return a baby tiara Marie had shoplifted; Tuco beats up his own henchman for talking out of turn.

Read More