Games, Polls & Quizzes
Watched the Marathon? Take the Quiz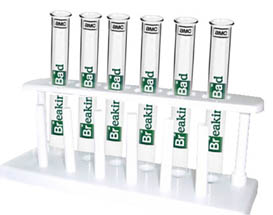 Now that Breaking Bad has received a couple of accolades from the Academy of Television Arts & Sciences (or in layman's terms, the Emmys) and you spent last night boning up on the series during AMC's back-to-back-to-back Season 1 marathon, it's time to put your knowledge to the test with our Season 1 Ultimate Fan Quiz.
If you scored 100 (and even if you didn't), take a shot at the bonus question in the comments section below. A correct answer will enter you in a random drawing for a set of Breaking Bad test tube shot glasses. Now that's a test worth taking.

Bonus Question: What weapon does Badger fire at Jesse when he's driving away in the Winnebago?
Read More