Press
Breaking Bad Nabs 4 Emmy Nominations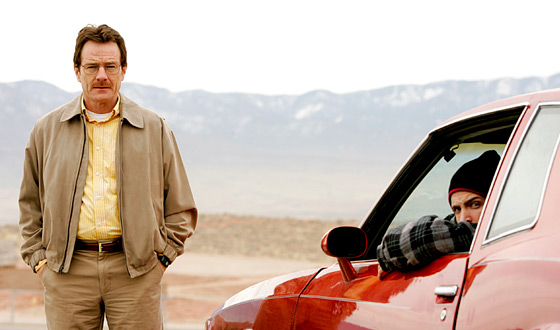 Breaking Bad has nabbed four Emmy nominations for its debut season — including recognition for Bryan Cranston as lead actor in a drama series — as AMC garnered the most nominations of any basic cable network.
The drama, renewed for a second season, is also honored for Outstanding Cinematography for a One Hour Series (for Director of Photography John Toll), Outstanding Directing for a Drama Series (for the show's creator Vince Gilligan) and Outstanding Single-camera Picture Editing for a Drama Series (for Editor Lynne Willingham).
"This is a milestone moment for AMC. To be considered among the best on television by the Television Academy of Arts and Sciences for the network's original series, Mad Men and Breaking Bad, is a truly distinct honor," says Charlie Collier, AMC's General Manager and Executive Vice President.
"We congratulate Vince Gilligan on Breaking Bad's nominations and Bryan Cranston for his incredible performance, earning him his first Emmy nomination as a Lead Actor in the Drama category."
Cranston is up against Jon Hamm of AMC's Mad Men, Boston Legal's James Spader (last year's winner), Dexter's Michael C. Hall, House's Hugh Laurie and In Treatment's Gabriel Byrne.
The 60th annual Emmy awards ceremony will air on Sunday, September 21.
AMC 2008 EMMY NOMINATIONS
Outstanding Art Direction for a Single-Camera Series
Mad Men • Smoke Gets In Your Eyes (Pilot) • AMC • Lionsgate Television
Bob Shaw, Production Designer
Henry Dunn, Art Director
Rena DeAngelo, Set Decorator
Mad Men • Shoot • AMC • Lionsgate Television
Dan Bishop, Production Designer
Christopher Brown, Art Director
Amy Wells, Set Decorator
Outstanding Casting for a Drama Series
Mad Men • AMC • Lionsgate Television
Kim Miscia, Casting Director (Pilot)
Beth Bowling, Casting Director (Pilot)
Laura Schiff, Casting Director (Series)
Carrie Audino, Casting Director (Series)
Outstanding Cinematography for a One-Hour Series
Breaking Bad • Pilot • AMC • High Bridge Productions, Inc. and Gran Via Productions in association with Sony Pictures Television
John Toll, A.S.C., Director of Photography
Mad Men • Smoke Gets In Your Eyes • AMC • Lionsgate Television
Phil Abraham, Director of Photography
Outstanding Costumes for a Series
Mad Men • Smoke Gets In Your Eyes (Pilot) • AMC • Lionsgate Television
John A. Dunn, Costume Designer
Lisa Padovani, Assistant Costume Designer
Outstanding Directing for a Drama Series
Breaking Bad • Pilot • AMC • High Bridge Productions, Inc. and Gran Via Productions in association with Sony Pictures Television
Vince Gilligan, Director
Mad Men • Smoke Gets In Your Eyes (Pilot) • AMC • Lionsgate Television
Alan Taylor, Director
Outstanding Single-Camera Picture Editing for a Drama Series
Breaking Bad • Pilot • AMC • High Bridge Productions, Inc. and Gran Via Productions in association with Sony Pictures Television
Lynne Willingham, A.C.E., Editor
Outstanding Hairstyling for a Single-Camera Series
Mad Men • Shoot • AMC • Lionsgate Television
Gloria Pasqua Casny, Department Head Hairstylist
Lucia Mace, Key Hairstylist
Anthony Wilson, Additional Hairstylist
Barbara Cantu, Additional Hairstylist
Outstanding Main Title Design
Mad Men • AMC • Lionsgate Television
Mark Gardner, Designer/Director
Steve Fuller, Designer/Director
Cara McKenney, Main Title Producer
Outstanding Makeup for a Single-Camera Series (Non-Prosthetic)
Mad Men • The Hobo Code • AMC • Lionsgate Television
Debbie Zoller, Department Head Makeup Artist
Ron Pipes, Key Makeup Artist
Suzanne Diaz, Additional Makeup Artist
Outstanding Prosthetic Makeup for a Series, Miniseries, Movie Or A Special
Mad Men • Nixon Vs. Kennedy • AMC • Lionsgate Television
Debbie Zoller, Department Head Makeup Artist
Joel Harlow, Special Makeup Effects Artist
Brian Penikas, Additional Special Makeup Effects Artist
Jake Garber, Additional Special Makeup Effects Artist
Outstanding Lead Actor In A Drama Series

Breaking Bad • AMC • High Bridge Productions, Inc. and Gran Via Productions in association with Sony Pictures Television
Bryan Cranston as Walt White
Mad Men • AMC • Lionsgate Television
Jon Hamm as Don Draper
Outstanding Supporting Actor In A Drama Series

Mad Men • AMC • Lionsgate Television
John Slattery as Roger Sterling
Outstanding Guest Actor In A Drama Series
Mad Men • AMC • Lionsgate Television
Robert Morse as Bertram Cooper
Outstanding Drama Series
Mad Men • AMC • Lionsgate Television
Producers TBD
Outstanding Writing For A Drama Series
Mad Men • Smoke Gets In Your Eyes (Pilot) • AMC • Lionsgate Television
Matthew Weiner, Written By
Mad Men • The Wheel • AMC • Lionsgate Television
Matthew Weiner, Written By
Robin Veith, Written By
Read More