Press
Variety Says Bryan Cranston Could Win an Emmy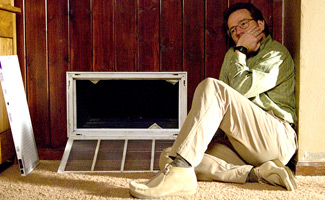 As part of their Road to the Emmy's coverage, Variety's Robert Abele focuses on one of Breaking Bad's leading contenders, Bryan Cranston. "Not many series' protagonists start with a death sentence such as lung cancer and then further threaten their lives by getting involved with violent drug dealers and lawbreaking," writes Abele. "With this character, humor comes from a different place," adds Cranston, who clearly has left his Malcolm in the Middle days behind him.
To help establish his character as a "physical specimen of life-beaten suburban anomie," Cranston tells Variety he had some help from the make-up department. "I wanted a mustache that made me feel impotent when I looked in the mirror, and I sure got it." His favorite thing about Walt? "His humanity. He's the ultimate human being, with good points and frailties."
Walt is becoming a different person, explains the actor. "It's the stories you hear about lifting the car and pulling the child out, running into a blazing fire." Walt's illegal approach might not sound as heroic but Cranston sees him as a guy providing for his family under desperate circumstances.Cranston seems more than happy to be a part of what Abele calls "AMC's original drama club." The actor says the channel is fostering creativity.
Read More