Uncategorized
Win a Winnebago (Toy Model): Week XIV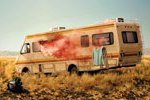 Here's your chance to be the proud owner of a toy-sized version of Walt's Winnebago. Tell us: What was your favorite moment of Breaking Bad's first season?
Once again, we'll randomly pick a winner from the answers and award a replica of the RV from the show.
This is the final week of the contest, so be sure to leave a comment to enter for your last chance to win.
UPDATE: A winner has been randomly selected — PartyInMyMouth wrote, "When Jesse kept that guy from coming down to the basement and kicked everyone out during the open house." Thank you all for playing!
Read More