Uncategorized
Q&A: Dean Norris (Hank Schrader)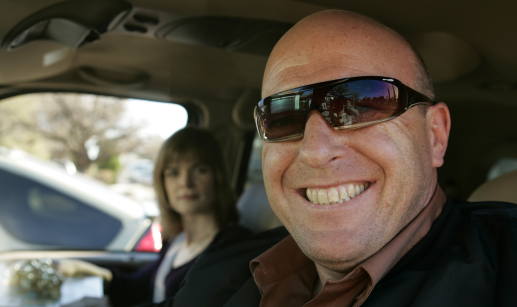 Breaking Bad's Dean Norris talks about jumping from heavies to comedies and shares his DEA rap in this exclusive interview with AMC.
* To view the Breaking Bad main site, with sneak peeks, exclusive video and more, click here. *
Q: What makes you such a good cop?
A: I don't know man [laughs]. I've played a lot of 'em. I think the physicality is certainly a part of it. Also having played so many cops, I've talked with a lot of technical advisers, so I've been able to pick up a lot. Coincidentally, one of my best friends growing up is a cop in Chicago, and one of my other best friends out in LA is a sheriff. So I get to see all the components of that culture. It's fun now to play cops with a little more humor to them, though. They're a little more interesting than just the hardcore guys.
Q: Hank has more than a little humor to him. He's the comic relief. Is that new for you?
A: When I was in college I did a lot of comedy. And when I came to LA — I guess because of my look — I ended up doing a lot of cops. I'm not complaining, but I got slotted into those kinds of roles. And then I played a funnier cop in Little Miss Sunshine and a lot of people liked it: I ended up getting called in on comedy movies all of a sudden. I don't know if it opened the door to doing Breaking Bad or not. But when I auditioned for the role, I was sitting in the room waiting to audition and Betsy Brandt was there — I didn't know her at the time, but we were sitting there. I said to her, 'This is funny, isn't it?' She said, 'Yeah I think it's funny, right?' We were both going back and forth to reinforce each other because at first I wasn't sure. Thank God, she agreed with me because that's the way I played it going into the first meeting with Vince.
Q: Steven Michael Quezada, who plays your partner Gomez, is actually a stand-up comic. Did he give you any tips?
A: He didn't. I think he found that there's a big difference between being a stand-up comedian and an actor. When you're a stand-up, you play in front of 600 people and it's all about timing. I could never do stand-up comedy; it would be way too hard for me. But I think he actually found comfort in being able to work with me to bring his stuff down a little bit. So it was really vice versa: He looked for tips from me on how to be funny while keeping it real within the scene.
Q: What was the inspiration for Hank's Behind the Gun web videos?
A: When we were shooting the first episode I was sitting around thinking, "I've got a lot free time." So I said, "Hey guys, can you give me a camera and let me go off and do some funny skits?" They said okay, and we went out — we actually shot lots and lots more stuff. I don't know how much we'll be able to put together. I've got a Hank rap song that's really good.
Q: A Hank rap song? Can we have a preview?
A: He's the H to the A to the N to the K / He's the Hank, He's the Man, He's the DEA / So if you're set on the crank, stay out of my way / 'Cause I'm the Hank, I'm the man, I'm the DEA. It goes on and on.
Q: What is your favorite moment from the show thus far?
A: Certainly for me the intervention scene is one of the best scenes I've ever seen on TV, and I thought it was unusual that you had five people engaged in the scene for such a long time. It's like a 10-minute scene and it was written so well. It was the moment on the set where we all gelled and everybody played their part perfectly, then it was topped off by Bryan's phenomenal speech. We did that scene the whole day, and every single time he made that speech he did it well enough that it would make you cry. The first read-through of the episode, just a sitting around the table, I went up to him afterwards and I said, "Hey man, thanks for the four-year job."
Read More