Uncategorized
Q&A: Thomas Golubic (Music Supervisor)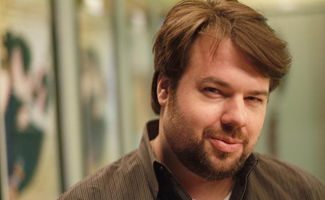 Breaking Bad's music supervisor Thomas Golubic talks about finding the perfect song and Walt's secret room for listening to R&B.
Q: How did Gnarls Barkley end up premiering a song for the finale?
A: I went to Sundance for a DJ gig and bumped into a friend. He mentioned in passing that he had just finished work on the new Gnarls Barkley record — I didn't even know there was a new Gnarls Barkley record. So I basically reached out to the Gnarls Barkley management and ended up getting a copy of two tracks way way before the release. One of them was "Who's Gonna Save My Soul." And when I heard it, I thought: My God, the lyrics are absolutely perfect. We needed something that was going to end the series on a big note and really capture that feeling of Walt and Jesse having just got into something really really deep. It was like the heavens dropped the song in my lap.
Q: Do you ever hear a song and think: I have to get it in the show?
I'm very wary of falling in love with a song and being convinced it should go in the show. I hear songs where I think "Oh that's completely Walt", or "That's something Jesse would have," but there are many different flavors in this show. A lot of the music doesn't effect Walt or Jesse — music of the outside world, whether it's the shoe store or the clothing store — it's very pretty and a little bit numbing. It's very easy, soft, a solipsistic quality to the world outside of them. The world outside is a drugged up world of its own. Everything's a little bit too slick and too pleasant. Then you have this world of Walt and Jesse, which is ragged and bursting with awkward enthusiasm. It's the dichotomy of the two different worlds.
Q: How did your work as a music supervisor for Breaking Bad compare to your stints with Las Vegas and Six Feet Under.
They're so different. Las Vegas was initially a slick, modern, fast-paced television series. James Caan was in it. And it was very exciting to work on a show that had so many possibilities for modern music. Six Feet Under was totally different. It had so many different characters and everybody had a specific kind of world that they lived in. For a character like Claire, we got to take her from being an angry rebellious teenager listening to music that was a fuck you to the world to a very complicated, music-intensive adult human being who'd been to art school and had her heart broken. I'm really excited to see where we go with Walt Jr.'s taste in music. That's something we haven't had a chance to tap into yet. I think he's going to be a very interesting character as he develops. I'm already mentally preparing for vetting Walt Jr. and seeing where he goes.
Q: You've introduced a number of under-the-radar musicians like Darondo, the In Crowd and even Rodrigo and Gabriela to larger audiences. But how about the Haydn?
A: I did a lot of classical music with Six Feet Under. You know — music appropriate both for funerals and having dinner. In that show, the mom had a fantasy about being a ballerina as a child so I got a lot of chances to learn and play with the nuances of classical music. That was one of my favorite parts of Six Feet Under. For this show, we didn't have that many opportunities for classical music, so when it came to introducing Jesse's family, it was like: I know this family. They're sophisticated, upper middle class folks. They're going to have some nice pleasant dinner music going on. It's also a shorthand way of showing this is a family that believes in children playing instruments like the piccolo and growing up with classic literature and classical music. It also shows that these are parents who are a little too pushy about the world they want to impose upon their kids and in that pushiness they're pushing them away. That Haydn piece has an excessive formalism to it. If they'd simply had something a little more relaxed, maybe a little Ravel, Jesse probably would have responded better.
Q: What kind of music does Walt like?
A: Walt has many secrets. Even though we haven't had Walt listen to music much, I've always thought that if he had a little quiet room somewhere in the house where he could listen to music, he would listen to very deep R&B and soul. I think he has a natural affinity to music that's emotional and poignant. But it's something that he wouldn't share with other people. But there's something really rootsy and warm about the music that Walt cares about. We really get to dive into Walt's music phase hopefully in Season 2. It's going to be very strong and powerful and potent soul — even if he doesn't have a big record collection.
Read More