Uncategorized
Q&A: Bryan Cranston (Walt White) — Part I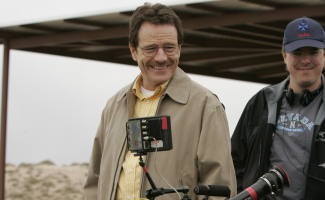 Actor Bryan Cranston shares his diet and fashion secrets in the first of AMC's two-part interview.
Q: You've spent a good portion of your career doing comedies: first in Seinfeld, then in Malcolm in the Middle. Now you're in a drama. Was that a hard transition to make?
A: I enjoy doing comedy for the fact that you go to work and you laugh. That's a good combination. I did that for seven years, and after a while you go, 'Okay, now I should really focus on doing something else.' But I think any good drama worth its weight always has a sprinkling of comedy in it, because you can ease the tension to an audience when it's necessary, and then build it back up again. Walt White has no clue he's occasionally funny, but as an actor I recognize when there are comedic moments and opportunities. For instance in the pilot when my brother-in-law is giving a toast at my birthday party. We originally had beers set up, and I said, 'Wait a minute. What if Dean takes the beer out of my hand and doesn't even think twice of it? The guy who he's celebrating now doesn't have his own drink for his own toast, and he's left with a gun and he doesn't really know what to do with the gun.' It's not big, it's just little subtleties that people can find humorous.
Q: Walt's personality splits between the straight-laced person he is in the beginning, and the guy who snaps and "breaks bad." Is it difficult to play two versions of the same character?
A: I think what happens to Walt is typical of any person, and I approached him as a guy anybody can relate to. Especially men. We are more than what you see, and Walt was sitting on a volcano of emotions because he's oppressed himself for many years by his decisions–he's turned inward and he's gotten soft and flabby and myopic in his daily grind. But I think everybody knows that underlying every man is the potential for volatility. And you just need the right incendiary device to have the explosion. But that still doesn't change him at his core, of who he is as a person. He's still Walt White, but it's an addition to who he has allowed himself to be over the last 25 years. So it makes it more of a dichotomy of character that has to co-exist with who he is.
Q: Speaking of flabby, was it hard to gain and lose so much weight over the course of the season?
A: No. I guess that irks women to death. I got him up to 186 pounds at first: nice little love handles and soft middle, that kind of thing. And then when it came time to go on the chemotherapy diet, I dropped that and got down to about 171 pounds in ten days. And it's really not that difficult. You just basically cut out all the carbs and reduce your portions so you're not having massive amounts of food. I just stayed with the regimen and got the crew to start eating the same way I was. Everybody was dropping weight.
Q: How does it feel to see multiple-story billboards of yourself in tightie-whities?
A: Walt has no sense of image. And Bryan…well, I know that my sense of image is different from my character's, so I don't really think about it. Nine years ago when I made the decision for Hal in Malcolm in the Middle to wear tightie-whities, it was funny but appropriate–that character was a man-boy. Then last year when I was going through the wardrobe, I went in to find out what kind of underwear I was going to wear. And I just kept looking back at the tightie-whities. Clearly there is no other underwear that's as funny as tightie-whities on a grown man. But I kept looking at it, thinking, 'Is it right?' And then my thought was, 'Why am I hesitating?' And I just thought, 'Oh God, it's just so sad that he would be wearing them.' And then I realized: that's perfect.
Log on to the Breaking Bad blog tomorrow to catch the second part of our interview, where Bryan Cranston dishes on making out with Anna Gunn, and his own personal brush with the law.
Read More