Uncategorized
Q&A: Aaron Paul (Jesse Pinkman) — Part II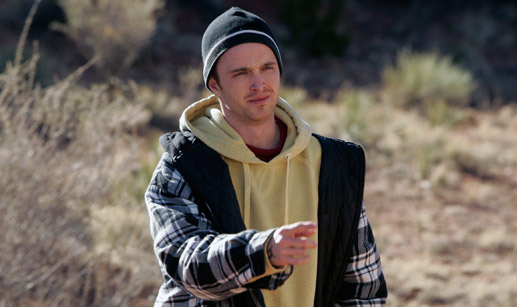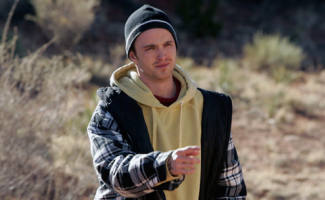 In the second part of our two-part interview, Breaking Bad's Aaron Paul discusses the tragedy of drug addiction and dishes on a backstage poker game that ended in disaster.
Q: How difficult is it to put yourself in Jesse's shoes?
A: It's fun to tackle, but it's also very dark and sad at times, especially with the research I did and reading these stories about families that have been destroyed by this horrible drug. And I personally in my life have had people that I'm really close to, I've watched them get lost in this drug, and it literally ate their soul alive. They turned from these beautiful creatures into different people altogether, which is so sad.
Q: Do you feel like Jesse has reached that point?
A: In my head, I don't feel that he's actually reached that point yet. But I feel, with the things that are happening in his world now, he's going in this downward spiral. People are dying and he's losing his mind. He's never been in this situation before. He's been cooking and selling for awhile, but it's never been this hardcore. But after he and Mr. White team up, everything comes unraveled.
Q: What are you actually smoking in the scenes where Jesse is doing meth?
A: It is sugar. I'm not actually inhaling the sugar in my lungs though; I'm just putting it in my mouth and blowing it out. It actually boils up to this disgusting brown color. It doesn't taste good–it tastes like you're licking the side of a cotton candy machine. That's exactly what it tastes like actually, not that I have licked the side of a cotton candy machine.
Q: Were there any on-set antics while you were filming?
A: Oh man, this is horrible. Bryan and I set up a poker night on the lot — we decided we would make this a weekly tradition after we wrap on Friday nights. And of course the first time we try it, some wrestling starts happening. Bryan and I weren't wrestling — though I wanted to — but there was just some wrestling that was happening, and this guy that was working with us, he actually ended up shattering his foot. We just heard this loud pop. Someone called an ambulance, there were all these people showing up wanting to know what happened. We were like, 'Everything is fine, our buddy he kinda twisted his ankle walking down the stairs.' It was too bad too, because this guy was literally just talking about how excited he was to finally work on a show that everyone is so passionate about and that's so gritty and edgy and new. And then this happened, and he couldn't work. So that was the end of poker night. We got back on set the next day and Stewart Lyons 9series producer and unit production manager], oh bless his heart, he just looks at us and shakes his head, like, 'Whatever.'
Read More