Interviews
Q&A: Max Arciniega (Krazy-8)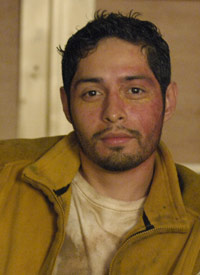 Actor Max Arciniega sometimes worried he was going to go down in history as "the guy who had one line in Barbershop 2 ." Now, thanks to his break out performance as Krazy-8 in episode three of Breaking Bad, he can put that fear to rest. He talks about being shackled to that pole, nine minutes with Bryan Cranston, and his character's surprising ability to stay alive.
Q: Did you know ahead of time that your character was going to be killed in episode three?
A: You know what, honestly, I got more than I expected to get. Originally, I was only doing the pilot and in the pilot episode, you know, I technically died…once we got picked up I kinda started hearing through my agent that they had me on hold to possibly do a couple more episodes and I was like "Really? Wow, that's weird. Cause my character is dead."
Q: Any chance he could come back from the dead again? They show him getting choked but they don't show what happened to the body.
A: Rrrright. It's funny. I have absolutely no clue. I can only say I hope so just cause it was such a great time to work with such amazing people. You never know. It's television. Maybe there will be some flashback scenes or something.
Q: How many hours were you shackled to that pole?
A: I thought man it would be pretty cool to ask the director if it's okay to stay tied up to this pole the entire day without moving just to get a sense of the agitation of being locked down and knowing that Walter's been holding me down there for such a long time. Everyone on set found out I was going to do it so they started putting bets that I wouldn't be able to last there all day…I ended up staying there nine hours straight. And it really did help me out. The following day I was so sore from my back to my butt. It was horrible. But it helped for the character.
Q: You have that great scene with Bryan Cranston when his character is deciding whether or not to kill you. Was it intimidating working with him?
A: It was honestly more relieving and exciting than it was intimidating. It's not an easy scene to pull off
because it's so long. It's a nine minute scene and you hope you don't lose the audience. In this case, I had Bryan so it was really just working off of him. When I first started it was a little intimidating 'cause he was the dad from Malcolm in the Middle. I'd watched him so many times on TV, but once I got to know him as a person and got a chance to hang out with him we became good friends and we still remain friends.
Read More