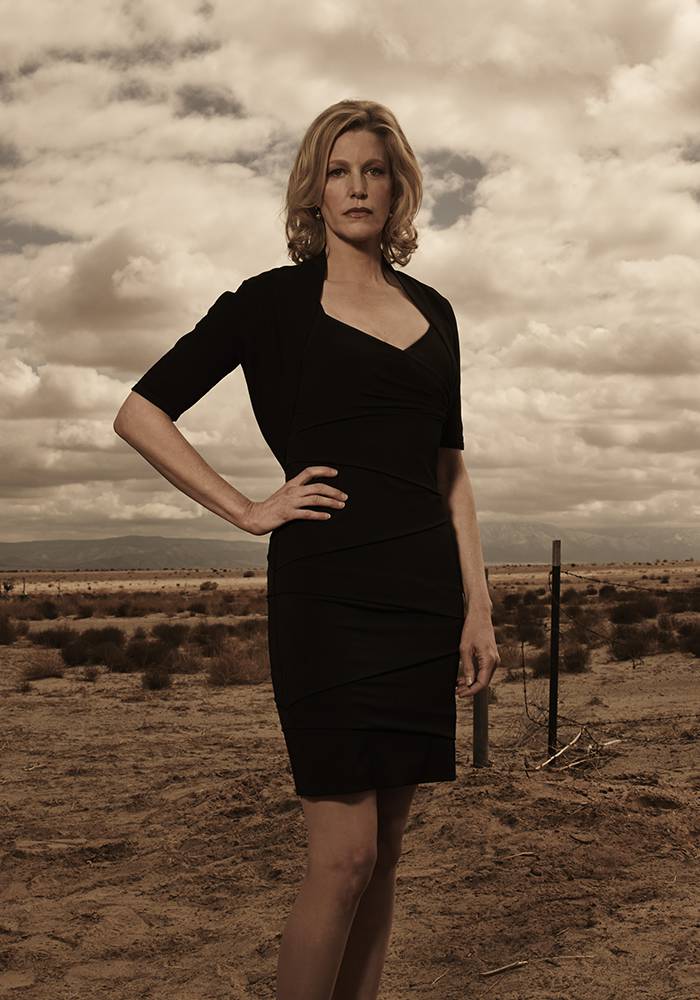 Skyler White is

Walt

's wife and the mother of their children,

Walter, Jr.

and Holly. Upon learning that Walt makes meth, Skyler demands a divorce and threatens to call the police if he doesn't leave the family alone. When Walt calls her bluff, Skyler doesn't implicate him because she doesn't want Junior to find out that his dad is a criminal. Instead, Skyler retaliates by beginning a loveless affair with her boss,

Ted Beneke

, who is committing major fraud to keep his business afloat.

Sensing that injuries her brother-in-law Hank suffered in a drug-related shootout are connected to Walt's activities, Skyler offers to pay for his medical bills, explaining to Marie that Walt won a lot of money playing illegal card games. Knowing that Hank would never accept charity, the sisters agree not to tell him that the Whites' are augmenting his insurance.

Skyler embellishes this cover story after convincing Walt to buy the car wash where he once worked part-time. As its accountant, she will be able to launder his drug earnings through the business. Walt exasperates her by purchasing a flashy sports car for Walter, Jr., contradicting their "story."

"Someone has to protect this family from the man who protects this family," she remarks pointedly.

When the IRS audits Ted's company, Skyler fears that -- as his former head bookkeeper -- she and Walt will be audited too. Without telling Walt, Skyler provides Ted with money to reimburse the IRS. Unfortunately, after Gus threatens to kill Walt's family, Walt searches for the cash to relocate his family permanently. He discovers that it's missing, and horrified Skyler is forced to admit why.

Without the money, Walt tells Skyler that his only option is to go after Gus alone. While in protective custody with the Schraders and her children, Skyler waits anxiously for news from Walt, who calls her after Gus is killed. "We're safe," he says. "I won."

As Walt becomes more consumed with power, Skyler grows depressed and fearful of her husband. She insists the kids live elsewhere for safety reasons. When Walt refuses, she fakes a mental breakdown by walking fully-clothed into the pool during Walt's birthday party. The incident forces Walt to send the kids to Hank and Marie while the Whites supposedly work on their marriage.

After several months of flourishing business, Skyler takes Walt to a storage space where she's been keeping his excess cash flow. "I want my kids back," she tells him. "I want my life back. How big does this pile have to be?"

Afterwards, Walt comes home and tells Skyler, "I'm out."

A prominent actress on both stage and screen, Anna Gunn has portrayed a vast array of complex and powerful characters throughout her career.

Gunn garnered a 2012 Best Supporting Actress Emmy Award nomination and two consecutive Best Supporting Actress nominations by the Broadcast Television Journalists Association for a Critics' Choice Television Award in 2012 and 2013 for her role as Skyler White. She was also recently nominated for the Outstanding Actress Award by the Monte-Carlo Television Festival and has received two Saturn nominations for both Best Actress and Best Supporting Actress.

Gunn has effortlessly moved among television, film and theater. In 2004, she landed her breakout television role playing Martha Bullock on HBO's seminal show Deadwood, later receiving a SAG Award® nomination for Best Ensemble Cast in 2006. Gunn's association with Deadwood creator David Milch began early on when she first worked on his hit drama NYPD Blue, giving a memorable performance as Kimmy, a junkie longing to escape New York. Gunn made such an indelible impression on Milch that she became the template for the pivotal character of Martha on Deadwood. Another major recurring role for Gunn was on David E. Kelley's The Practice, delivering a notable turn as ADA Jean Ward opposite Dylan McDermott and Lara Flynn Boyle. Her extensive television credits also include starring roles in several made-for-television movies and major guest-starring appearances on such hit shows as Six Feet Under, ER, Boston Legal, Law & Order and Seinfeld.

Highlights of Gunn's feature film work include the dark comedy Nobody's Baby, in which she starred with Gary Oldman and Mary Steenburgen; the film premiered at the 2001 Sundance Film Festival. In 1998, she played opposite Jon Voight in Tony Scott's summer blockbuster Enemy of the State. Her first starring role was in the 1995 independent thriller Without Evidence, alongside Angelina Jolie. Her recent films include Kevin Smith's Red State, Little Red Wagon and Sassy Pants, for which she received a nomination at the 2012 Milan Film Festival for Best Supporting Actress. Gunn is workshopping a powerful role in a new indie film this June at the Directors Lab at the Sundance Institute.

Gunn is also a highly regarded actress of the stage. In 2009 and 2011, she created leading roles in two world premiere productions: photojournalist Sarah Goodwin in Donald Margulies' Time Stands Still and the title role in Alan Alda's Radiance: The Passion of Marie Curie. Both roles received great acclaim under the direction of Daniel Sullivan at the Geffen Playhouse in Los Angeles. In 1999, she played Isabella in Measure for Measure at the Ahmanson Theatre, helmed by the famed director Sir Peter Hall. In 1997, Gunn made her Broadway debut alongside Roger Rees in The Rehearsal at the Roundabout Theatre and starred in the 1995 American premiere of Terry Johnson's Hysteria, directed by Phyllida Lloyd at the Mark Taper Forum. Early in her career, Gunn built an impressive resume performing on stage in Chicago. She garnered exceptional reviews in Uncommon Ground at the Northlight Theatre, and starred opposite Jeremy Piven in Keith Reddin's Peacekeeper at the American Blues Theatre. While still an undergraduate at Northwestern University, she landed her first professional acting role, playing Lucy Lockit in the critically acclaimed production of The Beggar's Opera at the Court Theatre.

Gunn currently resides with her two daughters in Los Angeles, CA.

Read an interview with Anna Gunn for Season 1 »
Read an interview with Anna Gunn for Season 2 »
Read an interview with Anna Gunn for Season 3 »
Read an interview with Anna Gunn for Season 4 »
Read an interview with Anna Gunn for Season 5 »
Read an interview with Anna Gunn for the Final Episodes »
Skyler White Quotes
There will never be a better deal, Ted. The deal is you pay your back taxes, you pay your penalty, and you don't go to prison.

EP 410 "Salud"
Ted, are you blackmailing me?

EP 411 "Crawl Space"
I gave it to Ted. Walt, I had to. For us, for the family.

EP 411 "Crawl Space"
I need you to look me in the eye and tell me right now. Are you in danger?

EP 403 "Open House"
Something along the lines of you weren't man enough to face him yourself. That you had to send your woman to do your business for you.

EP 403 "Open House"
Now I'm offering eight hundred. Why? Well, because you're an unpleasant person, Mr. Wolinitz. You were rude to me and disrespectful towards my husband.

EP 403 "Open House"
Look at Watergate. One little piece of duct tape left on a door brought down the president of the United States.

EP 403 "Open House"
Do you really want to try to sell a DEA agent some ill-prepared, half-assed, full-of-holes story about how we suddenly have enough money to buy a car wash?

EP 404 "Bullet Points"
There can't be any mistakes like before. There has to be complete honesty.

EP 405 "Shotgun"
Maybe you should move back in, you know, just so it's easier to explain to everyone.

EP 405 "Shotgun"