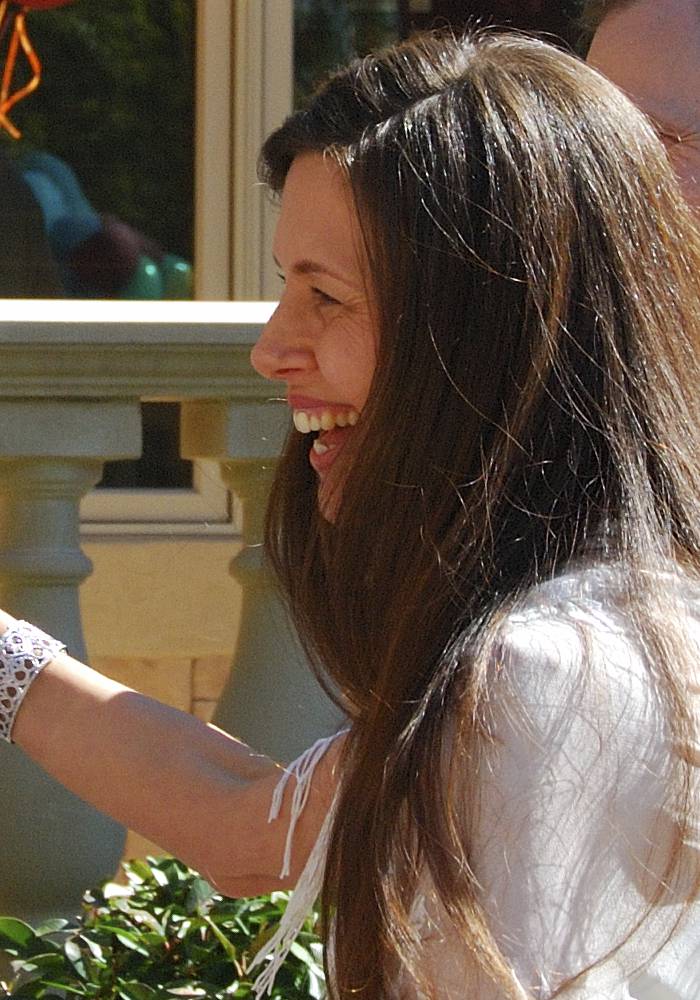 Gretchen is the wife of

Walt

's graduate school colleague

Elliott

and his former lover. The three collaborated on research that led to Elliott's Nobel Prize and thriving business, Gray Matter. Elliott and Gretchen offer to pay for Walt's cancer treatments, but Walt refuses their charity. "Is this about you and me?" Gretchen asks. At the time, Walt brushes off the question, but it resurfaces after

Skyler

— who thinks the Schwartzes really are funding her husband's treatment — thanks Gretchen for saving their family.

Walt, alone with Gretchen, pleads with her not to reveal the truth but won't explain any of his actions. Waving her checkbook around won't make him forget how she and Elliott "cut me out" and made millions off his research, Walt says. Gretchen reminds Walt that he was the one who left her without explanation, abandoning both her and Elliott. "Little rich girl, just adding to your millions," Walt retorts.

"I feel so sorry for you, Walt," Gretchen finally says. "F___ you," he responds.

When Walt lets slip about his second cell phone, Skyler eventually gets Gretchen to admit that she and Elliott are not funding his treatment.

On film, Jessica Hecht has just completed work on >Helena From the Wedding, an ensemble drama from Beech Hill Films. She will next appear as Sam Rockwell's wife in The Winning Season as well as in 25/8 directed by horror master Wes Craven. Jessica was just seen with Larry David in Woody Allen's Whatever Works. Other notable films include Dan in Real Life with Steve Carell, Starting out in the Evening with Frank Langella, Sideways with Paul Giamatti, The Forgotten with Julianne Moore and The Grey Zone directed by Tim Blake Nelson.

Jessica Hecht's television work is extensive and most recently includes a recurring role on Breaking Bad. Well known for her 5 season recur as "Susan" on Friends, she starred with Jonathan Silverman in The Single Guy and with Joan Cusack in What about Joan? created by James Brooks. Equally adept in drama or comedy, Jessica's many memorable performances include appearances on ER, Law & Order, Law & Order SVU, Homicide: Life on the Street, Seinfeld and Jesse Stone: Thin Ice with Tom Selleck.

One of New York's most respected stage actors, Jessica will be on Broadway this fall in the revival of two of Neil Simons award winning plays, Brighton Beach Memoirs and Broadway Bound. Her other Broadway credits include Arthur Miller's After the Fall, Shakespeare's Julius Caesar opposite Denzel Washington and the world premiere of the Tony Award winner The Last Night of Ballyhoo. Her many Off-Broadway starring roles include Make Me (Atlantic Theater), Stop, Kiss (The Public), Lobster Alice and Plunge (Playwrights Horizons), Flesh and Blood (N.Y. Theater Workshop) and The Fourth Sister (Vineyard Theatre). She also has performed the past seven seasons at the world famous Williamstown Theatre Festival.
Gretchen Schwartz Quotes
Walt: "I don't know… seems like something's missing."
Gretchen: "What about the soul?
You have a good-shaped head!
How can you say that to me? You walked away; you abandoned me.
I don't even know what to say to you. I don't even know where to begin. I feel so sorry for you, Walt.