Q&A
Better Call Saul Q&A — Michael Mando (Nacho Varga)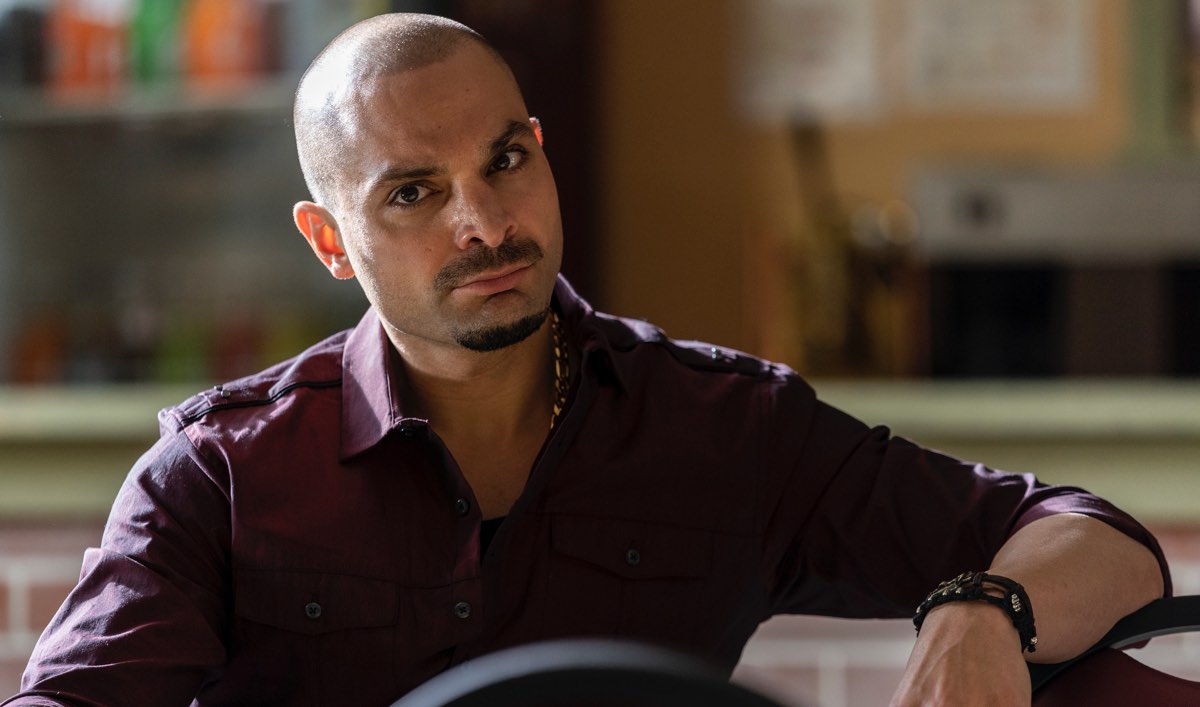 Michael Mando, who plays Nacho Varga on Better Call Saul, talks about how Nacho has changed, the importance of his father and contending with Gus and Lalo.
Q: Nacho seems less stressed and more confident alongside Gus and Lalo at the start of this season. Is he getting better at playing the two sides?
A: I think it's more a consequence of maturing. It's a consequence of a man having been through tension and learning to deal with tension. That's a testament to the writing. The characters are allowed to grow and even change archetypes throughout the course of the series, which is very rare. And Nacho has done a lot of maturing. He started off as a cub and grew into a tiger. And some of it comes from observing the people he respects, particularly Mike, and other parts of it just come from trials and tribulations and I think him understanding his own nature.
Q: Who is worse for Nacho, Lalo or Gus?
A: Whichever of the two is a direct threat to his father. There is no reasoning with Lalo. On the other hand, Gus is heavily dependent on Mike, who is an ethical character, at least in the underground, so it gives Gus a slight advantage over Lalo, in the sense that he's got Mike on his side and Nacho can reason with Mike, or at least he hopes he can.
Q: Nacho lives with multiple women that do drugs and don't seem to be living a "clean" lifestyle. How would you explain his choices in his personal life?
A: I think that's a direct result of isolation and loneliness that can both lead to bad choices. What I love about these writers is they write very human characters with human needs, and I think, despite being part of the cartel, he's an intelligent and affectionate person at the core of it, and you can be both. And he's human and he's got human needs.
Q: Gus's men come for Nacho at night. They bring him to his father's place, they put a gun to his father's head. Does this make Nacho fall more inline working for Gus, or push him further away?
A: I think that, in the mind of Nacho, he believes — and that's something that his father has taught him and you could see it in their relationship — that any self-respecting man will not allow another person outside of himself to dictate his will, and especially when that person is doing it to the detriment of Nacho and against everything that he is striving to be, which is a better person, which is to regain his father's love. And I think, to Nacho, his father's love is bigger than money. It's even bigger than life and death. And I think Gus's methods are sadistic and I think, at this point, Nacho is truly understanding that the only kind of respect that matters is self-respect and Gus's logic seems irrational. And I think that's something that Mike probably sees as well.
Q: When a Salamanca drug spot is under siege by cops, Nacho goes in to get the drugs. Is this all to gain Lalo's trust like Gus asked him to?
A: The real intention is really to buy himself more time so that he can keep his father safe and figure out how to get out of the cartel. And earning Lalo's trust is just the only immediate next logical step. But, having dealt with Tuco and Hector, Nacho knows that he is not of Salamanca blood and he will never mean anything to that family and will always be expendable, so he knows that trust will not necessarily get him that far.
Q: When Lalo questions Domingo's loyalty, Nacho asks if he should take care of it despite the fact that he's his old family friend. Would he have done it?
A: I don't think so, no. You have to look at the character in his totality. This is a man who's willing to sacrifice himself and jump between two buildings at his own peril to save somebody else that he loves. And I don't see this kind of character accepting to kill a family friend. He doesn't seem to have a lot of allies, and the very few people he loves, it seems deep and honest and sincere. And even though we haven't had a lot of scenes, Domingo and I, I believe his father and Domingo are probably the only two characters in this universe that he seems to have a real affection towards.
Q: Lalo is asking Nacho to sit down for meals with him. Is there a part of him that wants his respect?
A: I think Nacho, again, has really matured and come to understand that to seek anyone's approval in this game will only lead you astray from your own self. And I believe that's the mistake that got him to join the cartel in the first place. I think he wanted to be somebody and thought that to be somebody was to have value in the eyes of your peers and your friends and to have flashy things. And I believe, as life has sort of pushed him to maturity, he's become very clear about what truly holds value in his life, and I think the only respect that matters to him at this point is self-respect — which is a respect that can be attributed to the standards of his father.
Nacho's father is arguably the most moral character in the Breaking Bad universe. He's a guy who can't be bought, who can't be intimidated or bullied into something that he believes is morally wrong. And you make that person Nacho's father and then automatically you know that Nacho has that same capacity and has, at some point, that same sensitivity to morality. Nacho's father has this spiritual, kind of subconscious quality of a saint, and Nacho feels that his father is the purest thing in the world and, in comparison, he's strayed so much from the light that I think he's willing to walk through fire in order to get back to home. It's like Ulysses. Nacho's arc is a journey back home into himself, into his values, into who he really is. He wants to get back home, and home is not necessarily a physical place. It's a place where he feels that he is of his father's flesh.
Q: How do you feel about heading into the sixth and final season?
A: I've never played a character this long, and I have to say I've grown to love the character so much. I've spent so much time in his head. I've gotten to know him so intimately because Nacho's personality is more in his soul than in what he says. He's a man of action and you could see it and feel what he's thinking, as opposed to him telling you what he's thinking. And when you dive into a character so deeply, I think you really get to love them and know them, and I really think he's got a good soul. I just think he's surrounded by psychopaths and sociopaths, and it's a bit sad. I've also fallen in love with Nacho's father and their dynamic.
And I believe in second chances. I think this is a redemption story, and I feel that the character has truly done everything he possibly can, including risking his own life, to do the right thing, and I'd like to see a character like that rewarded…I have total faith in Peter [Gould] and Vince [Gilligan], and I'm sure that whatever outcome they choose will be the most satisfying for the series as a whole.
Read a Q&A with Bob Odenkirk, who plays Jimmy McGill on Better Call Saul.
New episodes every Monday night at 9/8c. To stay up-to-date with all the latest news, sign up for the Better Call Saul Insiders Club.
Read More