Press
USA Today on Saul's TCA Award Win; Bob Odenkirk Talks Gene With TheWrap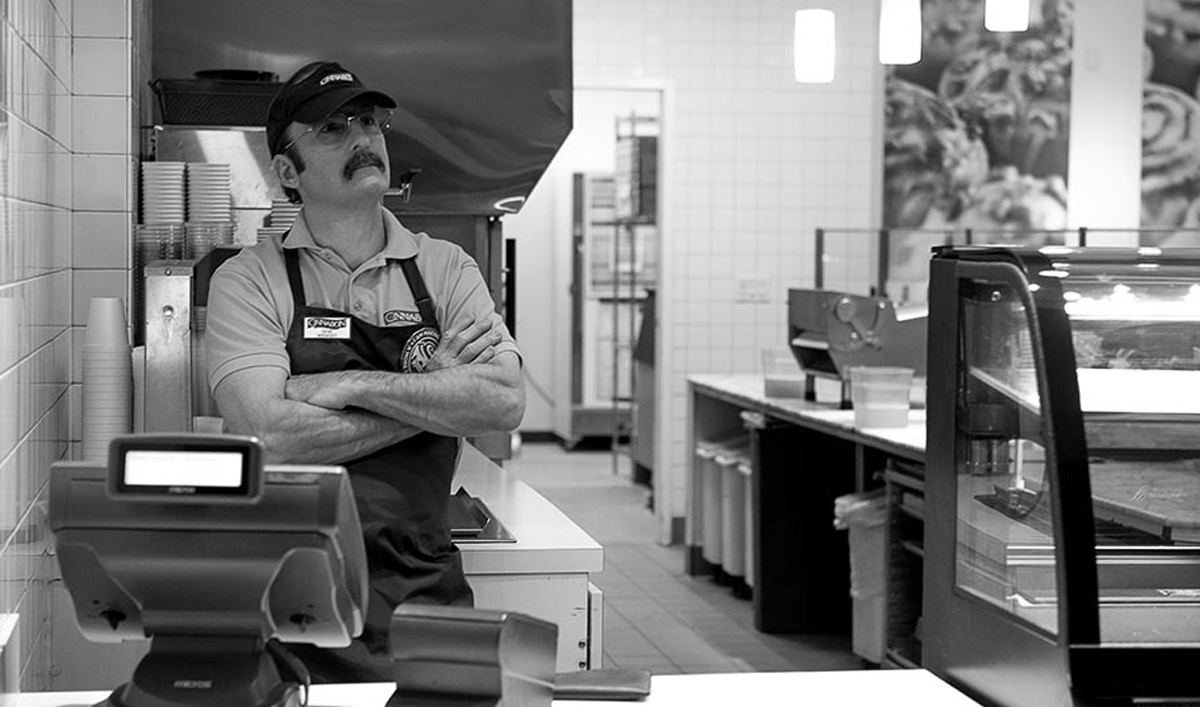 This week, USA Today reports on Better Call Saul's TCA Award win for best drama, while Bob Odenkirk discusses Gene with TheWrap. Plus, TV Guide laments Chuck's passing as one of TV's most heartbreaking. Read on for more:
• USA Today reports that Better Call Saul won the Television Critics Association Award for Outstanding Achievement in Drama.
• Bob Odenkirk tells TheWrap that he thinks Gene will factor into Better Call Saul's ending, saying, "I think they intend to take that character somewhere and land it."
• Chuck's death is one of TV Guide's most heartbreaking because "Chuck was the rare anchor in Jimmy's life and his death left his brother truly adrift."
• The Los Angeles Times, noting that "an entire Emmy win can be based on a single scene, a critical moment that turns a TV series from an entertaining romp or thrill ride into, well, art," spotlights the scene from the Season 4 Finale where Jimmy says his emotional breakdown in front of the law board was all a con.
• Variety argues that Bob Odenkirk deserves an Emmy because Jimmy is "slowly transforming into the huckster attorney Saul Goodman, and Odenkirk continues to showcase the heartbreaking nuance of that evolution."
• Gold Derby reports that Giancarlo Esposito is entering Season 4's "Piñata" as his 2019 Emmy Awards submission in the Best Drama Supporting Actor category, while Jonathan Banks is submitting the Season 4 Finale, "Winner."
• Variety, citing Michael McKean as an example, praises this year's Emmy nominations because there's "room for legends to get notice, especially in the lead actor categories. And in some cases, they are seeing accolades for the first time in decades — or ever."
• For its part, The Hollywood Reporter, using Michael McKean as an example of an older acting Emmy honoree, points out that "seasoned performers not only are finding new opportunities on TV but also hitching themselves to prominent projects among the ever-flooding waters of Peak TV."
• Screen Rant tallies up the "combined episode count, including the couple of voice-only appearances, for Breaking Bad and Better Call Saul" actors (Bob Odenkirk's at No. 1, with 76 episodes).
• 25YL pens a figurative ode to Kim, who "has a quiet strength that I find very realistic and far more compelling than the usual 'strong women' we see in TV and film. Kim isn't out there kicking a** and saving the world, but she can try to save it one client at a time."
• Screen Rant explores some of the most memorable quotes from Jimmy, "one of the most complex, multidimensional characters on TV" who "makes watching the series a compelling, moving, and even hilarious experience."
To stay up-to-date with all the latest news, sign up for the Better Call Saul Insiders Club.
Read More