Press
Peter Gould Speaks With THR; Bob Odenkirk Visits Jimmy Kimmel Live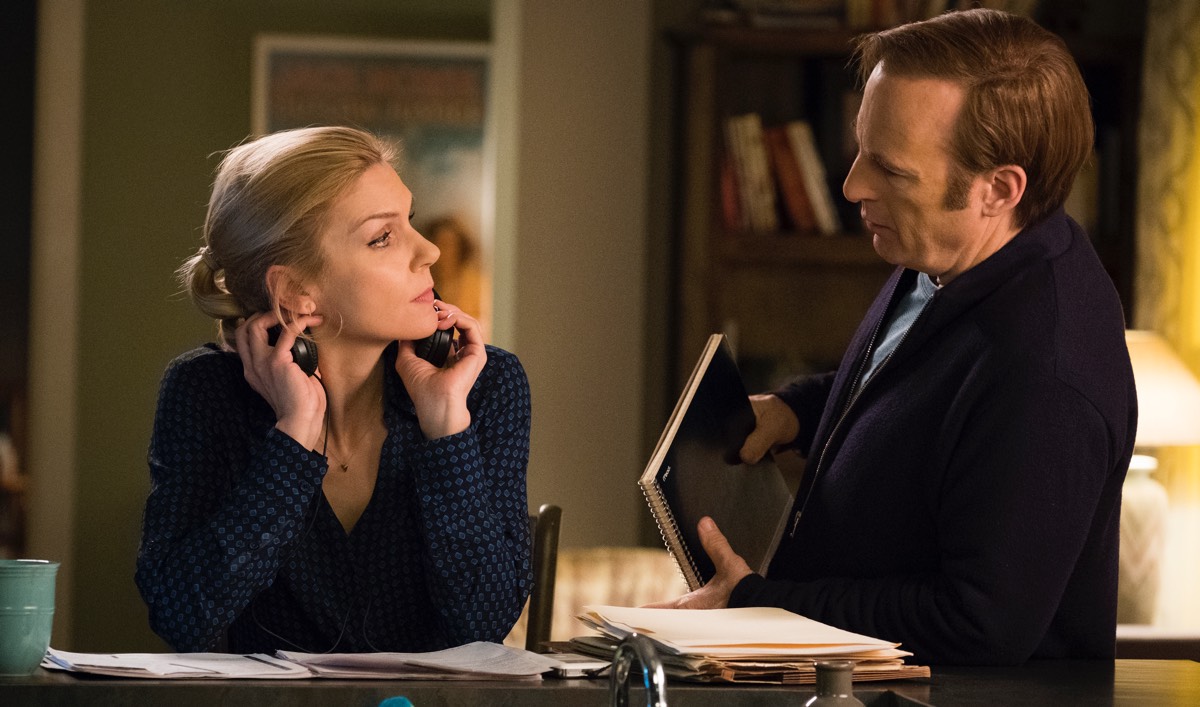 This week, Peter Gould speaks with The Hollywood Reporter, while Bob Odenkirk pays a visit to Jimmy Kimmel Live. Plus, Giancarlo Esposito talks to Vanity Fair about his Emmy nomination. Read on for more:
• Peter Gould tells The Hollywood Reporter that Season 4 was "really the moment when we understood" that Jimmy "doesn't want to be Jimmy McGill anymore because of everything that happened with Chuck and everything else in his life."
• During an appearance on Jimmy Kimmel Live, Bob Odenkirk teases, "I promise you, all the fans of Better Call Saul, this is for sure the best season ever. I'm just knocked out. Five — they're pouring all their focus and attention on it."
• At Vanity Fair's pre-Emmy party, Giancarlo Esposito reveals he had a stomachache when he heard about his nomination, saying, "I was just getting my courage up to get to the gym when my phone rang and it was my publicist. It made my day and it made my tummy feel better."
• According to The Hollywood Reporter, Bob Odenkirk regrets that Rhea Seehorn didn't get an Emmy nod: "She had an amazing season as Kim, season four was Kim season, I thought. Her character was more a crux of the plot than almost anyone else."
• TheWrap interviews Bob Odenkirk, who says, "I don't think he ever really is completely Saul or completely Jimmy. There's always a little bit of Jimmy inside Saul and there's always a little bit of Saul inside Jimmy. For me, it's navigating a constant shape-shifting and less of a feeling of having to rise."
• Backstage's guide to this year's Emmy nominees praises Bob Odenkirk (who's "giving an increasingly refined performance"), Jonathan Banks ("a master of the close-up") and Giancarlo Esposito ("What delicious menace Esposito brings to the camera frame; sometimes it feels like it can't contain his power").
• Discussing Chuck's effect on Jimmy, Bob Odenkirk explains to Gold Derby that Jimmy "makes some poor choices because of his resentment and anger about that, and a feeling that the only avenue for him is to do the wrong thing and take the shortcuts."
• Awards Circuit estimates that Michael McKean is the frontrunner for the Best Guest Actor Emmy, due to his "perennial status, attachment to a heralded spinoff of Breaking Bad, and former neglect from the Academy."
• CarterMatt declares, "We want to see closure of Jimmy/Saul in the past, but also Gene in the future. That's without even mentioning whatever could happen to Kim Wexler, the character who still has the most overall question marks hanging over her. Will she make it to the future, or will she die or depart, never to see Jimmy again?"
To stay up-to-date with all the latest news, sign up for the Better Call Saul Insiders Club.
Read More