Press
TV Guide Praises Saul; Gold Derby Chats With Bob Odenkirk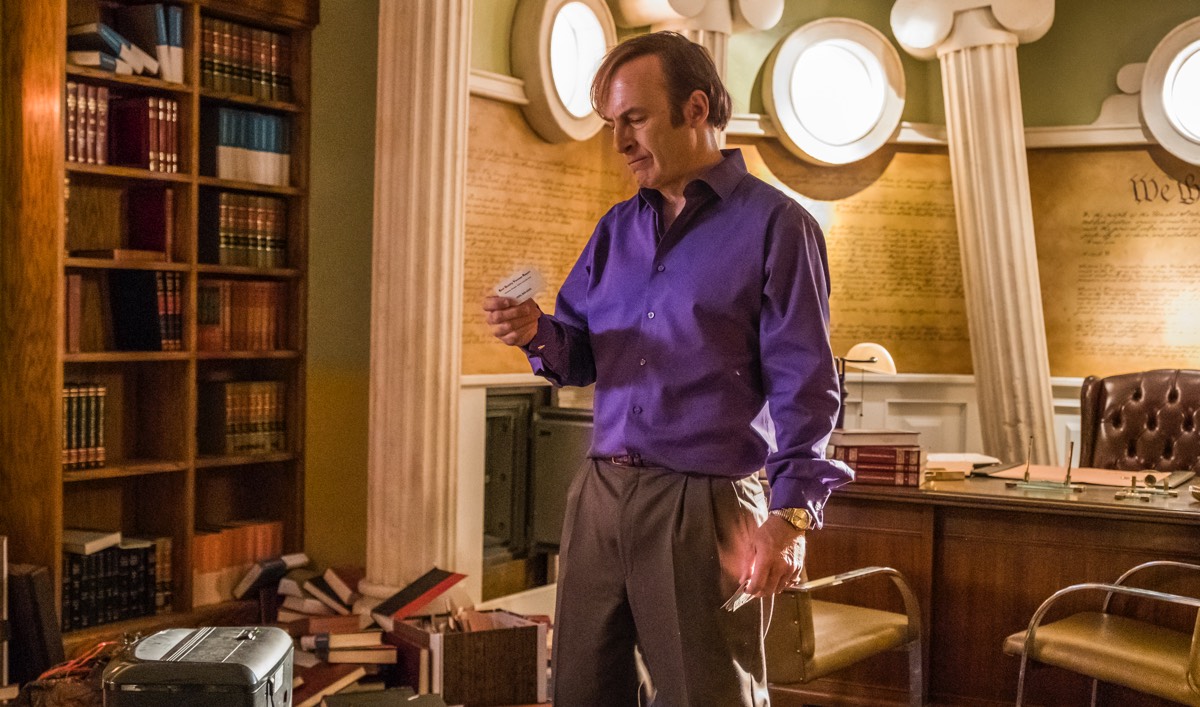 This week, TV Guide has high praise for Better Call Saul, while Gold Derby interviews Bob Odenkirk. Plus, The Hollywood Reporter talks to Giancarlo Esposito about acting with a broken ankle. Read on for more:
• TV Guide, noting that Seasons 1, 2 and 3 are available on Netflix and Season 4 is available on Amazon Prime — declares, "When it comes to TV spin-offs, AMC's Better Call Saul easily ranks among the best of all time."
• Gold Derby interviews Bob Odenkirk, who thinks Jimmy has now become Saul: "I feel that in his heart and in his mind he's there. He's Saul. He just needs to get the office and come up with the idea that, 'Who will be beneficiary of these particular skills? Who would value them the most?'"
• Giancarlo Esposito speaks with The Hollywood Reporter about acting with a broken ankle in Season 4: "The problem for me was to be able to heal enough to not be thinking about my ankle and be thinking about what the scene is about. For me, that's the all-important thing. I get on the set, I'm very, very focused."
• Rhea Seehorn tells Backstage her 10 years of "failed" auditions was worth it, since the show's casting directors "told me it was my audition [that booked me the role] but also them knowing a 10-year body of work of mine that no one had ever seen. It made me cry when they told me that. I brought my A-plus game to every one of those auditions."
• Uproxx considers Better Call Saul one of Netflix's best shows, calling it "the most detail oriented and perhaps the smartest show on television, and one hell of an intense, suspenseful drama, which is all the more impressive because we know roughly where it will end up."
• CarterMatt declares that Season 4 "saw the strongest performances to date from Bob Odenkirk and Rhea Seehorn alongside a story that was about managing grief, destruction of labels, and Jimmy deciding to slip so far that he wasn't quite recognizable as his old self."
• Julie Ann Emery, chatting with BriefTake, observes that Vince Gilligan is "very attracted to actors that are bringing something to the table that he didn't think of or bringing something to the table that deepens what his original idea was."
• Goliath advocates watching the show: "From the same brilliant mind that brought us Breaking Bad, Vince Gilligan has knocked it out of the park with his Better Call Saul spin-off."
• White Wolf names Better Call Saul one of the all-time best, noting that "it'd be a surprise if the series isn't considered one of the best when it's over."
To stay up-to-date with all the latest news, sign up for the Better Call Saul Insiders Club.
Read More