Press
TV Guide's Rhea Seehorn Q&A; Bob Odenkirk Talks With Awards Daily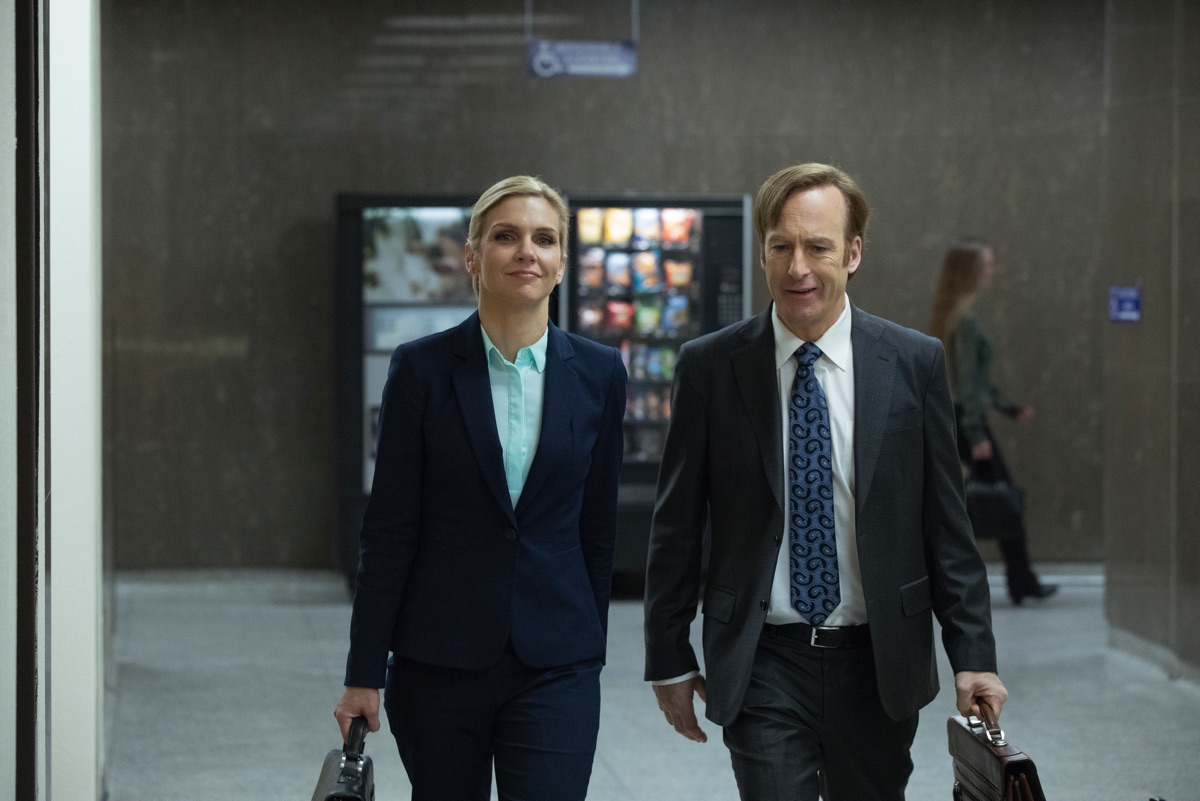 This week, TV Guide speaks with Rhea Seehorn about the end of Season 4, while Bob Odenkirk discusses Jimmy and Kim with Awards Daily. Plus, Jonathan Banks describes Mike to The Sydney Morning Herald. Read on for more:
• Talking about Season 4's last shot, Rhea Seehorn tells TV Guide, "I love that last shot as they pull away because there were so many questions she's trying to process at the same time, but for the most part you just feel like you got left on an island. She does not understand where she's at. Who is this person she's talking to, and did he betray me?"
• Talking about Jimmy and Kim with Awards Daily, Bob Odenkirk says, "I love the scenes written last season and that we are shooting right now – there are even more scenes this season – where the two characters seem to have a real self-awareness about the challenges of their relationship. I love those scenes."
• Jonathan Banks explains to The Sydney Morning Herald, "I like Mike. But I never forget that Mike is a killer in a business that ruins people's lives. You never get over the fact that it's methamphetamines. How do you justify that?"
• For the Emmy for lead actor in a drama series, Entertainment Weekly recommends that viewers "keep your eye on Bob Odenkirk, already nominated thrice for his ever-more-devastating work on Better Call Saul."
• Gold Derby wonders if Jonathan Banks could finally get an Emmy "in a category not many of us expected: Best Short Form Comedy or Drama Series Actor."
• CarterMatt wants an Emmy nod for Rhea Seehorn because "the body of work is there for her in Season 4, as is the larger reputation of Better Call Saul and the writing team led by Vince Gilligan and Peter Gould. Hopefully, this is enough to at least get the Academy's attention this time and correct a wrong that's been out there for years on end."
• Indiewire speaks with Rhea Seehorn, who says, "There are multiple times in Season 4 where the audience is actually my closest conspirator, in that they know my private thoughts, and no one else in the room does. And it used to be that Jimmy did sometimes, but it shifted to the audience often being my biggest confidant."
• CarterMatt reports that Patrick Fabian has landed in Albuquerque, "meaning of course that we're going to be seeing a considerable amount of this character [Howard] over the course of at least the early part of Season 5."
• Rhea Seehorn explains to TV Guide that Better Call Saul may or may not have the same number of episodes as Breaking Bad and that Vince Gilligan and Peter Gould "like the idea of, 'What if it was the same amount?' but they'll do whatever they have to do for the story. I know that to be true."
• 25YL deems "Uno," the show's first-ever episode, "one of the most perfect pilots I've ever had the pleasure of seeing."
• CarterMatt has a theory that Kim "somehow just finds a way to get out of Albuquerque, possibly due to an expanding job opportunity, and due to Jimmy's behavior as Saul, she decides to never look back. Maybe that's not a happy ending per se, but it's certainly a bittersweet one."
• My San Antonio reports that Season 4 is available this week on DVD, where "Jimmy steps into the criminal world putting his future as a lawyer – and his relationship with Kim Wexler – in deep jeopardy. Meanwhile, Mike Ehrmantraut's work for Gustavo Fring throws the cartel into chaos with tragic results."
To stay up-to-date with all the latest news, sign up for the Better Call Saul Insiders Club.
Read More