Press
Peter Gould Looks to Season 5 With EW; THR on Saul SAG Award Nods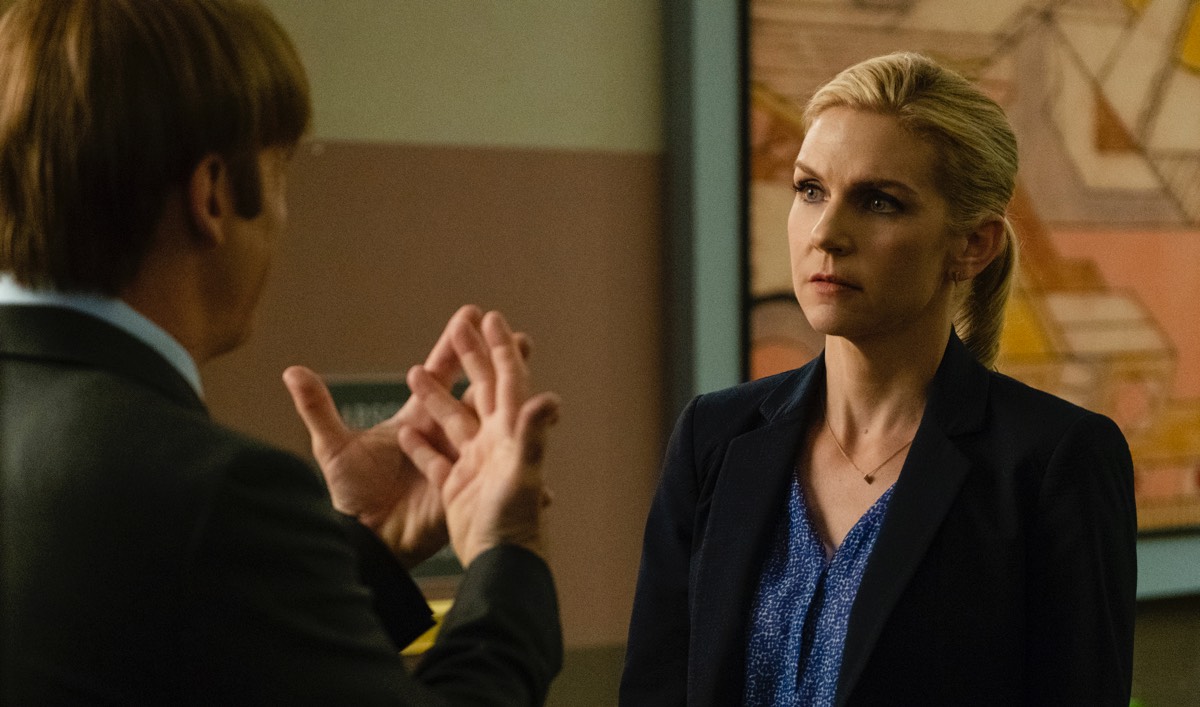 This week, Peter Gould looks ahead to Season 5 with Entertainment Weekly, while The Hollywood Reporter reports on Better Call Saul's Screen Actors Guild Award nominations. Plus, Newsweek is impressed by Bob Odenkirk and Rhea Seehorn's performances. Read on for more:
• Looking ahead, Peter Gould has this to say about Gene to Entertainment Weekly:"I'm fascinated by that situation and by the question of: is there still any chance of redemption or ray of light in this guy's life after all the terrible things that he's done, now that he's run away and hidden himself in Omaha?"
• According to The Hollywood Reporter, Better Call Saul is honored with two Screen Actors Guild Award nods, for Outstanding Performance by an Ensemble in a Drama Series and Outstanding Performance by a Male Actor in a Drama Series for Bob Odenkirk.
• Newsweek cheers the dual performances of Bob Odenkirk and Rhea Seehorn, where Kim follows Jimmy in Season 4 "down an increasingly dark rabbit hole. Naturally, you don't see it coming…, but the actors have so assiduously built their characters—and this most believable of TV couples—that you swallow every twist and beg for more."
• Vulture hails Kim confronting Howard in Season 4's "Breathe" as a moment that "not only provides further proof that Kim is the show's true hero — she has the courage to say the things Jimmy wants to say, but won't — but exemplifies what makes Better Call Saul such a great Breaking Bad prequel."
• Rhea Seehorn gave one of the year's best TV performances, according to A.V. Club, because her "work as Kim Wexler has been consistently excellent since this show began, but the arc of season four was a showcase for Seehorn to demonstrate just how good she can be."
• The Hollywood Reporter names Better Call Saul one of the year's 10 best shows because Bob Odenkirk "and the eternally under-recognized Rhea Seehorn make every beat feel plausible and have consistently redefined viewer hopes and expectations about where Kim Wexler might fit or not fit in the world of Breaking Bad."
• TVLine selects this Better Call Saul scene as one of TV's coolest this year: "To illustrate the growing distance between live-in lovers Jimmy and Kim, director Deborah Chow showed them leading separate lives in a heartbreaking split-screen montage."
• The Pittsburgh Post-Gazette recognizes Better Call Saul as one of the year's best: "As this prequel creeps closer to the events of Breaking Bad, it only becomes more devastating for the potential carnage that will befall those who enter the orbit of Jimmy McGill/Saul Goodman — especially devoted Kim (Emmy-worthy Rhea Seehorn)."
• Better Call Saul is one of Bay Area News Group's top 10 shows because "even though we've always known where this grim journey was headed, the series still managed to surprise, disturb, and, yes, amuse, us. [Bob] Odenkirk, as usual, was amazing. So too was Rhea Seehorn."
• Monsters and Critics' ultimate binge list of the year's best TV shows includes Better Call Saul: "This series is adult dramatic storytelling at its best and is all of the above, funny, shocking and heartbreaking in one swoop. One of the tightest and brightest ensembles of actors out there bar none."
• USA Today reports that Better Call Saul was the No. 1 time-shifted series of 2018, according to Nielsen.
• Zimbio's list of those who perished on TV in 2018 includes Werner because "as Werner waited anxiously in his car, Mike pulled the trigger and we saw Mike Ehrmantraut's transition into Mike the Cleaner."
To stay up-to-date with all the latest news, sign up for the Better Call Saul Insiders Club.
Read More