Press
TVLine Honors Bob Odenkirk; Gothamist Interviews Peter Gould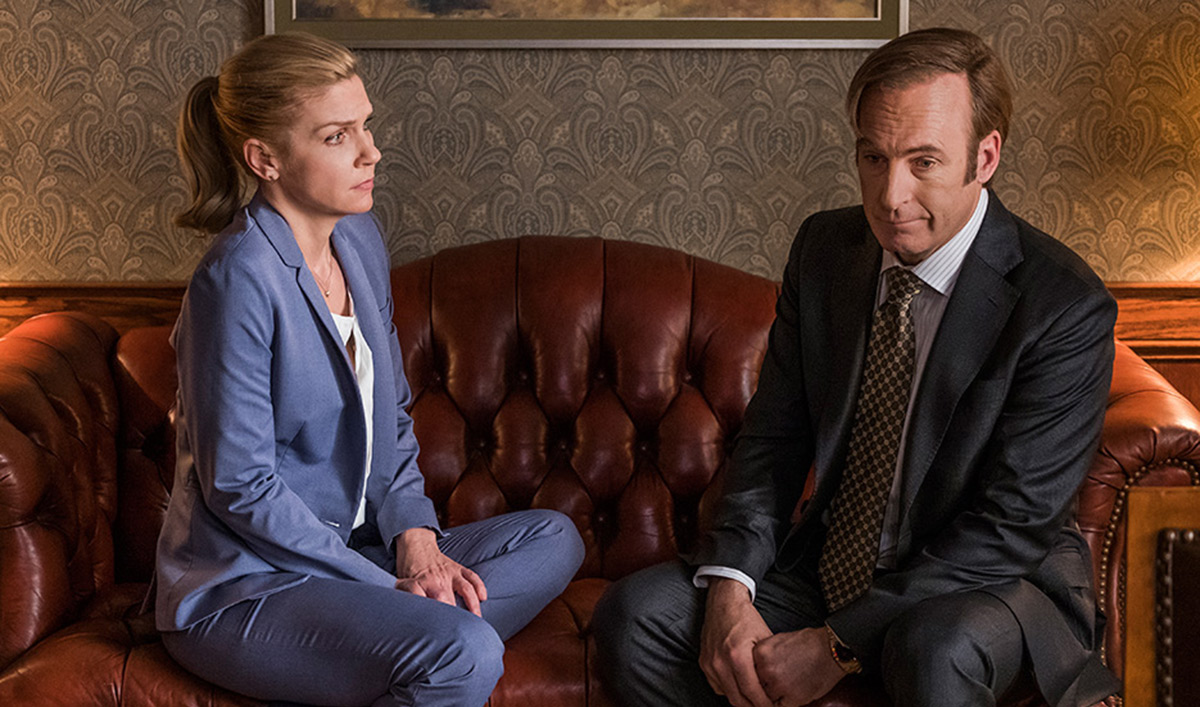 This week, TVLine honors Bob Odenkirk as the Performer of the Week, while Peter Gould praises Rhea Seehorn when speaking to Gothamist. Plus, TV Insider shares a Season 5 wish list. Read on for more:
• TVLine honors Bob Odenkirk as the Performer of the Week: "Odenkirk used his considerable acting skills to somehow surprise us with Jimmy's inevitable transformation into the slick Saul Goodman" in the Season 4 Finale.
• Gothamist interviews Peter Gould, who enthuses, "Rhea Seehorn is just an amazing performer. It's such a gift to write for her and to write for Bob [Odenkirk]. The question is never, 'are they going to be able to pull this off' or 'will this be funny or will this work?' The question is always: 'how can we write to challenge them?'"
• TV Insider decides to "delve into the things we'd like to see in Season 5. From Jimmy's (Bob Odenkirk) transformation to resurfacing characters, we're exploring many possibilities."
• The Guardian declares, "Sure, Breaking Bad was good. But the prospect of the next episode never made me feel sick with equal parts excitement and apprehension. Better Call Saul has just done this 10 times in a row. If you ask me, it is the superior series."
• Peter Gould tells IndieWire, "I don't think Kim is through with Jimmy at this point, but I'm worried about what happens to her if she sticks with him as he goes down the path that he's headed."
• Talking to Vox, Peter Gould says, "We know that Jimmy/Saul/Gene lives, and so I want to know what is the end of this man's story? I don't know. I don't think the end of the story is Walter White walking in and his whole world falling apart. There seems to be more to it than that. I would like to see more of Gene Takovic."
• The Ringer presents "the three biggest takeaways from Better Call Saul's latest, and arguably best, season," while Screen Rant examines the "biggest reveals about Breaking Bad that came to light in Better Call Saul season 4."
• IndieWire argues, "For the rest of the season, Jimmy keeps up the appearance of wanting to reinstate his law license, but 'Piñata,' and Mrs. Strauss represent the season's key turning point."
• Nerdist observes, "Unlike Jimmy McGill, who now seems like he was never not going to become the villain, Mike Ehrmantraut's story could have gone a very different way. His flawed outlook on life cost him his son and sent him on a tragic journey that will end on a riverbank telling Walter White to shut up so he can die in peace."
• Paste names Better Call Saul one of the 10 best shows on TV right now, remarking that it "finishes its fourth season by underscoring Jimmy's belief that turnabout is fair play."
• Film School Rejects declares that "after what could well be Better Call Saul's finest outing yet, there was really only one way the creators could bring the finale to a close– by sending Jimmy to the point of no return, finally committing to the name and persona that he's been flirting with for years."
• Praising Better Call Saul as "unquestionably one of the best shows of all-time," Hidden Remote poses three questions that "must be answered" in Season 5.
• CarterMatt wonders, "Is it possible that Better Call Saul season 5 could bring us a little bit more Gene in the future? If you're a frequent CarterMatt reader, you know that this is on our wishlist — and it has been for a rather-long time."
Watch Season 4 Episodes on amc.com and AMC app for mobile and devices.
To stay up-to-date with all the latest news, sign up for the Better Call Saul Insiders Club.
Read More