Press
EW Interviews Bob Odenkirk; Peter Gould Talks Finale With Rolling Stone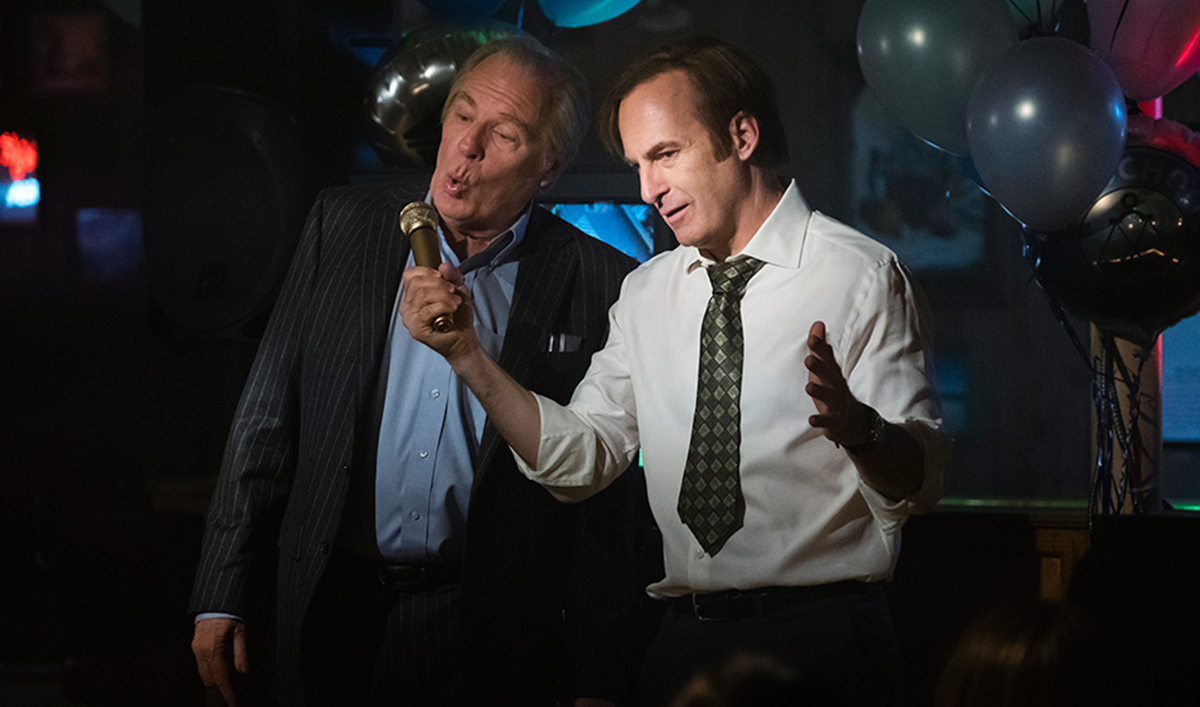 This week, Bob Odenkirk talks to Entertainment Weekly about why Jimmy cried, while Peter Gould breaks down the season finale with Rolling Stone. Plus, Thomas Schnauz tells TVLine to expect more from Lalo. Read on for more:
• Bob Odenkirk tells Entertainment Weekly that Jimmy breaks down crying because "he's saying goodbye to Jimmy McGill at that moment. I think that's his big goodbye. He just did one of the hardest things he's ever done and will ever do in his life, which is he gives that young lady a lecture that the world will not give you a second chance."
• Peter Gould tells Rolling Stone, "What does it mean to be Saul Goodman? I think calling yourself Saul Goodman is certainly a big step along the way. But ultimately, it's about behavior…what's Jimmy willing to do to get the things that he wants? That's a question that we're going to have to answer in detail in Season Five."
• TVLine interviews Thomas Schnauz, who co-wrote the Season 4 Finale and says to expect more Lalo, "a thorn in Gus Fring's side, and there are a lot of secrets rolling around with Gus and Nacho and Mike. He's very smart, and he's ruthless, and I think it's a good person for us the writers to have around."
• Speaking with Variety, Bob Odenkirk calls ABBA's The Winner Takes It All "the crude, clumsy philosophy behind Jimmy's choice to become Saul, which is forget all this incremental battling and winning the small little battles. Whoever wins, whoever gets the most money in this case is the winner."
• Entertainment Weekly interviews Peter Gould, who shares this insight: "There's a relationship that Gus has with Gale that he doesn't seem to have with anybody else. I think that maybe Gale is important to Gus in ways that we know — and maybe ways that we don't know."
• "Sometimes I hear people say, 'Maybe Kim is still in his life when he's Saul,' and I'm not going to say it's impossible, but in some ways that seems more tragic, or as tragic, as Jimmy becoming Saul Goodman," Peter Gould explains to The Hollywood Reporter.
• Vulture talks to Peter Gould, who notes, "If you squint at it one way, Jimmy's dragging Kim down. If you turn your head and squint at it the other way, she's facilitating his slide."
• Peter Gould remarks to TheWrap, "He uses the death of his brother to evoke an emotional reaction from the panel to win the day. But, it feels very real. Has he just become a much better actor? There's a lot of ways to interpret that [scene]."
• Time observes the Season 4 Finale was the culmination of a season that "gained thematic resonance in its second half, the monologues and the episode they anchored double as blistering indictments of the American justice system and the people who wield power within it."
• Vanity Fair observes, "As Better Call Saul shows us, the full journey of [a] person reckoning with their own demons can take decades. For once we have a show willing to take the time to tell one person's story."
• Bustle explains, "Jimmy is motivated by resentment because he feels that everyone has already decided to dismiss him — and no one made him feel more that way than his brother Chuck. So the speech that Jimmy gives to aspiring law student Kristy Esposito really explains his own mindset going forward."
• Production Designer Judy Rhee explains the superlab logistics to Vulture: "You start with the dimensions, the size, all of the details of what the old set was and we did a lot of research in terms of geology. What is the actual earth underneath? What is in this area? What is the soil? How many rocks? How long would it really take?"
• The New York Times speaks with Peter Gould and Gordon Smith about Jimmy and Kim's scheme to keep Huell out of prison and how the scheme was "a moral compromise too many, from which their relationship, and Jimmy's chances at an honest life, may never recover."
• Talking to IndieWire about Kim and Jimmy's fight, Rhea Seehorn explains, "When she sees people metaphorically hanging themselves, she usually just waits until they have enough rope. She doesn't really speak or engage and that's one of her tactics. In this case, she engages and she engages quite violently by the end of that argument."
• Kerry Condon explains to the Irish Mirror that Better Call Saul was "the first time for me being in a show and not being in every episode. I was coming in for three episodes a season and that's a whole different discipline because the story isn't really about you, it's about the main person and you kind of have to know your place in the story."
• For recaps and reviews of the Season 4 Finale, "Winner," check out A.V. Club, Cinema Blend, Collider.com, Deadline, Den of Geek, Entertainment Weekly, IGN, IndieWire, The New York Times, Rolling Stone, Screen Rant, TV Guide, TV Insider, Vox and Vulture.
Watch Season 4, Episode 10 on amc.com and AMC app for mobile and devices.
To stay up-to-date with all the latest news, sign up for the Better Call Saul Insiders Club.
Read More