Press
Variety Interviews Rhea Seehorn; THR Teases Glimpse of Gus' Superlab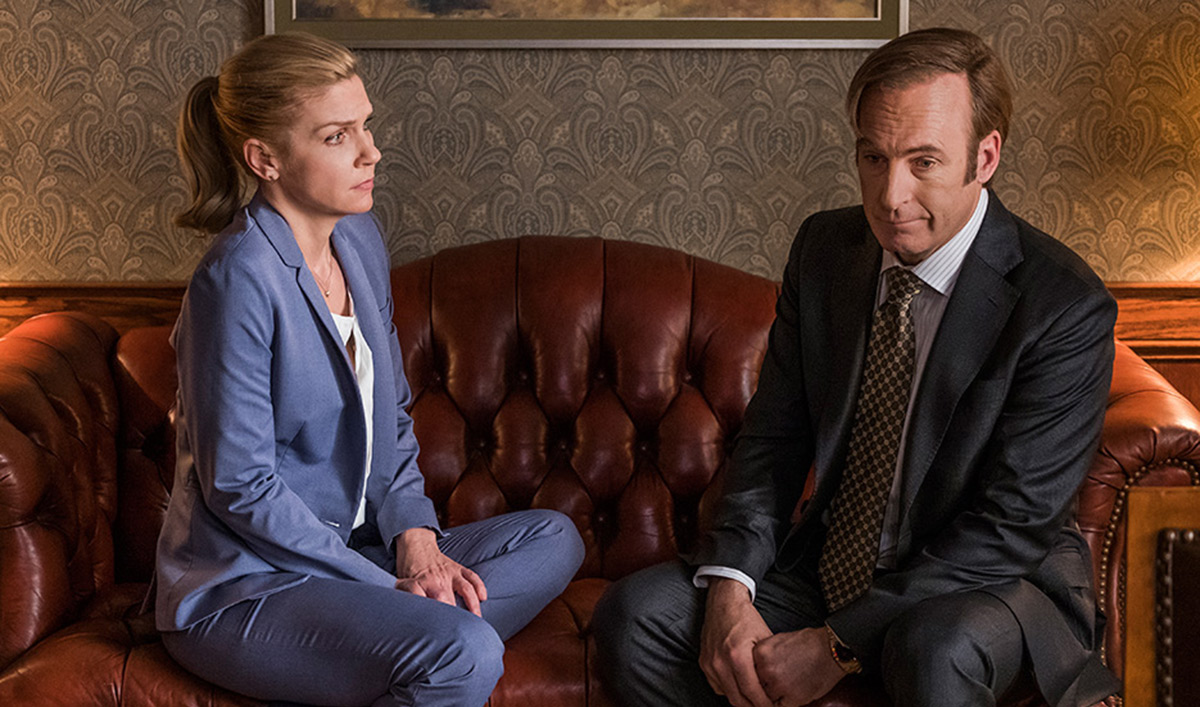 This week, Variety interviews Rhea Seehorn about the rest of the season, while The Hollywood Reporter teases the first glimpse of Gus' superlab. Plus, Bustle discusses Kim's role in Huell's case. Read on for more:
• Teasing the rest of Season 4 to Variety, Rhea Seehorn says, "It is a crazy ride from here to the end. We all love this season. Kim and Jimmy's relationship is tested and expands in ways that are extremely complex. Jimmy's descent into Saul definitely continues in surprising, alarming, funny and tragic ways."
• The Hollywood Reporter notes that the latest episode showed "the first glimpse at a space where Walt and Jesse will spend a lot of time together," i.e. Gus' superlab, and remarks that it's introduced in "a quintessentially Breaking Bad/Better Call Saul scene" because there's "no dialogue for nearly three minutes."
• Speculating about Huell's case, Bustle writes, "What she has in mind isn't clear, but you can expect Kim to use some superior lawyer skills à la Chuck McGill to get the job done."
• The Hollywood Reporter interviews Skip MacDonald, who says, "A lot of shows get you into the dialogue and just keep the dialogue moving, where here we get the opportunity to let people breathe and think about things a little bit before the next line comes in."
• Discussing Jimmy becoming Saul, Peter Gould tells Entertainment Weekly, "One way to look at it is to say that Kim Wexler's love and decency keeps Jimmy moored and keeps him from becoming Saul Goodman. But there's another way to look at it…: maybe Jimmy never would've become Saul Goodman without Kim.
• Addressing Kim's absence from Breaking Bad, TV Guide declares that "the simplest and most obvious explanation is that Kim likely leaves when Jimmy officially and obviously passes the point of no return."
• Paste lauds the latest episode: "For the split-screen montage of Kim and Jimmy's diverging routines alone, it counts among the most artfully constructed episodes of one of TV's most artful series."
• CinemaBlend takes a look at the latest episode and how "Better Call Saul continued tipping its hat to its Breaking Bad future in interesting and potentially game-changing ways."
• CarterMatt looks ahead to the next episode, "Coushatta," and remarks, "Nacho is going to have a story! That will be welcome news for many of you who feel like he hasn't had all that much to do as of late. It does feel like it's at least starting to heat up for him again."
• TVLine heaps praise on Giancarlo Esposito's performance in last week's episode: "Esposito never raised his voice, but we could still feel the rage coursing through Gus' veins as he recalled how patient he had been in getting even with the animal, and heavily implied he'd do the same to Hector."
• IndieWire speaks with Rhea Seehorn, who says, "There's never spoon-feeding to the audience, and that includes us not having to reiterate plot-wise over and over. Sometimes you watch TV and they let you know how they feel to make sure you're keeping up. But on this show, they just completely trust the audience."
• Giancarlo Esposito tells CinemaBlend he likes playing Gus on Better Call Saul because "I'm able to mine new ground in a younger and edgier and more dynamic and frightening Gus who may not be able to control his emotions as much as he was in Breaking Bad."
• For recaps and reviews of Season 4, Episode 7, "Something Stupid," check out A.V. Club, Den of Geek, /Film, IGN, The New York Times, Rolling Stone, TV Guide, TV Insider, TVLine, Uproxx and Vulture.
Watch Season 4, Episode 7 on amc.com and AMC app for mobile and devices.
Better Call Saul airs Mondays at 9/8c. To stay up-to-date with all the latest news, sign up for the Better Call Saul Insiders Club.
Read More