Press
Patrick Fabian Talks With Variety; Andrew Stanton Compares Saul to Kubrick in THR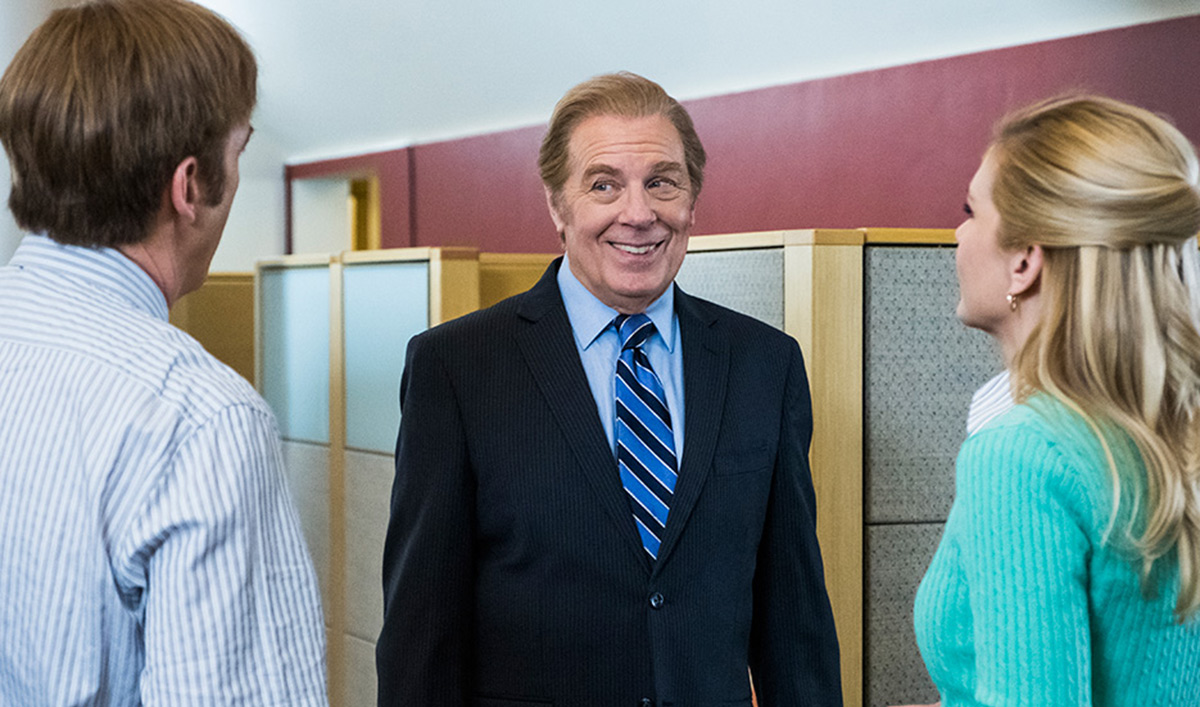 This week, Patrick Fabian talks to Variety and the New York Post, while Andrew Stanton, speaking with The Hollywood Reporter, compares Better Call Saul to Stanley Kubrick. Plus, TV Guide names Saul one of the best shows on TV. Read on for more:
• Patrick Fabian tells Variety, "In this week's episode, how un-Hamlin like was I! Last week it was the humiliation of going out without a tie bar; this week I'm using coarse language. I'm going to be wearing tennis shoes next week. It's appalling! (Laughs.)"
• Discussing this week's f-bomb, Patrick Fabian explains to The New York Post, "From the very first episode, when Jimmy burst into Howard's boardroom and did that Network speech on him, I think this 'f-you' has been boiling since then."
• The Hollywood Reporter interviews Andrew Stanton, who compares the show's look to Stanley Kubrick: "It was still cameras, not a lot a lot of crazy movement, and really cool graphic shots, trusting the things that were happening in the shot and not feeling like you had to be fancy in any way."
• TV Guide ranks Better Call Saul ("one of the best dramas of the decade") the No. 3 show on TV: "Better Call Saul has carved out its own groove, relying on character relationships rather than the suspense and violence that drew so many to Walter [White]'s world."
• The Hollywood Reporter's power ranking of TV's best dramas includes Better Call Saul: "The beauty of this series is that it took a character mostly based in comedy — Saul worked particularly well adding levity to Breaking Bad — and tweaked expectations by dramatizing his life story."
• Paste names Saul the week's best show, citing this scene: "With the pace of a metronome, actor Giancarlo Esposito warns a comatose Hector Salamanca that his pain is far from over. It's a chilling monologue from writer Gennifer Hutchison that kind of makes you briefly forget how things end for the both of characters in Breaking Bad."
• Remarking on this week's Chuck flashback, Bustle says "his appearance further displays how Jimmy, Kim, and Howard have changed over the years — and how much they have stayed the same. And as Season 4 continues, Better Call Saul may just show more of how Chuck influenced these major characters."
• Vulture writes, "To help you keep track of the franchise's continuity, we've put together this list of every character who has appeared in the flesh on both Better Call Saul and Breaking Bad."
• Den of Geek interviews Daniel Sackheim, who says about directing "Something Beautiful" that "I was surprised and delighted to be given the opportunity to introduce the character of Gale (David Constabile) who was a big fan favorite from Breaking Bad."
• The Ringer explains why "Jimmy has been Saul Goodman for quite a while now."
• Vox remarks that "Quite a Ride" is "Saul's best effort yet to connect the three timelines in which we've now seen Jimmy McGill."
• Albuquerque's KRQE reports, "People travel across the world to visit some of the iconic places where the hit series, Breaking Bad, was filmed in Albuquerque. Now they're doing the same for its prequel, Better Call Saul."
• Talking about a possible Walt cameo, Vince Gilligan tells Gizmodo that "it would be a real shame if this show went how ever many seasons it's going to go, hopefully several more, at least and we didn't see him. That would be a real crime against the fans is the best way that I can put that."
• For recaps and reviews of Season 4, Episode 6, "Piñata," check out A.V. Club, IGN, IndieWire, The New York Times, Rolling Stone, TV Guide, TV Insider, TVLine, Uproxx and Vulture.
Watch Season 4, Episode 6 on amc.com and AMC app for mobile and devices.
Better Call Saul airs Mondays at 9/8c. To stay up-to-date with all the latest news, sign up for the Better Call Saul Insiders Club.
Read More