Press
Bob Odenkirk Chats Jimmy vs. Saul With EW; Bustle on Cold Open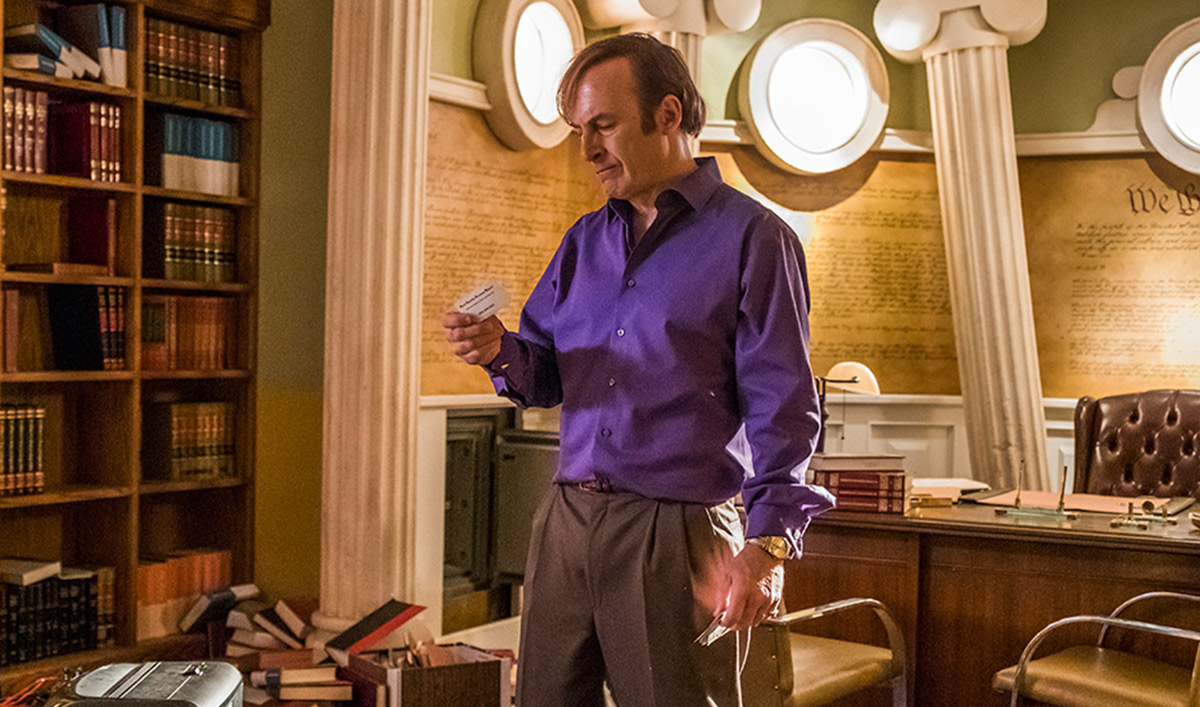 This week, Bob Odenkirk discusses playing Saul again with Entertainment Weekly, while Bustle talks about this week's cold open. Plus, Odenkirk speaks with The Hollywood Reporter about Jimmy and Kim. Read on for more:
• Bob Odenkirk tells Entertainment Weekly he enjoyed playing Saul again: "The truth is it's easier to play Saul than Jimmy. It's not as rewarding. Jimmy is a rich character with so many angles — there's so much complexity to the guy that it's a more rewarding character. But Saul is kind of pure fun."
• Referring to this week's cold open, Bustle writes, "No matter how it plays out, the Breaking Bad timeframe is in full force now on Better Call Saul. And the connections between the shows can only get better from here."
• The Hollywood Reporter interviews Bob Odenkirk, who explains, "Obviously Jimmy's mutating into Saul, and that's kind of a compartmentalization and a striking back and a thinning out of who he is, but in that relationship with Kim, there's an honesty and a sharing."
• In a Q&A with TVLine, Bob Odenkirk says Jimmy wears a tracksuit because it's "showy, and it pops. And that's what he wants. He wants everyone's attention. It certainly leads into being Saul. He wants some limelight in his life."
• Screen Rant says of the pre-credit sequence featuring Saul, "At first glance, this sequence has little-to-no bearing on this week's narrative, but there's clearly something intentional at play here."
• Kim is Salon's Season 4 hero: "With her signature ponytail, her sensible bargain-rack suit separates and heels that are low enough to polish her look but high enough to suggest a whiff of danger, Kim is a stand-in for every cubicle dweller who takes pride in working hard and doing a job well but at some point realizes that it's not doing enough."
• Addressing a fan theory that Kim actually wrote the farewell letter from Chuck that Jimmy read, Bob Odenkirk tells TVLine he doesn't believe it, calling the letter "a weird 'f–k you' to Jimmy, to just drive him crazier and make Chuck look to the world like the benevolent brother."
• Giancarlo Esposito explains to Cinema Blend that Gus wouldn't hire Nacho because "Nacho doesn't have the discipline that Gus would require of him. But we are in a position now where Gus can own him because of his actions."
• Pajiba remarks, "One of the more interesting facets in Better Call Saul is that we know how it ends for most of these characters, and it's a testament to showrunners Peter Gould and Vince Gilligan that they can make the journey to those endpoints so compelling and suspenseful."
• Paste's list of August's best quotes on TV includes Gus telling Nacho in "Breathe," "I know what you've done. The Salamancas, they do not. Do you understand what I'm saying? Look at me. From now on: You. Are. Mine."
• For recaps and reviews of Season 4, Episode 5, "Quite a Ride," check out A.V. Club, Den of Geek, /Film, IGN, IndieWire, The New York Times, Rolling Stone, TV Guide, TV Insider, TVLine, Uproxx and Vulture.
Watch Season 4, Episode 5 on amc.com and AMC apps for mobile, Fire TV, Xbox One, Apple TV, Roku and Chromecast.
Better Call Saul airs Mondays at 9/8c. To stay up-to-date with all the latest news, sign up for the Better Call Saul Insiders Club.
Read More