Press
Variety Reports on Renewal; TV Guide Calls Saul One of Best Spin-Offs Ever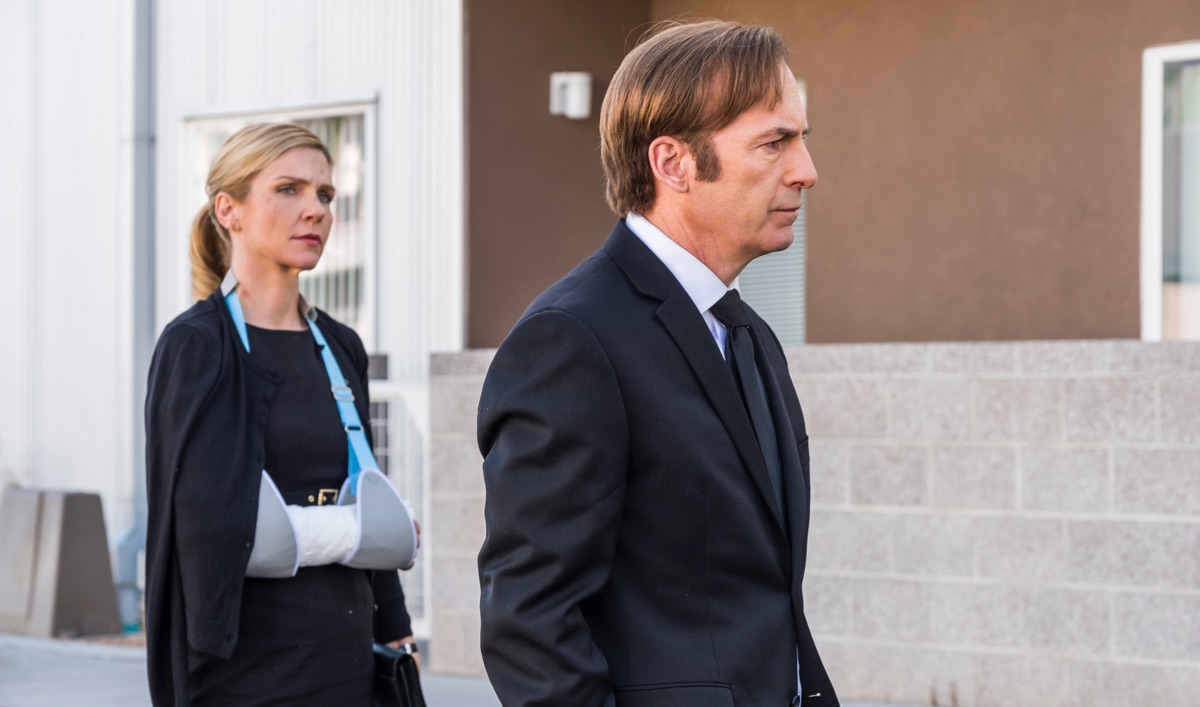 This week, Variety reports on Better Call Saul's Season 5 renewal, while TV Guide deems the show one of the best spin-offs ever. Plus, The Hollywood Reporter notes the drama is one of August's most-anticipated TV premieres. Read on for more:
• According to Variety, Better Call Saul has been renewed for a Season 5.
• Commenting on the renewal, A.V. Club remarks, "Given that it remains the most consistently and critically beloved series on the network's roster, it's not entirely shocking to learn that Breaking Bad prequel series Better Call Saul has now been granted a fifth-season renewal order."
• TV Guide declares that "the heartbreaking tragedy of Slippin' Jimmy has already cemented the show's place in TV history as one of the best spin-offs we've ever seen."
• The Hollywood Reporter calls Better Call Saul one of August's 10 most anticipated TV premieres, remarking that the "Breaking Bad prequel is inching closer to the flagship in its upcoming fourth season."
• Newsday declares, "The precision of Saul's craftsmanship — writing, direction, acting, and all the way down to craft services, for all I know — makes this the best series on TV. And there really is no contest."
• Den of Geek proclaims that Peter Gould et al have "created a uniquely American television world in which it's impossible to not tell a compelling story. The storytellers' handle on their modern Western frontier Albuquerque and their understanding of how to present it as something simultaneously mythical and real is perfect."
• TV Guide talks Breaking Bad cameos on Better Call Saul, asking, "who do we want to show up? And what's the likelihood that they will?"
• Bob Odenkirk reveals that the Season 4 Premiere is "a slow burn but after that, it moves as fast as possible," Entertainment Weekly reports.
• Newsday advises looking out for Better Call Saul: "One of the treasures of the small screen returns with an episode called 'Smoke' — quite possibly a reference to the fire that consumed the house of Jimmy's (Bob Odenkirk) brother, Chuck (Michael McKean)? Yes, quite possibly."
• Calling the Season 4 Premiere "sublimely subdued," IGN says the episode is "a heavy, reflective chapter that readily relies on silence to create both suspense and sorrow."
• Independent notes that early Season 4 reviews have been released "and it's big praise for the next batch of episodes."
• Flickering Myth, eagerly awaiting Season 5, calls the show "a true marvel of the medium, not as popular as its predecessor Breaking Bad but nonetheless it has quickly become a classic in its own right, even going beyond its parent show's legend in certain areas."
• Cultured Vultures calls Better Call Saul one of August's biggest TV shows, noting that the fallout from Chuck's death will "probably hit the gas on Jimmy's inevitable descent into Saul, although odds are the final transformation will be kicked off by his relationship with Kim falling apart."
• Den of Geek spotlights an exclusive Chuck-related clip "where the cast and crew talks about the character, the actor, and what a post-Chuck version of the show can be."
• Michael McKean tells Newsday, "Oh, yeah, you'll see Chuck again. I won't tell you which episodes. But I did a couple this year."
• The Week recommends watching Better Call Saul, which "will reportedly have its 'biggest crossover yet' this season when it intersects with the Breaking Bad timeline."
• Meaww explains why Better Call Saul "deserves its own pedestal next to the original and why it is still very much one of the best shows on television today."
Better Call Saul returns Monday, August 6 at 9/8c. To stay up-to-date with all the latest news, sign up for the Better Call Saul Insiders Club.
Read More