Press
Thrillist Excited for New Season; Dorkly Spotlights Premiere Details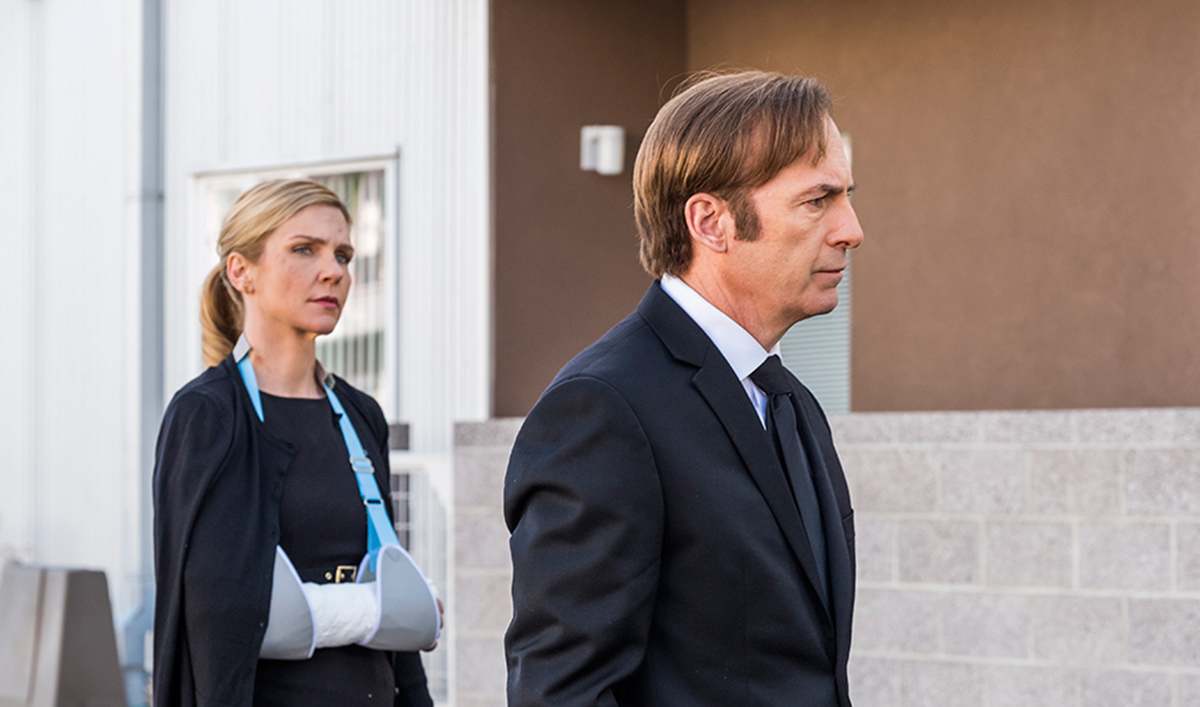 This week, Thrillist explains why it's excited about Season 4, while Dorkly highlights the significant details it spotted in this week's premiere. Plus, Entertainment Weekly analyzes Jimmy's reaction to Chuck's death. Read on for more:
• Thrillist is excited about Season 4 because it's "all about (slight spoiler for the uninitiated) the fallout from Chuck's death, and how it compels those left behind to be better or… worse! Bring on the Saul."
• Dorkly observes that "the thing that truly makes this show special is its attention to detail – here are 5 of the most important lil details we noticed in the Season 4 Premiere."
• Writing about Jimmy's reaction to Chuck's death, Entertainment Weekly says viewers "witnessed a man who wasn't willing or able to live in any of his complex and conflicted feelings of grief, guilt, shame, and anger."
• Peter Gould explains to The Hollywood Reporter, "Jimmy has had an earthquake. He's had a life-changing event and how he's gonna deal with that is complicated and fascinating. Again, the way Bob plays him, Jimmy has so many layers to him and is so complex that I hate to try to sum it up in a phrase or a word."
• Noting that Better Call Saul "has been so filled with twists, strange hints, and intentional easter eggs that people have been coming up with fan theories as to what the future holds for the show since its inception," Dorkly highlights the most exciting of those theories.
• Thrillist provides "a roundup of everything we know so far about Jimmy, Kim, Chuck, Mike, Gus, Howard, and the rest of their Albuquerque cohorts."
• Dorkly checks out what it would be like "if Walter Jr. had a Breaking Bad prequel."
• Thrillist compiles "a handy reference sheet to how the events of Better Call Saul fit relative to Breaking Bad," starting with the introduction of Jimmy in Saul's Season 1 Premiere.
• When Season 4 opens, The Atlantic observes, "Old dynamics flip, long-gestating character studies pay off, and feelings geyser up in surprising places."
• Peter Gould shares with EW, "Much of Season 4 is about Jimmy's desire to fit into the world and to play the game the way he knows it's supposed to be played, but sometimes that doesn't go along or correspond to his abilities. Jimmy McGill, for better or for worse, is a man who can always see the shortest distance between two points."
• Rhea Seehorn explains to Newsweek, "People come up to me and say, 'But Kim would never put up with what Saul did!' And I say, 'Are you talking about what Saul did on Breaking Bad? Kim hasn't seen Breaking Bad!'"
• TV Guide declares, "I keep telling anyone who will listen that Better Call Saul is the best show on television, and having seen the first three episodes of Season 4, guess what? Better Call Saul is even MORE the best show on television."
• For those invested in Jimmy and Kim, Bob Odenkirk tells Variety "there are many moments in Season 4 where the two of them are diverging and then there are a few amazing moments where they're really great together and you almost feel like they should survive this."
• Vince Gilligan says to Rolling Stone "the beauty of it is, some people are always going to love Breaking Bad more. But I run into people every day now who say Better Call Saul is their favorite of the two. I love hearing that. I don't know where I fall personally on that scale, that continuum — I try not to choose."
• TV Guide declares that "despite all the heartbreak viewers have endured over the course of the show's run, there is no doubt they would much rather be watching this addicting, often upsetting, character-driven version of Better Call Saul than the half-hour legal comedy [Vince] Gilligan and [Peter] Gould originally envisioned for the series."
• Peter Gould teases Variety that "this season we'll find out that the relationship between Gus and Mike has not always been smooth. And there are definitely some stormy waters ahead."
• Vogue, calling the show "seductively brilliant," says Better Call Saul is "so good, and still so underrated, that it inspires a kind of impassioned loyalty among fans—especially for its star, Bob Odenkirk."
• Speaking to Variety, Bob Odenkirk says of Jimmy, "I feel like he's on the three-yard line of Saul — so close that he's almost there. And in some ways, he's there."
• GQ previews Season 4, calling Kim "the show's best character" and warning that "over three seasons, the sunnier, goofier qualities of Better Call Saul's protagonist have also earned the audience's sympathies and lowered our defenses. And now that the audience has fully invested in Jimmy, Better Call Saul can stick the knife in."
• Uproxx explains, "When this show started, three full seasons ago (about to be four), the single overarching question was 'When will Jimmy turn into Saul?' Now the question I find myself asking is 'Am I really ready for Jimmy to turn into Saul?'"
• Discussing the challenges of existing with Breaking Bad, Peter Gould tells A.V. Club that "it's this incredible Rubik's Cube to keep the characters consistent—to keep the chronology consistent, to keep the locations consistent."
• Referring to Kim, The Ringer says, "The more affection you have for her character, the greater you dread finding out the answer to the ever-present question: What horrible thing will happen to her that keeps her from being in Jimmy's life on Breaking Bad?"
• Collider compliments Bob Odenkirk, " who continues to put in one of those most layered, empathetic, and outstanding performances on television."
• Vince Gilligan tells the Independent they're hoping to have the same number of Better Call Saul episodes as Breaking Bad episodes: "Though I have to tell you if at the beginning of this, you had told me were going to do this many episodes about Walter White's comedy sidekick lawyer I would have said you were crazy!"
• Bob Odenkirk reveals to IndieWire, "I don't want the end game to be Saul Goodman, I wanna know what happens to Gene. As a fan of the story, and playing this guy, I want that guy to figure out something better that he can be. I don't see Breaking Bad as the closure of this story."
• Season 3's "Chicanery" is named one of The Ringer's top TV episodes this century: "When Chuck tries to get Jimmy disbarred for sabotaging his work for a former client, both brothers pull out all the stops to win. It's brutal, arresting TV. And none of the characters are the same after it."
• An entertainment lawyer shares with TheWrap, "I think the show actually takes great pains to be accurate, to not just the individual legal issues, but life as a lawyer as a whole."
• Collider mulls which Breaking Bad characters will appear in Season 4 since one of "the most fascinating aspects of the series timeline is how the creators are able to coalesce the characters from Breaking Bad into the Better Call Saul storyline."
• Rotten Tomatoes enthuses, "Played wonderfully by Bob Odenkirk in what could become his career-defining (certainly career-changing) role, Saul/Jimmy and his uneasy partnership with Jonathan Banks' Mike Ehrmantraut make for must-watch hours for any lover of prestige TV."
• For recaps and reviews of the Season 4 Premiere, "Smoke," check out A.V. Club, Den of Geek, Entertainment Weekly, IndieWire, The New York Times, Rolling Stone, Screen Rant, TV Guide, TVLine, USA Today and Vulture.
Watch Season 4, Episode 1 (no log-in required) on amc.com and AMC apps for mobile, Fire TV, Xbox One, Apple TV, Roku and Chromecast.
Better Call Saul airs Monday at 9/8c. To stay up-to-date with all the latest news, sign up for the Better Call Saul Insiders Club.
Read More