Press
David Costabile Talks Gale's Cameo With THR; The Ringer Lauds Nacho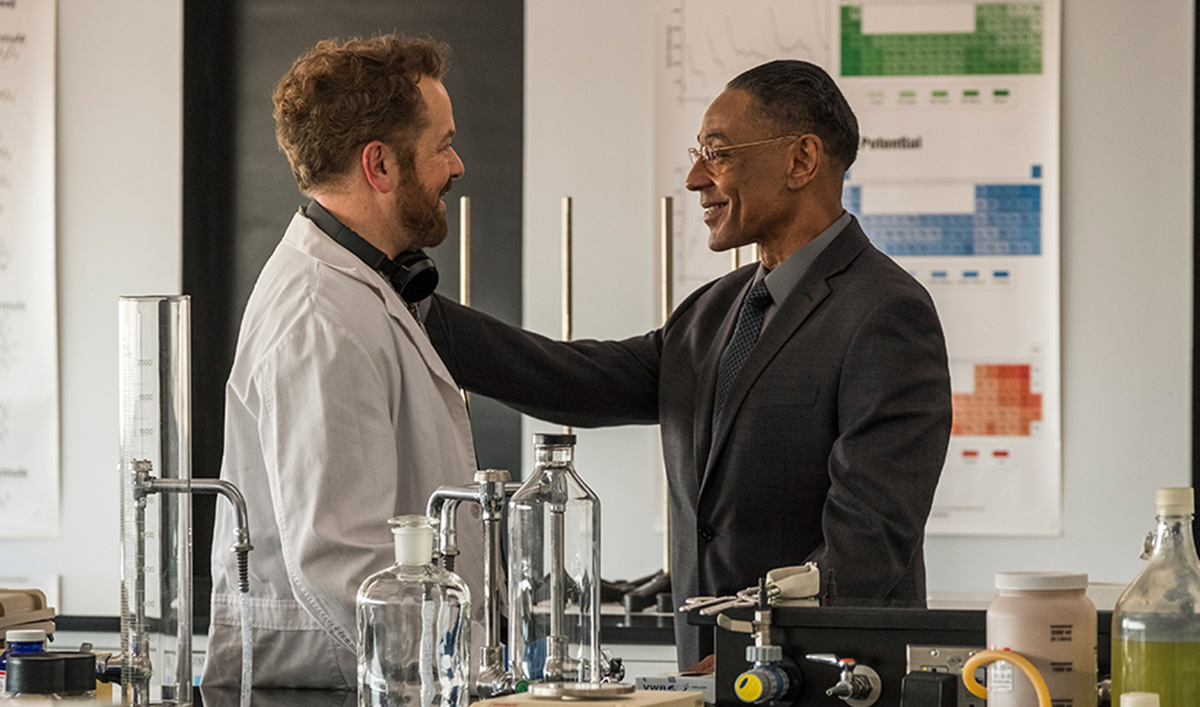 This week, David Costabile discusses Gale's appearance with The Hollywood Reporter and several other publications, while The Ringer praises Nacho. Plus, Michelle MacLaren speaks with THR about directing last week's episode. Read on for more:
• David Costabile speaks with The Hollywood Reporter about playing a younger Gale, saying that "the character's in a different place and you don't want to just do a retread of who that person was then, when you first played it or when you eventually played it…It really is a mind-twister to wrap your brain around, to figure out how to get there."
• The Ringer declares, "The portion of the show occupied by cartels could feel one-note and repetitive, but with Nacho as its steady, ruminative anchor, it is instead profound."
• Michelle MacLaren tells The Hollywood Reporter about directing "Breathe": "The scene with Bob [Odenkirk] and the copy guys where Jimmy freaks out on them, that was a challenging scene with a lot of nuance. Bob did a brilliant job doing it, and Tom [Schnauz] and I talked a lot about it ahead of time to make sure we were on the same page."
• David Costabile says of Gale to USA Today, "I think on a very deep level, that quest for exactitude is something that is really thrilling to him. I don't think the idea of drugs or doing something illegal is as exciting as creating quality that is indisputable."
• TV Guide advises watching Better Call Saul because it's "kicking the butt of the rest of television. Imagine all the tension of its violent cousin but in the space of complicated character relationships and playful cons."
• David Costabile tells TVLine that Gale is characterized by "his interest and pursuit of excellence, and the rigor that it demands of one's self to get to excellence… He delights in how difficult chemistry is, because it has to be done the right way, or it's not going to succeed."
• Talking to A.V. Club, David Costabile reveals, "The easiest and most immediate thing that pulled me back into the world was to see Giancarlo [Esposito] and to be able to be in a scene with him. His character is so forceful and he as a person is so kind and generous that both of those things, they push you and pull you at the same time."
• David Costabile explains to Entertainment Weekly that reappearing as Gale was "a fun opportunity to be able to say like, 'You get to sing another song. You get to see where he came from and how he started with Gus.'"
• Regarding Gale, Bustle cautions to "be prepared to find Gale's death even more tragic with the knowledge that his once bright future in the drug business will be eventually snuffed out."
• With Gale's appearance, Screen Rant speculates, "This isn't to say Better Call Saul is going to end à la Rogue One with Walt and Jesse paying their first visit to Saul's office, but co-creators Vince Gilligan and Peter Gould are definitely planting the seeds for how everything came to be."
• Screen Rant reprints Chuck's letter to Jimmy, noting, "A possible interpretation is that Chuck only tolerates Jimmy when the latter is at the bottom and scrapping for a living. He didn't see the Brothers McGill as equals, regardless of what he says in the letter."
• Heavy.com points out that the thief Jimmy hired in the latest episode was "actually Ira from Breaking Bad. Ira is the owner of Vamonos Pest."
• The Hollywood Reporter spotlights a short video that "features Jonathan Banks discussing the dos and don'ts of keeping corporate secrets locked down."
• Teasing Season 4, Rhea Seehorn tells HuffPost there's "a ratcheting up of both the drama and the comedy. And really interesting, funny, scary stuff on the cartel side. Jimmy's evolution toward Saul is much more pronounced and odd."
• One of Jimmy's quotes makes it into TVLine's Quotes of the Week gallery: "No due diligence? No background check? Just hire the guy that says them fancy words? I could be a serial killer! I could be a guy who pees in your coffee pot! I could be both!"
• Speaking to IndieWire about the show's silences, Patrick Fabian says that "the two scenes that I constantly get told how good I am in are the two scenes where I say nothing…I get singled out for those scenes all the time, which just goes to show you, at least for this actor, I don't know when I'm being really good or when I'm not being really good."
• Appearing on Late Night with Seth Meyers, Rhea Seehorn reveals, "In the end if it's better to kill Kim, [Vince Gilligan and Peter Gould] would kill Kim, but at this point I'm not even sure that's the most tragic end for her," TheWrap reports.
• Rhea Seehorn shares with Salon that viewers connect with Kim because "watching someone work that hard to try to get ahead, and get squashed down and try again, and to work yourself into fatigue, and to really deal with what that can do to a person, what it can do to a relationship, they they identify with that."
• TVLine deems the show one of TV's best spinoffs: "Little did we know when the prequel series first began that we'd dread the day that small-time lawyer Jimmy McGill breaks bad and devolves into the cheap-suited, ambulance chaser eventually employed by Walt and Jesse."
• Observer.com commends the show for doing origin stories right, noting, "Season 4 will likely continue to dish out details about Gus' past…and as long as the series continues to show restraint in its use of one of its most iconic characters, audiences will continue to reap the benefits."
• Speculating about Walt and Jesse potentially appearing on Better Call Saul, Digital Spy decides to "outline every way the pair could (legitimately) appear in the prequel."
• Meaww interviews Rhea Seehorn, who says she played the scene where Kim confronts Howard "with the constant attempt to not let go of yourself. What happens is a very physical conflict in your body. You are trying to sound normal and composed because you don't want to show someone that you've become emotional."
• For recaps and reviews of Season 4, Episode 3, "Something Beautiful," check out A.V. Club, Den of Geek, Entertainment Weekly, /Film, IGN, IndieWire, The New York Times, Rolling Stone, TV Guide, TVLine and Vulture.
Watch Season 4, Episode 3 on amc.com and AMC apps for mobile, Fire TV, Xbox One, Apple TV, Roku and Chromecast.
Better Call Saul airs Mondays at 9/8c. To stay up-to-date with all the latest news, sign up for the Better Call Saul Insiders Club.
Read More