Q&A
Better Call Saul Q&A — Bob Odenkirk (Jimmy McGill)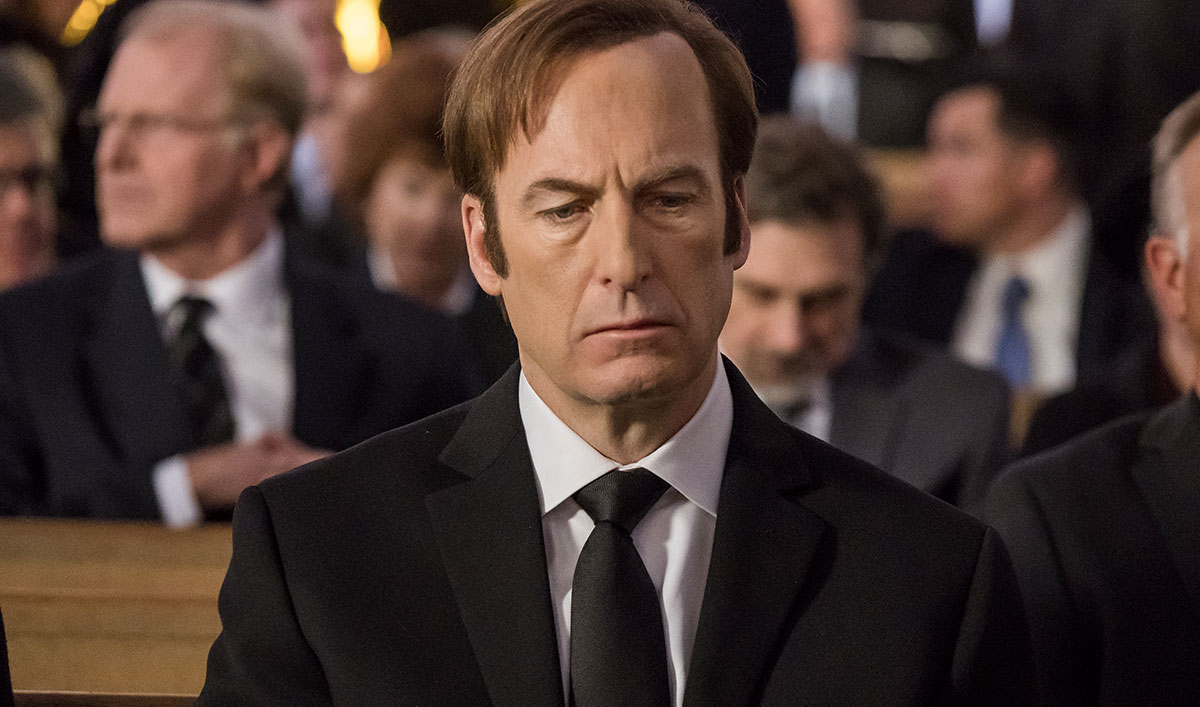 Bob Odenkirk, who plays Jimmy McGill on AMC's Better Call Saul, discusses dealing (and not dealing) with Chuck's death, what becoming Saul means for Kim, and his hopes for Gene.
Q: How would you describe Jimmy's emotional reaction to Chuck's death? What do you think is going on in his head despite his numb outward appearance?
A: He's clearly wondering whether Chuck had a hand in his own death and he's coming to the conclusion very quickly that he did because of Chuck moving all the electrical stuff out into the backyard. So much had happened in the few days since Jimmy had seen him. I also think Jimmy is thinking back on that last conversation that he had with Chuck. It was very impactful to Jimmy. What did Chuck say? Did he give any indication of what caused this? Jimmy's really pissed at Chuck and the more he thinks about that last interaction when Chuck told him, "You never really mattered to me at all," the angrier he is at Chuck. It's a lot to take in. If a person that close to you dies in a tragic way and seems to have a hand in their own death, it's not something you deal with in a short time period. It's going to resonate through the rest of Jimmy's life.
Q: Before Howard's "confession," does Jimmy believe he was the cause of Chuck's "relapse"?
A: Howard makes his admission and Jimmy finds out that the insurance investigation really pushed Chuck out of the firm and that that was maybe more of a motivator for Chuck committing suicide. So, in other words, Jimmy was [still] the cause. …The only thing Chuck cared about was his position and status in the legal world. What Chuck cared about more than anything was being a hotshot lawyer and being the f—ing guy. Jimmy's finding out that he diminished that or destroyed that and that's probably why Chuck killed himself. I think Jimmy is very happy to have hurt Chuck. There's a great Randy Newman song and the title of the song is "I Just Want You to Hurt Like I Do." I think that's what Jimmy's feeling. It's like, "Yeah. I got him as badly as he got me."
Q: Why do you think Jimmy lets Howard suffer in his guilt? Is Jimmy trying to absolve himself?
A: I think a weight is lifted off his shoulders. It has nothing to do with Howard, really. It has more to do with: "I found out now why Chuck killed himself. Now I don't have to wonder. I had a hand in it, and I have a choice to feel terrible or see it as a strike back at Chuck after what Chuck said to me." And that's what he chooses. He's happy that it happened. It's mean-spirited as can be and it's tragic, but you could say Chuck hurt Jimmy first. And he doesn't give a sh—t about Howard. He doesn't want to destroy Howard, but he's not going to take the blame. He's very happy that he hurt Chuck back.
Q: So much of Jimmy's story in this episode is told through silence. Do you find that easier or harder to portray than Jimmy's elaborate, fast-talking pitches?
A: It's wonderful to have a character who can spend that much time onscreen thinking and feeling and not just spewing words, but it is challenging and I hope that's intriguing for the audience. In this first episode, Jimmy is not sure how to feel and that's what's going through his head and heart. He's just not sure what went wrong: "I'm mad at Chuck. I guess I'm sad that he's dead. Did he kill himself? Did I have anything to do with that? Now I'll never be able to hurt him." He really hurt Jimmy with that last little speech he gave, and I think Jimmy thought that at some point down the line he'd be able to make him feel bad about what he said, but that chance has been taken from him. A lot of this first episode is Jimmy trying to sort out how he feels. He's numb.

Q: Outside of drinking the tequila, Jimmy doesn't even unburden himself to Kim. How does Chuck's death impact their relationship and what does that relationship mean to Jimmy in this moment?
A: [Jimmy] wants to hold on to Kim. She's the only person in his world that's keeping his feet on the ground. Right now she's still keeping him connected to humanity. … It's a massive impact on his relationship with Kim. She had her own relationship to Chuck and she did think Chuck was a bad person who did bad things, but she didn't think he was beyond redemption. She feels awful and she thinks Jimmy must feel awful and wishes he would share those feelings with her. She probably thinks that Jimmy can't go on until he does that, so she's really trying to get him to open up and he's not going to bite. She doesn't know his real feelings. She was not there in that moment when Chuck disavowed having any feelings of any kind for Jimmy. She doesn't know how he feels, but she thinks she does.
Q: The season, as usual, opens with a check-in with Gene, who it seems has been made by the taxi driver. What do you think that means for Gene, who is already in a fragile state?
A: For me, what that scene in the cab does is establish that he feels there's no place he can go in the world and not be hunted and be afraid all the time. I don't know what he's going to do with that. I don't think you can live that long feeling that way and not do something about it. I think Gene's going to have to do something about that. He can't carry on that way.
Q: Would you ever want to do an all-Gene episode?
A: I like the guy and I want him to get his sh—t together and be a better person. That's my hope for him all the time, but we'll see what happens. I would actually love to see a season of Gene and see what he does with himself.

Q: Each season brings Jimmy's story closer and closer to Saul Goodman and the world of Breaking Bad. While you made it clear at Comic-Con that you like Jimmy better than Saul, are you excited about unlocking those missing puzzle pieces in the transformation?
A: It's fun to see how Peter Gould and Vince Gilligan figure this character out and take him on a journey to becoming Saul – which the finals steps are really happening in the fourth season. I watch this show like a fan. I'm not writing the show. I don't try to help write the show, so I'm as amazed at what these guys have been able to do. I'm thrilled by it.
Q: Where do you think Jimmy is on that sliding scale? Is the Chuck piece the last straw or do you believe it isn't any one thing that makes Jimmy flip the switch?
A: It's a series of events that happen in the fourth season where he's making internal moves to choose Saul as his persona and how he's going to interact with the world. On the other hand, I think there's a big moment at the end of the season that declares it all.
Q: What are you most excited for fans to see this season?
A: There's a lot of comedy this season. Really funny stuff. I can't wait for everyone to see it, including me.
Read a Q&A with executive producers Vince Gilligan and Peter Gould.
Better Call Saul airs Mondays 9/8c. For the latest news and exclusives, sign up for the Insiders Club.
Read More