Press
AV Club Talks Kim With Peter Gould; TheWrap Interviews Michael Mando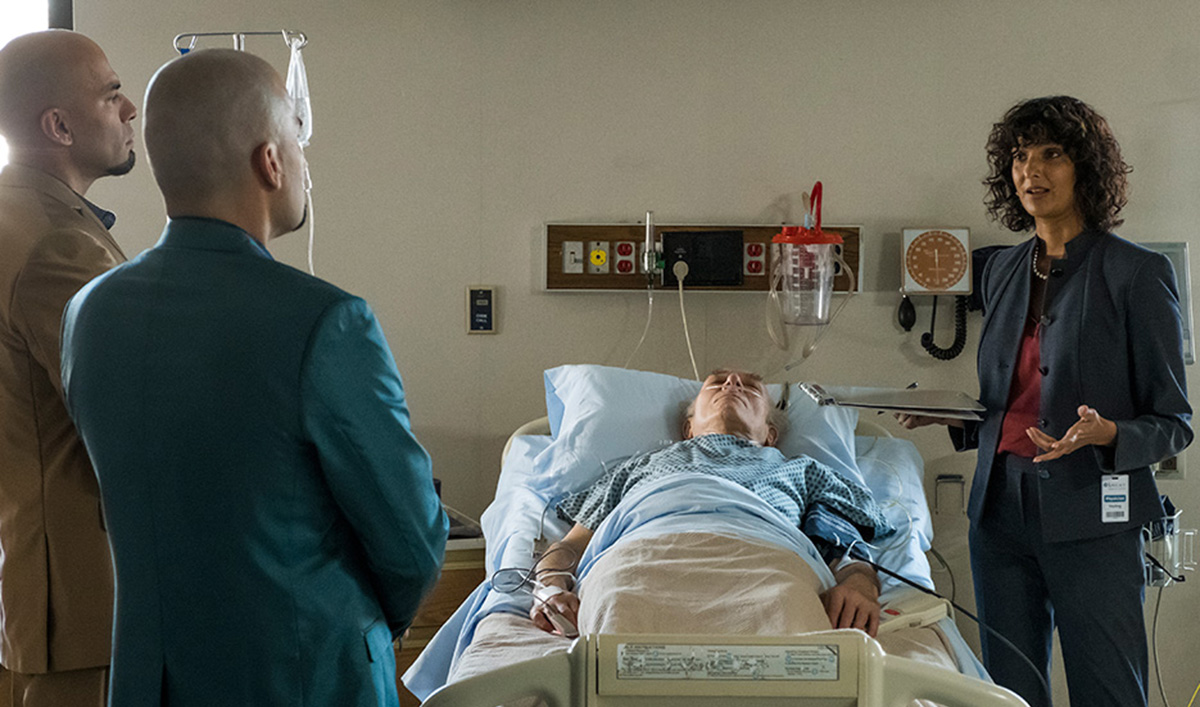 This week, A.V. Club discusses Kim and Howard's confrontation with Peter Gould, while TheWrap interviews Michael Mando. Plus, Vulture does a deep dive into Kim's ponytail. Read on for more:
• Peter Gould talks to A.V. Club about Kim confronting Howard, and how Kim knows Jimmy is "hurting even though he's putting a pretty happy face on. And she can tell he's hurting and I think she very justifiably takes Howard to task. And we love her for it."
• Discussing Nacho and Gus with TheWrap, Michael Mando explains, "There's something that binds them together. But strangely, that's something that Gus isn't acknowledging."
• Vulture examines how Kim's "swept-up, boing-boing-curled work of hair art is more than just a ponytail. It's a reflection of who Kim is and who she wants to be."
• Bustle observes that "Gus will become more powerful in the Mexican cartel and while it's not great news for Nacho, this move may also lead to a major Breaking Bad connection that will delight fans."
• Vince Gilligan teases Season 4 to Entertainment Weekly, saying, "We have a subplot that very squarely gets us into Breaking Bad territory. The Breaking Bad world comes shuddering against the Better Call Saul world — much like the Titanic and the iceberg."
• Asked about Gene, Vince Gilligan tells TV Guide that "it seems to me, that Gene, in Omaha, the guy that manages the Cinnabon at the mall, is a pretty interesting character in his own right. So I think we'd be remiss not to show the audience a little more of his story."
• Entertainment Weekly reports that Vince Gilligan and Peter Gould "have opened the door to the possibility that those [Omaha] scenes are not as far into the future as you think they are. And that Walter White (Bryan Cranston) could still be alive and kicking at the time."
• Awards Daily catches up with Production Designer Judy Rhee, who explains that Jimmy and Kim's cluttered apartment is "a visual reminder that things need to get sorted out. Throughout the season, you will visually see the experience evolve and change – their relationship as well as the clutter."
• Mike "killed his son. In his mind, he killed his son. So his only decency, maybe in a lifetime, for him, is that last chance with this young, little soul [Mike's granddaughter]that he wants to be truthful. He wants her to be kind," Jonathan Banks says to IndieWire.
• RogerEbert.com describes Season 4's first three episodes as "masterful displays of the subtle impact of tragedy on behavior, all against the backdrop of an increasingly-heated drug war that we know will eventually help turn Jimmy into Saul."
• Referring to the ending of the Season 4 Premiere, Bustle observes that "Jimmy smiling about Chuck's suicide sets a particularly ominous tone for Season 4 — and for the fate of Jimmy McGill."
• Geek.com comments, "Better Call Saul doesn't need to make a flashy entrance to begin each new season. It understands that its most powerful moments are often its most understated."
• The Winnipeg Free Press praises Better Call Saul, which "relies on old-school storytelling — character, setting, dialogue, moral conflict — developed slowly and with precision, detail and craft. We know what's going to happen, so we can concentrate instead on how it's going to happen."
• AL DÍA interviews Luis and Danny Moncada about their journeys from prison to playing the Cousins, with Danny saying, "All that bad energy that was there before, we channel that into and throw it on screen so we can really look like those guys, but we aren't those guys in real life because if we were…we would not be free."
• Moviefone, hailing Better Call Saul as a spinoff that's just as beloved as the original, says, "Breaking Bad is arguably one of the best TV dramas of all time, but Better Call Saul is doing a darn good job of living up to its source material."
• For recaps and reviews of Season 4, Episode 2, "Breathe," check out A.V. Club, Den of Geek, /Film, IGN, IndieWire, The New York Times, Rolling Stone, TV Guide, TVLine and Vulture.
Watch Season 4, Episode 2 (no log-in required) on amc.com and AMC apps for mobile, Fire TV, Xbox One, Apple TV, Roku and Chromecast.
Better Call Saul airs Mondays at 9/8c. To stay up-to-date with all the latest news, sign up for the Better Call Saul Insiders Club.
Read More