Press
Peter Gould Talks Saul With EW; Variety Interviews Laura Fraser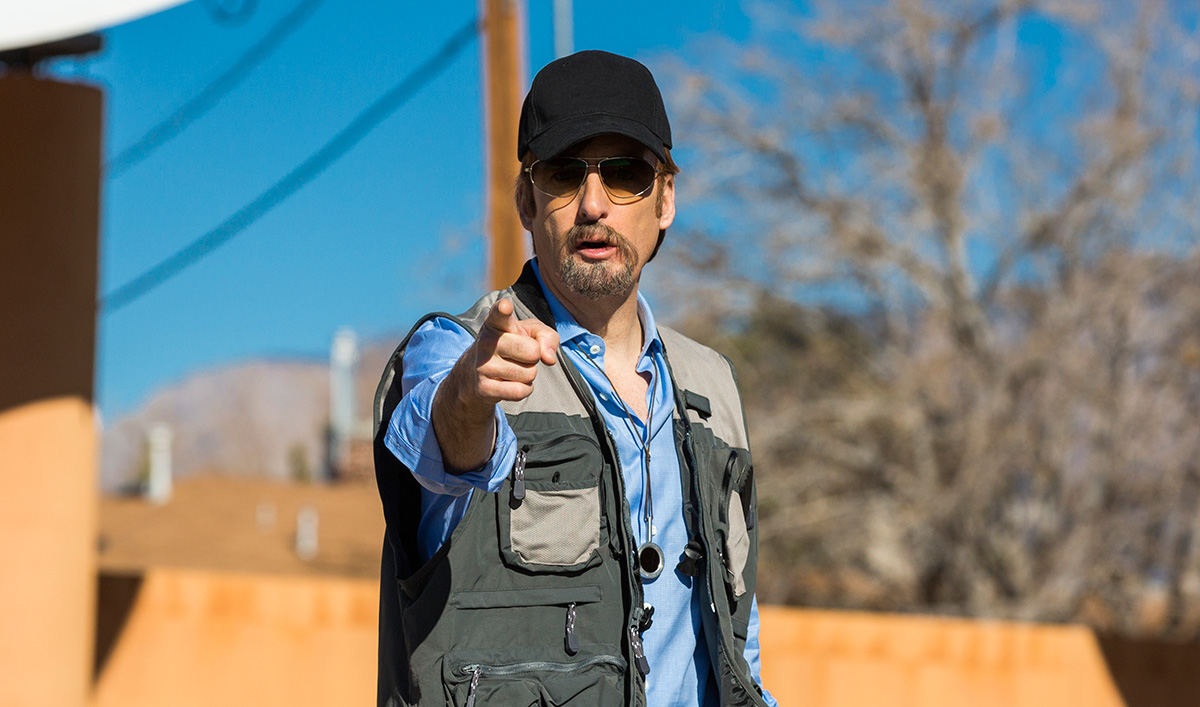 This week, Peter Gould discusses Saul with Entertainment Weekly, while Variety interviews Laura Fraser about Lydia. Plus, Michael Mando speaks with Den of Geek. Read on for more:
• Peter Gould explains to EW, "Saul Goodman, when we first meet him on Breaking Bad, is perfectly willing to suggest murder as a business strategy. I don't think Jimmy McGill or even this version of Saul Goodman — that would be far, far outside his scope."
• Discussing the rest of the season with the Los Angeles Times, Peter Gould reveals, "I can tell you this season goes to emotional extremes. Some of the darkest material we've ever seen, but also some very funny moments."
• Speaking to Yahoo TV, Peter Gould reveals that, at one point in the most recent episode, Gus is "actually shining a flashlight underneath the washing machines, which later on Breaking Bad, of course, is moved to reveal the secret stairway that will take them down to the super lab."
• Variety interviews Laura Fraser, who talks about Lydia's mindset at this moment in time: "She thinks if she can get even power, enough control, enough money she's going to be safe. At this point she thinks, I'm going to do this. I'm going to be all right."
• Michael Mando tells Den of Geek about Nacho "flirting with the idea of ending Hector. That's such a gigantic endeavor to take on obviously because we realized how connected to the cartel that Hector is. That's the closest that you'll get to sleeping with death."
• Observer.com talks to Michael Mando, who characterizes Nacho as "someone who has his eye on the long endgame and that's one of the reasons why Nacho is able to survive this long – and do it under the radar."
• Ann Cherkis, interviewed by The Hollywood Reporter, says of writing the latest episode, "It's important to tell the audience that there's no question about where Jimmy's head is at regarding Chuck."
• Bob Odenkirk, speaking with IndieWire about Jimmy and Saul, says, "Obviously they're tied together at their core, but I think Saul is Jimmy with about three-quarters of his humanity constricted and sucked in."
• Lavell Crawford tells TheWrap, "I always thought Huell was like [Saul's] barometer. I'd like to see their relationship grow to the point where Huell is the guy to keep Saul kind of honest."
• Bustle wonders, "So how long will Lydia be on Better Call Saul? Based on her involvement later in Breaking Bad, she could be a small part for the long haul."
• Forbes speculates that Lydia's "appearance in BCS at this point suggests that Gus's ambitions are even larger than we dared to imagine."
• Uproxx asserts, "The important thing is that we all recognize there could eventually be a point where we need to ask ourselves — really, really ask ourselves — if Better Call Saul has surpassed Breaking Bad."
• Discussing Better Call Saul, Bob Odenkirk declares to Deadline, "The star of the show is the writing, and there's kind of no way around that."
• TV Guide comments that "the acting on Better Call Saul's third season is so good that there are four actors who could conceivably earn a nomination for Outstanding Supporting Actor in a Drama Series," namely Jonathan Banks, Giancarlo Esposito, Michael McKean and Michael Mando.
• TVLine honors Michael McKean as the performer of the week, calling "Chicanery" the "finest showcase yet for his fascinatingly layered performance as Jimmy's brother Chuck McGill."
• Gold Derby commends Michael McKean, who "has never been better or more complex than he is in Better Call Saul, specifically in the recent episode 'Chicanery.'"
• Entertainment Weekly highlights a new Los Pollos Hermanos training video: "In addition to limiting visits from family members and banning photography to keep that proprietary company information private, LPH has a strict zero tolerance drug and alcohol policy, because Gus Fring also sells irony by the kilo."
• Crave presents a "curated list of the Top 10 Better Call Saul Shooting Locations" in Albuquerque, including Los Pollos Hermanos, Mike's Tollbooth and the Omaha Cinnabon.
• For recaps and reviews of Season 3, Episode 6, "Off Brand," check out A.V. Club, Entertainment Weekly, IGN, The New York Times, TVLine, Uproxx, Variety and Vulture.
Watch the latest episode of Better Call Saul on amc.com and AMC apps for mobile, Xbox One, Apple TV, Roku and Chromecast.
To stay up-to-date with all the latest news, sign up for the Better Call Saul Insiders Club.
Read More