Press
Vince Gilligan Previews Season 3 to Variety; THR Talks to Bob Odenkirk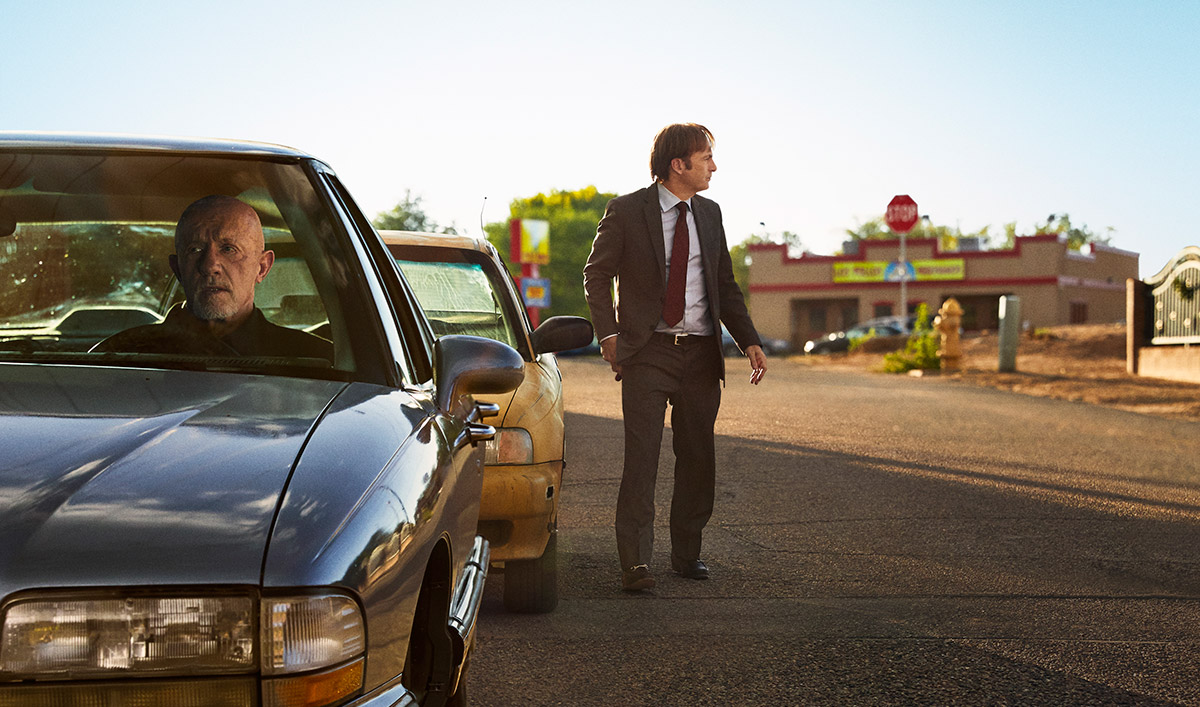 This week, Vince Gilligan previews Season 3 to Variety, while The Hollywood Reporter gets more details on the upcoming season from Bob Odenkirk. Plus, USA Today recommends catching up on Better Call Saul. Read on for more:
• Reporting from the Season 3 Premiere screening, Variety learns from Vince Gilligan that "things get quite a bit darker in Season 3, more Breaking Bad-like. We didn't set out for that to happen, it came to us organically."
• Bob Odenkirk reveals to The Hollywood Reporter, "Once the dominoes start falling it goes faster and faster. In Season 3, really at the very end is when they start to fall. It's a faster season."
• USA Today recommends catching up on Better Call Saul because Gus "will be heading to the spin-off for its third season as Bob Odenkirk's Jimmy McGill continues his journey to becoming Saul Goodman."
• TV Guide advises watching the Season 3 Premiere live: "The Bob Odenkirk-led drama has proven time and again it's not only a worthy successor to the saga of Walter White, but that it's also the only good thing about Mondays."
• In an article about Better Call Saul's return, Giancarlo Esposito tells Variety, "I thought I was finished with Gus; I thought we'd mined everything. But the opportunity to come back and explore everything in a different light is always exciting for an actor."
• In Rolling Stone, Bob Odenkirk advises viewers, regarding Jimmy, "It's important to rediscover your hopes for him. Because he does get eviscerated more than once."
• "Ultimately the descent of the character, the change that he makes to become Saul Goodman, is an ethical, moral one," Peter Gould says to The Atlantic.
• Speaking with Vox, Rhea Seehorn explains why she thought she wouldn't get the part of Kim: "I just thought, well, they can get absolutely anyone they want to, so I guess it won't be me."
• Peter Gould tells Fox News, ""Hopefully the audience doesn't get impatient because the show is called Better Call Saul and you've seen 20 episodes so far and haven't seen Saul Goodman, but this season Jimmy takes some big steps toward becoming Saul Goodman."
• Discussing Season 3, TVGuide.com asserts that Vince Gilligan and Peter Gould "know how to deliver 'rip-roaring conflict' of both the action and emotional variety. It may take awhile to get there, but it'll be worth it when it arrives, and the journey there sure was pretty, wasn't it?"
• Bob Odenkirk tells Channel Guide Magazine that Jimmy and Mike will spend more time together in Season 3: "It's so much fun, because it's a great Laurel-and-Hardy duo with Mike getting frustrated with Jimmy's inspirations and crazy-pants style. I can't be onscreen enough with Jonathan Banks."
• RadioTimes interviews Bob Odenkirk, who explains, "The more important thing is that in season three he starts to shut down emotionally, and that is what turns him into Saul. It's when he just becomes a cold-blooded, self-serving bastard."
• Entertainment Weekly spotlights a new Season 3 promo where Giancarlo Esposito, as Gus, trains prospective employees in communication: "Click on the video to watch the first video and embrace the chill that enters your spine when he notes that 'at Los Pollos Hermanos, someone is always watching.'"
• Time Out reports that a Los Pollos Hermanos will pop up in New York City on Apr. 9 and 10.
• And, Giancarlo Esposito will be in Sydney next week to appear at the opening of a Los Pollos Hermanos pop-up at Thirsty Bird in Potts Point, according to Time Out Sydney.
• Uproxx features a Season 3 behind-the-scenes video, which "makes very clear" that Bryan Cranston will not appear in Season 3.
• Nerd Reactor comments that "the world of Saul is starting to collide with the world of Breaking Bad, raising both the stakes as well as audience anticipation. In the relatively slow paced Season 3 Premiere, the seeds are being planted for what is sure to be a conflict heavy season."
• Previewing Season 3, Hypable proclaims, "Gus' reveal/entrance lives up to classic moments from Breaking Bad. Viewers will be instantly transported back to the meth master's keep-your-friends-close-and-your-enemies-closer mantra."
• Speaking with The Irish Sun, Bryan Cranston says, "What's great about Saul is that Vince Gilligan's creative hand is very evident and so there's a familiarity to the setting and sensibility. Yet most of the characters are new and have a different vibe."
• NJ.com includes Better Call Saul in its spring TV preview, asking whether Gus was "the one who stopped Mike (Jonathan Banks) from taking out Hector Salamanca in the season two finale? Oh, the irony!"
• Backstage, previewing Season 3, says the new season will "likely keep Bob Odenkirk in the running for leading drama actor at the Emmys, where he has never won for acting."
• Teasing Season 3 in an April TV preview, Flavorwire says, "You better believe Season 3 of this fantastic Breaking Bad prequel opens with another black-and-white Cinnabon montage."
To stay up-to-date with all the latest news, sign up for the Better Call Saul Insiders Club.
Read More