Press
THR Talks Gus & Mike; Jonathan Banks Chats With TV Guide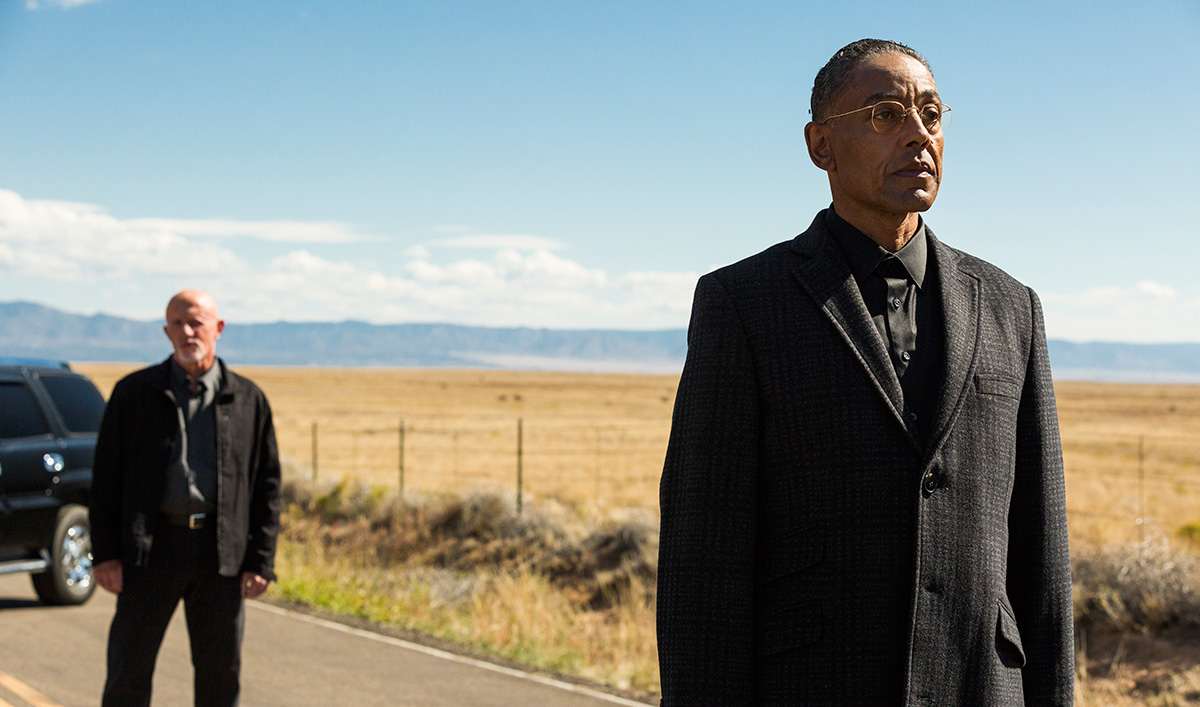 This week, The Hollywood Reporter discusses Gus and Mike with Better Call Saul writer Gennifer Hutchison, while Jonathan Banks has a chat with TVGuide.com. Plus, Bob Odenkirk talks to Rolling Stone Australia. Read on for more:
• The writer of "Sunk Costs," Gennifer Hutchison, tells The Hollywood Reporter how important it was to get Gus and Mike's first meeting just right: "Making sure that that seed of connection was there right from the beginning, but felt reasonable and justified, was really a big goal in that scene."
• Yahoo TV talks to Gennifer Hutchison, who says the next episode "really shows the consequences of the actions our characters are taking in and how these schemes and plans and actions that have been set in motion even last season, they're really starting to play out for our characters."
• Jonathan Banks recounts to TVGuide.com how he argued with Executive Producer Thomas Schnauz "about whether or not a guy as tough as Mike would use a phrase as soft as 'easy-peasy'" in Season 1's "Pimento."
• Comparing Better Call Saul and Breaking Bad, Bob Odenkirk, interviewed by Rolling Stone Australia, says, "In a strange way, Breaking Bad was a more universal scenario. It was a mid-life crisis. And this is a more individual, unique scenario."
• Vince Gilligan tells Den of Geek, "I think Peter Gould and I, and in fact all of our writers, are proud that we had the self-discipline to wait so long to bring Gus Fring back into the fold."
• The Winnipeg Free Press asserts, "Whatever way you position it, Better Call Saul is terrific TV, and it's starting to give Breaking Bad a run for its drug money."
• Flickering Myth commends Better Call Saul as "the best looking show around, with an unprecedented amount of artistry and craft going into each and every episode. It really is quite the sight to behold, and luckily it has the substance to back it up."
• Bob Odenkirk shares with Konbini that he would pick Gus over Tuco, explaining, "Tuco's even scarier than Gus Fring so I'd go the Gus Fring route. I think I'd get away with my life."
• Giancarlo Esposito speaks with Australia's TheMusic.com.au about the Gus spin-off he envisions: "At this point, it's a pipedream of mine… a limited edition six or 13 episode special on the rise of Gus would be enough for me."
• Talking to the Pittsburgh Tribune-Review, Michael McKean explains that Jimmy "is a pain in the (butt) to his brother but remains the center of Chuck's life."
• Movie Pilot wants to know "what exactly happened to Kim in the time between 2002, when Better Call Saul is set, and present day?"
• While visiting Fifi, the World War II B-29 bomber that inspired Season 2, Episode 8, Fifi, Vince Gilligan tells the Ventura County (Calif.) Star, "We love Fifi and she should have her own T.V. show.
• For recaps and reviews of Season 3, Episode 3, "Sunk Costs," check out A.V. Club, Den of Geek, Entertainment Weekly, /Film, IGN, The Independent, IndieWire, The New York Times, Observer.com, TV Fanatic, TVLine, Uproxx and Vulture.
Watch the latest episode of Better Call Saul on amc.com and AMC apps for mobile, XBox One, Apple TV, Roku and Chromecast.
To stay up-to-date with all the latest news, sign up for the Better Call Saul Insiders Club.
Read More