Press
THR Chats With Vince Gilligan; Peter Gould Talks Gus With EW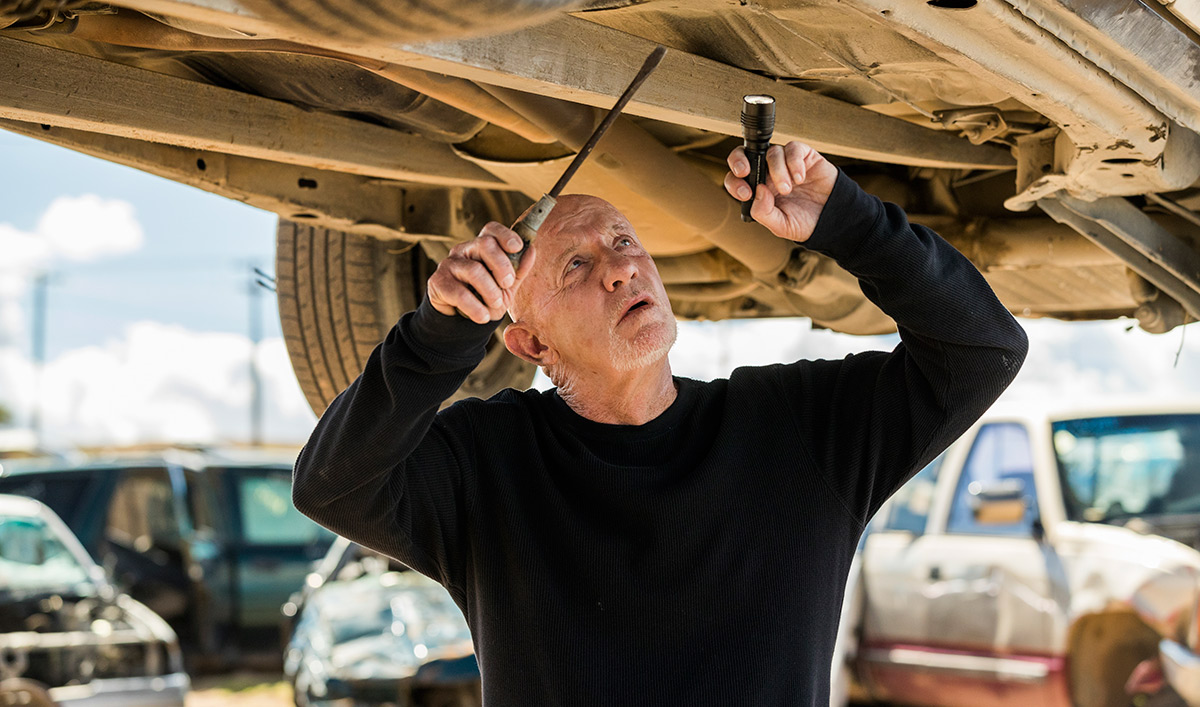 This week, The Hollywood Reporter chats with Vince Gilligan about patience and making fans wait, while Peter Gould talks about Gus's return with Entertainment Weekly. Plus, Bob Odenkirk tells TV Insider how sad he is about Jimmy transforming into Saul. Read on for more:
• Discussing the show's pacing with The Hollywood Reporter, Vince Gilligan provides this insight: "I just remember as a kid that the night before Christmas was the best part. The waiting to open the presents was the best part… Dramatically speaking, make 'em wait for it, make 'em beg for it, I think."
• "Having the opportunity to bring the character of Gus back and work with Giancarlo [Esposito] again was too delicious to pass up when it was right for the show," Peter Gould tells Entertainment Weekly.
• "It makes me sad to see this guy cutting himself off from the better parts of himself; I feel bad when I see the character making Saul Goodman choices. But one thing I would say is that I don't think he completely loses his humanity in this transformation," Bob Odenkirk shares with TV Insider.
• The Los Angeles Times interviews Rhea Seehorn, who says of Kim, "It's much easier for her to keep things black and white, but she clearly lives in the gray area. Reckoning with that is tough for her."
• Peter Gould, interviewed by Yahoo TV, declares, "I find Gene fascinating. I love the way Bob [Odenkirk] plays him, and it's amazing to think the same man who is so lively and colorful as Jimmy is, and then as Saul is, could be so incredibly tamped down, so I am fascinated."
• Visiting the Los Pollos Hermanos pop-up in New York City, Michael McKean tells TVGuide.com, "You can disagree with him, you can root for Jimmy all you want, but Chuck has his point."
• Michael McKean teases to Den of Geek that "towards the end of the season there's a flashback that's not that far back. It's just a piece of the puzzle that's been missing. It's sort of a signal moment that ties into the rest of that episode."
• TheWrap points out that The Adventures of Mabel's Harry Thurston Peck is "an author whose life parallels Jimmy's in some ways."
• Uproxx takes a deep dive into Season 3's Episode 1, taking a look at some of the details viewers may have missed, callbacks to Breaking Bad, references to other shows or movies, and theories on the direction the series is heading."
• Before Gus makes his appearance on Better Call Saul, Vulture has this to say: "As a refresher on why Fring — who'd eventually have a fatal brush with Hector's vengeful temper — was such an iconic antagonist, here are ten of his most stunning moments throughout Breaking Bad's run."
• The Guardian commends Better Call Saul as "a slow peeling away of Jimmy McGill's humanity, a methodical look at what causes a man to become a cockroach."
• Ahead of the Season 3 Premiere, Giancarlo Esposito teases to Deadline, "I'm back in a new way. It's a Gus you've never seen before."
• Salon commends Better Call Saul as "consistently one of television's best dramas, owing to its superior writing and its cascade of stylistic flourishes reminiscent of auteur cinema."
• "Kim from the beginning saw Jimmy in a certain light, but by the time Jimmy becomes Saul, she might look at him in a very different way, and then what does that mean?" Rhea Seehorn says to Den of Geek.
• Michael McKean explains the Chuck/Jimmy tension to Salon: "I think this is a classic case of 'mom liked you best.' Here's the dichotomy: I made mama proud, Jimmy made her laugh."
• Rhea Seehorn tells Uproxx that Vince Gilligan and Peter Gould "not only wrote but encouraged me to play in performance a character that is 100 percent linked to Jimmy but is not an ancillary woman. She is a woman that exists."
• Bustle points out, "While Howard doesn't understand what Chuck is trying to accomplish by recording his brother, Chuck wants to ruin Jimmy on Better Call Saul and appears to have a master plan to do it."
• For recaps and reviews of Season 3, Episode 1, "Mabel," check out A.V. Club, Bustle, CNN, Den of Geek, Entertainment Weekly, Gothamist, IGN, IndieWire, The New York Times, NPR, Observer, TV Insider, TVLine, Uproxx and Vulture.
Watch the Season 3 Premiere (no login required) on Chromecast, Xbox One, Apple TV, Roku, AMC mobile apps and amc.com.
To stay up-to-date with all the latest news, sign up for the Better Call Saul Insiders Club.
Read More