Blog
Relive the Height of Gus's Empire on Breaking Bad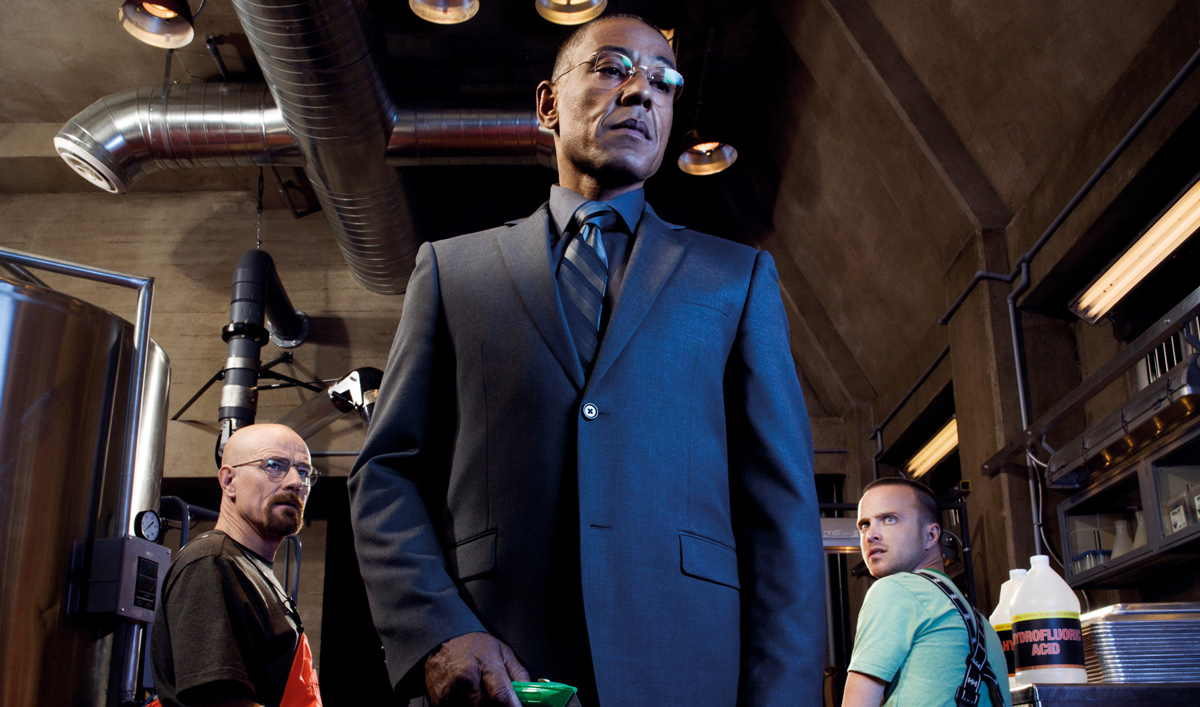 During Walter White's rise from a timid high school teacher to drug lord, there were few adversaries he couldn't outsmart. Then, he met Gus Fring. Although Gus was to many in the Albuquerque community a stand-up citizen and the unassuming businessman behind Los Pollos Hermanos restaurants, he was also brilliant player in the international drug world and slowly built an empire that was nearly untouchable, even by the Mexican cartel. As Gus's origins are retraced on Better Call Saul, revisit the height of Gus's empire in this specially curated collection of Breaking Bad episodes:
"Mandala" (Season 2, Episode 11)
When Walt and Jesse can't move all of the crystal meth they've made, Saul puts them in touch with a businessman that'd be interested in buying off them in bulk. The duo steps inside Los Pollos Hermanos for the first time, and although wait for the mysterious businessman, he doesn't show — or so they think.
"I See You" (Season 3, Episode 8)
With Hank in the hospital after a shootout with The Cousins, Gus is questioned by a suspicious Juan Bolsa about why Hank became a target in the first place. Under the guise of delivering fried chicken to Hank's colleagues at the hospital, Gus executes a sinister plan to deal with Bolsa's suspicions once and for all.
"Box Cutter" (Season 4, Episode 1)
After Jesse takes extreme action to force Gus to keep Walt as his meth cook, Walt and Jesse wait for Gus's reaction. While Gus's right-hand man Victor is cooking a new batch of meth to demonstrate how unnecessary Walt and Jesse are, Gus wordlessly suits up for revenge. Someone must pay, but who will it be?
"Hermanos" (Season 4, Episode 8)
When Gus's fingerprints are found at a murder scene, he's questioned by the DEA, revealing lots of juicy details about the Chicken Man's past. Although Gus remains cool and collected, Hank begins to formulate a theory about Gus's "business." Meanwhile, a pivotal flashback to 1989 offers a look at a much younger Gus that reveals the first fractures in the relationship between Gus and the cartel.
"Face Off" (Season 4, Episode 13)
Gus makes plans to finally takes his revenge on Hector Salamanca ("Tio"). And with the DEA closing in, Gus and Walt's cat-and-mouse game reaches an explosive resolution.
Check out this special collection of episodes, available on amc.com and AMC apps for mobile, Apple TV, Roku, Xbox One and Chromecast before they're gone on May 13. Then, stay tuned for other curated batches of episodes in the coming weeks.
Read More