Press
EW Talks Gus Redux With Giancarlo Esposito; Vince Gilligan's Yahoo Q&A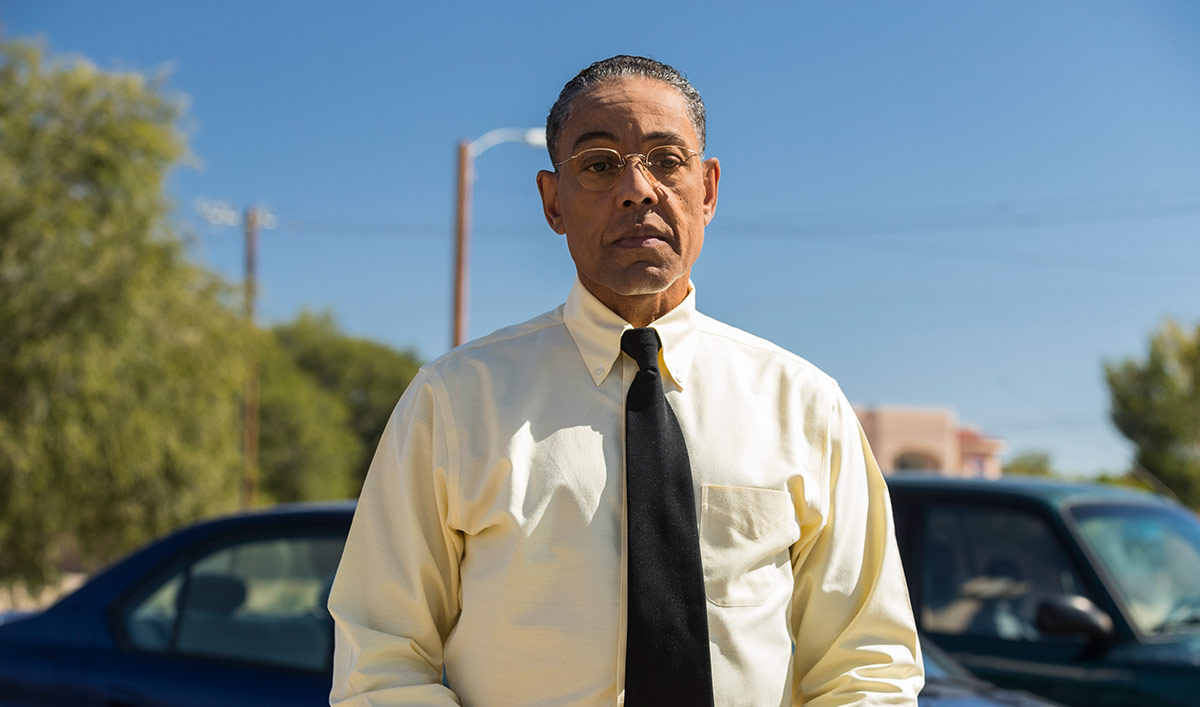 This week, Entertainment Weekly discusses Gus's return with Giancarlo Esposito, while Vince Gilligan does a Q&A with Yahoo TV. Plus, Peter Gould talks to EW about Episode 302. Read on for more:
• Previewing the next few episodes, Giancarlo Esposito tells Entertainment Weekly, "It's definitely cat-and-mouse with Mike. It's to figure out how to position Mike to be able to be accepting of whatever offer Gus is going to give him, and also to have Mike understand the longevity of the gig."
• Vince Gilligan discusses Gus's introduction with Yahoo TV, saying, "It was just great to see him suited up and on the Los Pollos Hermanos set once more. I felt a great weight of responsibility on me to reintroduce this character in the most dramatically interesting way possible."
• Discussing Episode 302, "Witness," Peter Gould says to Entertainment Weekly that Chuck "doesn't understand how incredibly hurt Jimmy is, and that is what you see at the end of episode 2 — Jimmy is thrown into a rage that Chuck wasn't even expecting because Chuck doesn't understand how he's damaged his brother."
• Vince Gilligan teases to The Daily Beast, "God forbid the show ever ends prematurely before we figure out a way to lay eyes on Walter White again. And Jesse Pinkman, for that matter."
• Vanity Fair explains "the references and familiar characters Better Call Saul introduced this week—in its Breaking Bad-iest episode ever."
• Bustle applauds, "Gus' appearance is with all of the understated elegance and everyday normalcy that you've come to expect from Vince Gilligan's Breaking Bad and its prequel series and it gives a little thrill to fans who delight in the connections that the two shows share."
• Talking about Gus's first appearance, The Week rhapsodizes, "This is a delicious moment: before Jimmy turns into Saul Goodman, and before Saul turns into Cinnabon Gene. We know more than either Jimmy or Mike at that moment. (We even know more than Gus!) That's fun."
• Entertainment Weekly speaks with Giancarlo Esposito about joining Better Call Saul, and he says, "What excited me specifically was my own imagination about who Gus was six years prior to us meeting him. Who is that guy? I want to chart his rise in a specific way."
• Rhea Seehorn, interviewed by Forbes, explains that Kim is "just trying to hold it together while these forces are pushing and pulling. More than anything, the entire Season 3 is the beginning of consequences for everyone."
• Vanity Fair lists what it calls "the most satisfying pop cultural Easter eggs" from film and TV in the last year, including the "fact that the first letter of all the Saul episode titles spelled out the anagram F-R-I-N-G-S B-A-C-K, announcing the imminent return of Giancarlo Esposito's Gus Fring."
• "In celebration of Saul Season 3, and, you know, actual Easter, here are our 22 favorite BB [Breaking Bad] Easter eggs, from Season 1 through the Season 3 premiere episode, 'Mabel,'"Yahoo TV says.
• Uproxx's Alan Sepinwall points out that "Chuck is set up as more of an overt villain than [Breaking Bad's] Skyler ever was. Chuck is a jerk. Chuck is smug. He's imperious."
• Moviefone has six reasons why Better Call Saul is just as good as Breaking Bad, noting that the former is "not as stringently shackled to its crime genre roots. Instead, it's something like a legal drama but also a crime thriller but also a story about family."
• For recaps and reviews of Season 3, Episode 2, "Witness," check out A.V. Club, Entertainment Weekly, /Film, Forbes, Gothamist, IGN, IndieWire, The New York Times, Observer, TV Fanatic, TVLine, Uproxx and Vulture.
Watch the latest episode of Better Call Saul on amc.com and AMC apps for mobile, XBox One, Apple TV, Roku and Chromecast.
Better Call Saul airs Mondays at 10/9c on AMC. To stay up-to-date with all the latest news, sign up for the Better Call Saul Insiders Club.
Read More