Press
Season 3 Promo at EW; Awards Nods From Producers, Art Directors Guilds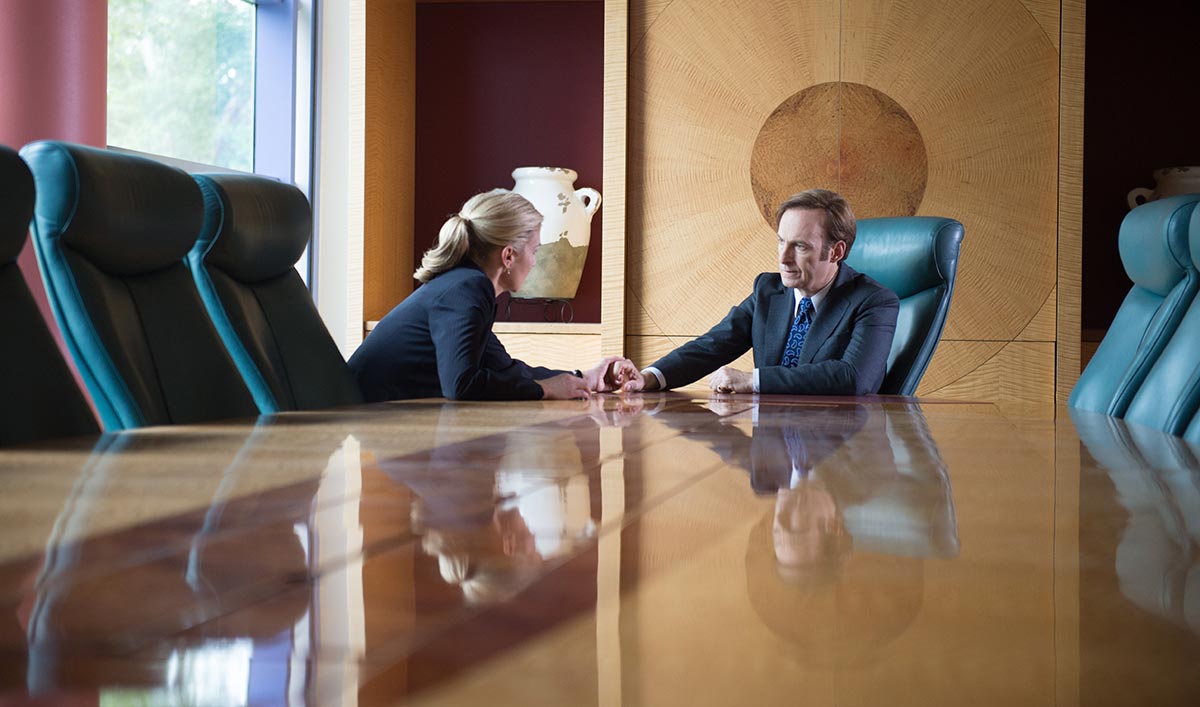 This week, Entertainment Weekly views the Season 3 teaser, while Better Call Saul gets awards nods from the Producers and Art Directors Guilds. Plus, Aaron Paul tells Esquire he really wants to appear on the show. Read on for more:
• Entertainment Weekly showcases a new Season 3 teaser, which "features Saul, er, Jimmy McGill (Bob Odenkirk) reluctantly posing for a mug shot." Collider.com says of the promo that "one can see the visual rhythm and distinct sense of framing that has colored most of [Vince] Gilligan's work up to now."
• TheWrap reports that Better Call Saul received a Producers Guild Award nomination in the drama series category.
• According to Variety, Better Call Saul was honored with a nod from the Art Directors Guild for "Inflatable," "Fifi" and "Klick" in the One-Hour Contemporary Single-Camera Series category.
• Aaron Paul tells Esquire.com that he's clamoring to be on Better Call Saul and has asked the powers-that-be "when am I gonna come to Albuquerque for my wardrobe fitting? But I don't know! It's still up in the air."
• Salon deems Better Call Saul one of the year's 15 best series, with the end of Season 2 "sending Slippin' Jimmy further down the path toward transforming into Saul Goodman, the shady Breaking Bad lawyer viewers first came to love."
• Forbes ranks Better Call Saul the No. 2 show on TV this year, noting, "Rhea Seehorn's quiet-but-commanding performance this season was not only Emmy-worthy, it was the dramatic catalyst behind one of the best shows on television."
• Reporting on the ACE Eddie Award nominations, Vulture notes that "television editors have been watching a lot of Better Call Saul: The AMC show scooped three of the five slots for Best Edited One-Hour Series, Commercial."
• Lionel Shriver writes in the NewStatesman that she admires Better Call Saul, which is "plotted on an intentionally smaller scale" than Breaking Bad yet "also has its gonzo side."
• Better Call Saul makes The Plain Dealer's list of the year's top 10 shows: "Every bit as harrowing as it is humorous, the compelling Breaking Bad prequel built on its gritty world with a riveting second season. And most riveting of all is the work of Bob Odenkirk and Michael McKean."
• Chuck recording Jimmy's admission of guilt in "Klick" ("Is this the catalyst that turns Jimmy McGill into Saul Goodman?") is one of Screener's most epic TV moments in 2016.
• Polygon, ranking the year's best shows, proclaims, "Both Bob Odenkirk and Rhea Seehorn have been revelations on Better Call Saul, which no longer needs to be measured against its predecessor — it's its own wonderful thing."
• Nerdist spotlights "incredibly realistic pop culture-inspired cakes," including one that looks like Bob Odenkirk in character as Jimmy/Saul.
• Hidden Remote anticipates Better Call Saul's return, partly because "the rivalry between Chuck and Jimmy is now at a fever pitch…Season 3 can't come fast enough.
To stay up-to-date with all the latest news, sign up for the Better Call Saul Insiders Club.
Read More