Press
Critics Love Saul's Season 2, Named Best Show of 2016 by Chicago Tribune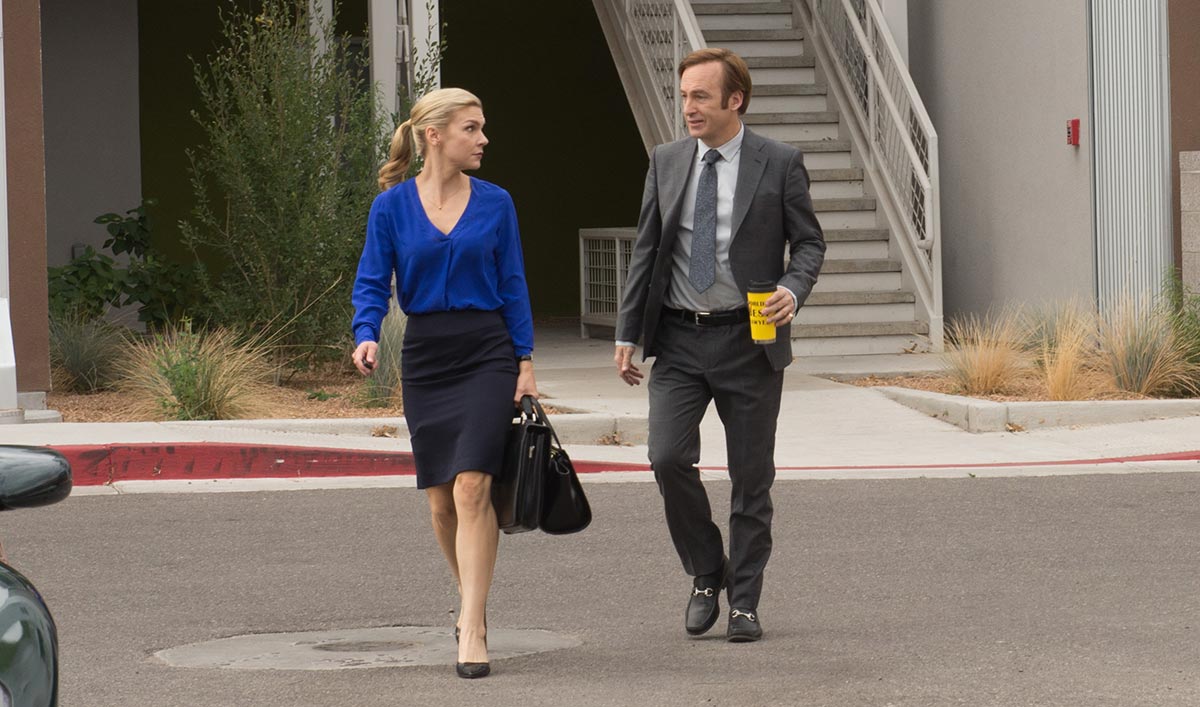 Better Call Saul is a critical darling, honored as 2016's top show by the Chicago Tribune and winning raves from many others for Season 2.
• Better Call Saul tops the Chicago Tribune's list of 2016's best TV shows, saying that "in its spectacular second season, it become its very own thing. And that thing is funny, dark, clever, heartwarming and heartbreaking."
• Variety counts Better Call Saul as one of the year's best returning shows, calling it "more energetic, less clinical and ultimately more appealing in its second go-round, partly due to Bob Odenkirk's continued mastery of the comedic and dramatic dimensions of the role…"
• Forbes names Better Call Saul one of its top 10 shows since it "nimbly alternates between outright hilarity and sad truths while telling a human story largely absent of meth kingpins and great train robberies."
• TV Guide deems Better Call Saul one of the year's best TV shows: "Every piece, from writing to acting to color scheme, is executed with unparalleled proficiency."
• One of A.V. Club's top five shows is Better Call Saul: "There's virtually no weak spot in the show, as evidenced by this year's finale, which left a pair of cliffhangers that point toward even juicier stories to come."
• Vox deems the show one of the year's 20 best: "You already know from Breaking Bad that Jimmy will flail, but Better Call Saul turned that flailing into a poignant examination of what it means to want to do good but find doing bad so, so, so tempting."
• Yahoo TV names the show one of the year's best dramas because "I loved the escalation in tension between Bob Odenkirk's Jimmy and Michael McKean's Chuck, brothers with deep bonds that are frayed by emotional razors."
• Vulture ranks Better Call Saul one of 2016's 10 best TV shows because of moments "that stopped the heart and bum-rushed the adrenaline, all while serving the broader theme of this second run of episodes: that there's something deliciously appealing in deceiving others."
• Uproxx deems Better Call Saul one of the year's top 10 shows because, in Season 2, it "split time between being a straightforward Breaking Bad prequel… and something much harder to define but no less compelling."
• Better Call Saul "continues to demonstrate that knowing how a story ends – even if it's in a Cinnabon in Omaha – doesn't have to spoil the still-hopeful present," Philly.com writes in its ranking of 2016's 10 best TV shows.
• The year's 16 best binge watches includes Better Call Saul — "Vince Gilligan and Peter Gould's signature brand of audacious storytelling is once again on display in AMC's addictive Better Call Saul" — according to Decider.
• Flavorwire considers Season 2, Episode 6, "Bali Ha'i" one of the year's best TV episodes, mainly because of a wordless scene "in which the camera stays on Kim's face while she listens to a message from Jimmy on her answering machine, as she gets ready for another day at the soulless corporate law firm where she works."
• Indiewire ranks Season 2, Episode 8, "Fifi" as one of the best episodes of the year, explaining "that when we watch this episode, we know why it's one of the best shows on television."
• A.V. Club recognizes Bob Odenkirk's performance as one of the year's best because it "only promises to get knottier and richer as Jimmy completes that transformation into Saul, and Odenkirk has made each step along that downsloping arc fascinating to watch."
• TVLine was impressed by Michael McKean's performance in the Season 2 finale, "Klick," saying, "McKean's masterful portrayal of a weakened, vulnerable Chuck McGill was so convincing in the Season 2 finale, we didn't suspect he was setting up his brother Jimmy to confess to forging documents in the Mesa Verde case."
• Rhea Seehorn gave one of 2016's best TV performances, according to Flavorwire, because "so many of Better Call Saul's emotional beats are written between the lines, and Rhea Seehorn proved excellent at letting the viewer into Kim's headspace through wordless gestures and facial expressions."
• Better Call Saul had one of TVLine's biggest plot twists in 2016, when "Chuck tricks Jimmy into confessing to fraud — and records his confession!"
• Vulture believes "Inflatable" had one of TV's best musical moments this year because of the "Scorpio" montage: "The visuals match with rapid-fire splitscreens, frames within frames, and shots of the inflatable tube dancer that inspired Jimmy's makeover, as if they're all moving to the beat."
To stay up-to-date with all the latest news, sign up for the Better Call Saul Insiders Club.
Read More