Press
Bob Odenkirk, Vince Gilligan Talk Last Scene; THR Applauds Saul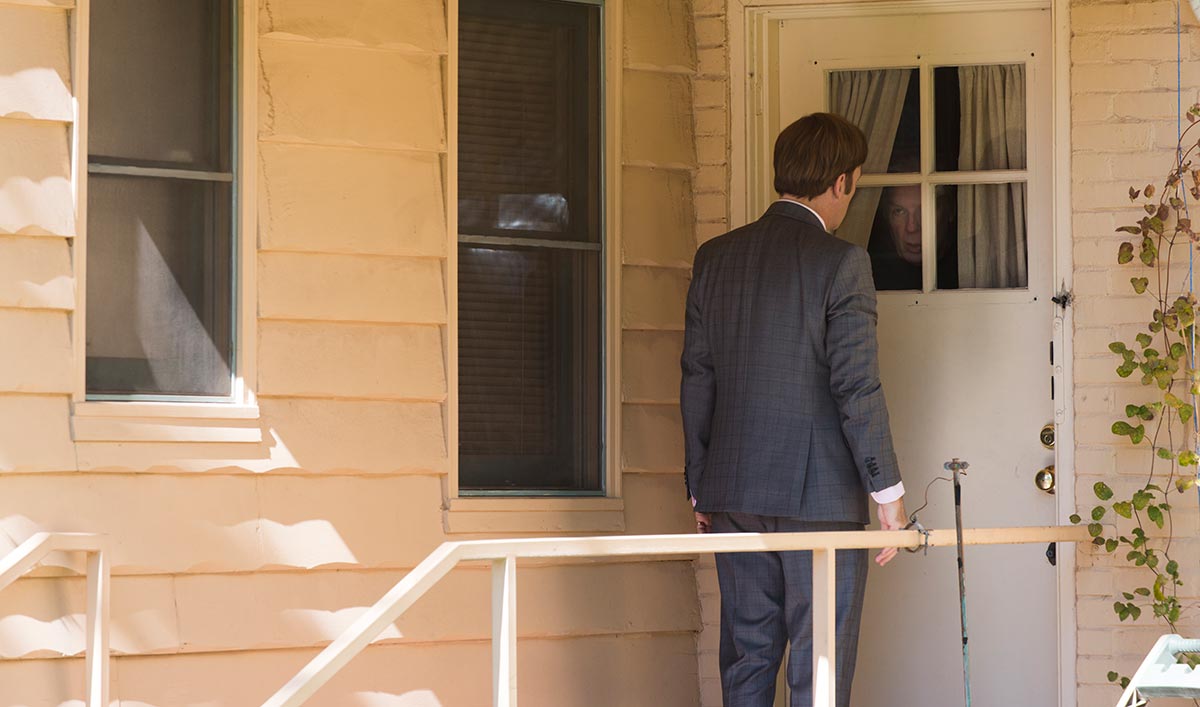 This week, Bob Odenkirk, Vince Gilligan and Peter Gould discuss the season's final scene, while The Hollywood Reporter salutes Better Call Saul. Plus, GQ interviews Rhea Seehorn. Read on for more:
• Bob Odenkirk, talking to EW about the final scene, says, "I liked how much it was about brotherly love, that moment of Jimmy just kind of surrendering and saying, 'Look, it was me,' and admitting it and doing it for his brother's sanity and health."
• EW also interviews Vince Gilligan and Peter Gould, and the former says the "ending to us seemed to be the revelation to the audience that it sure looks like Jimmy's in trouble, and that Chuck had done something extraordinary for Chuck, which is to use electricity and electronics to his benefit."
• The Hollywood Reporter declares that Season 2 "has cemented Better Call Saul's position as one of TV's best-directed shows…And while Bob Odenkirk and Jonathan Banks have done more than enough to repeat their Emmy nominations from last year, [Rhea] Seehorn and [Michael] McKean definitely should be joining them."
• GQ interviews Rhea Seehorn, who says, "I love Kim. I love her flaws and I love her heroic traits, and I love that they let me play her unapologetically."
• Slate contends that Better Call Saul "takes the style that made Breaking Bad distinctive—the astonishing cinematography, dark comedy, and brashly confident pacing—and elevates it by applying it with more beauty, subtlety, and moral sophistication."
• Peter Gould tells Variety, "We're still mulling over season three. Now that the cat is out of the bag, we're certainly thinking Gus Fring had a hand in what happened with Mike at the end of season two. Having said that, Gus Fring works in mysterious ways, he casts a long shadow, he works indirectly."
• Talking to HitFix, Vince Gilligan cautions that "people should not assume in any way, shape, or form that they'll see Gus in the first episode of next season. It's possible they will. It's also possible, if not more possible, they won't."
• TV Guide highlights how Betsy Brandt almost appeared in the Season 2 finale.
• Vulture reports that the third annual Vulture Festival next month will feature a panel with Peter Gould, Bob Odenkirk, Michael McKean and Rhea Seehorn.
• Rhea Seehorn, interviewed by TV Guide, says, "There's so much going on as far as the negotiation of the moral compass that they all grapple with. We'd all like to think that the needle just will point north and stay, but it changes depending on what's going on [with these characters]."
• Vulture speaks with Michael McKean, who says of Better Call Saul's scripts, "It's like I've been reading a serial novel, like having Dickens write for you."
• Speaking with EW, Peter Gould envisions a crossover with a certain HBO show: "I would love to see what Jimmy McGill would do in one of the trials on Game of Thrones. Might be kind of scary, actually. I think Mike would do very, very well on Game of Thrones."
• Patrick Fabian tells TheWrap that Howard likes Jimmy because "he gave him a job in the mailroom, he gave him a job at Davis & Main. Does he think he's a real lawyer? He's not working for Howard."
• Cinema Blend says Mike — "played with sublimely exhausted intensity by Jonathan Banks" — is the unlikely breakout TV character of 2016.
• Michael McKean, chatting with Yahoo TV, says, "Here's Jimmy, almost without lifting a finger, being the charmer. For Chuck, it's all work, because his work is controlling people. His work is influencing people. When one does it without what Chuck would consider to be the proper equipment, it's very frustrating."
• Michael McKean also talks to IGN and TheWrap.
• Rhea Seehorn, talking to CBC Radio about Kim and Jimmy, says, "They both know how to wear the right mask, or in his case the right suit, to fit in to get what they want. They both strike me as people who roll boulders up the hill and nothing stops them."
• The Week describes Rhea Seehorn's Kim as "polished, hardworking, and self-aware, and she understands the well-intentioned but devious Jimmy McGill — later to remake himself as Saul Goodman — in a way that almost no one else does."
• The Daily Herald believes that Better Call Saul's MVP is "Rhea Seehorn as Kim Wexler, a resourceful lawyer who provides this show full of dubious characters with its moral center."
• Hypable gives a special shoutout to Rhea Seehorn, "who has more often than not taken the spotlight from [Bob] Odenkirk and brightly shines as his morally composed love interest and equal partner in law."
• Michael McKean shares with TheWrap, "I think Chuck is 100 percent sane, but I also think that there is something going on that is chemical or electromagnetic that is very real to him."
• For recaps and reviews of the Season 2 finale, "Klick," check out The Atlantic, A.V. Club, Entertainment Weekly, Forbes, HitFix, MTV, The New York Times, TVLine, Variety, Vulture and Yahoo TV.
To stay up-to-date with all the latest news, sign up for the Better Call Saul Insiders Club.
Read More