Press
Mark Margolis Talks Hector's Return; Variety Reports on Season 3 Renewal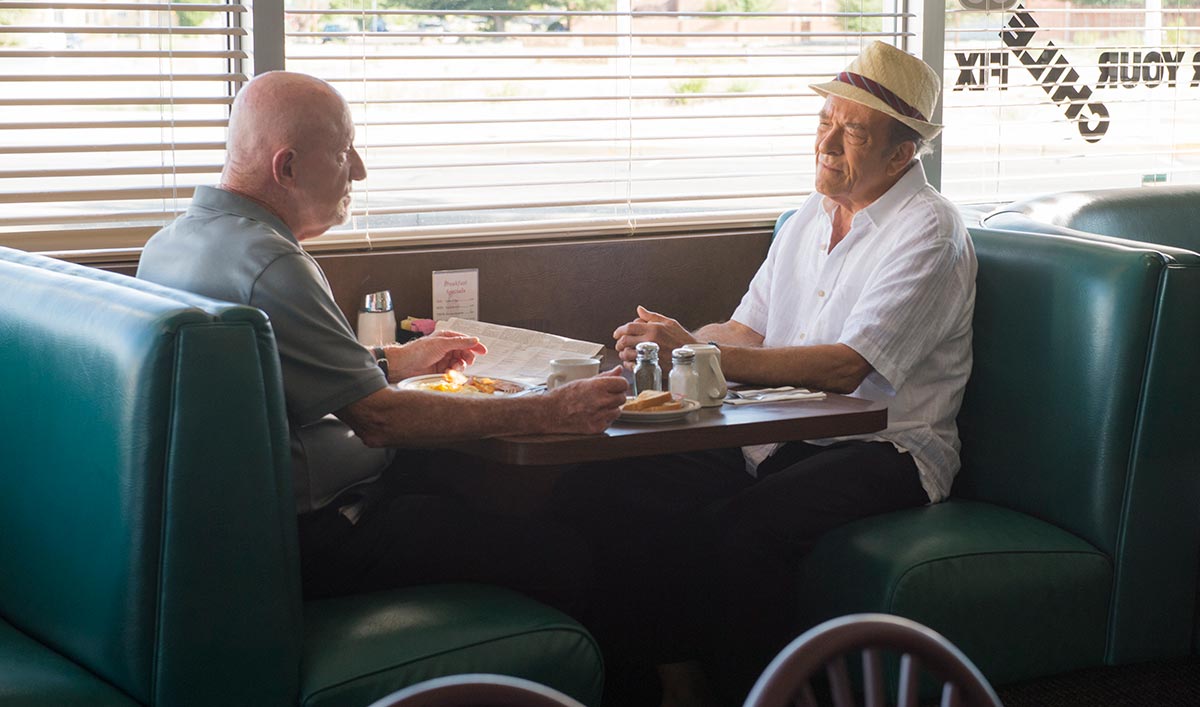 This week, Mark Margolis talks about Hector's return to the Better Call Saul/Breaking Bad world, (and the threat of going up against Mike), while Variety reports on Better Call Saul's not-so-surprising Season 3 renewal. Plus, Vince Gilligan and Peter Gould provide insights at PaleyFest. Read on for more:
• Mark Margolis tells The Hollywood Reporter, "Hector knows how to get what he wants. He has ways of trying to get what he wants, and he has steps that he can take to get what he wants, starting with an easier step and then moving on to heavier steps."
• Vulture interviews Mark Margolis, who explains that Hector is "quite dangerous for him [Mike], but Mike is a very devious and dangerous man also. He's quite willing to risk his own life to stick it to you if he has to."
• Yahoo TV talks to Mark Margolis, who talks about playing a younger Hector: "He has a little bit of vibrancy, life-force, muscle, whatever. Yeah, it's kind of neat to be able to move around as Hector Salamanca before he becomes this creature that can hardly function."
• Discussing Hector's death with Entertainment Weekly, Mark Margolis says, "I love that last episode. If I had to die off the show — I didn't want to go off it; I knew I had to go off it — it was just a lovely way to go."
• Mark Margolis, talking to The Canadian Press about Hector's eventual wheelchair-bound existence, says that "at any moment (Vince Gilligan) can have me fall over and be completely without the ability to speak and I'm sure he has that in mind somewhere."
• Variety reports that Better Call Saul has been renewed for a Season 3 that will be comprised of 10 episodes, while The Hollywood Reporter notes, "The decision to renew Saul comes as little surprise."
• CarterMatt adds that Season 3 will see "Peter Gould and Vince Gilligan holding down the fort as showrunners in the same way that they have over the course of the series' run so far."
• At PaleyFest, Vince Gilligan says, "Jimmy wasn't ready to become Saul Goodman. We don't want to see Jimmy McGill become Saul Goodman because we as writers like Jimmy better," according to The Hollywood Reporter.
• Deadline reports from PaleyFest that Peter Gould addresses Mark Margolis' appearance on Better Call Saul as Hector "Tio" Salamanca: "We thought, Tuco's in trouble. Who's he going to call? Uncle Tio. It made sense for this guy to show up. It had to be organic."
• According to Entertainment Weekly, Peter Gould teases "there is a sequence, quite a wonderful sequence that we shot in season 1 that we didn't use. It's the first time I can remember us banking a scene, and you'll see it in a couple weeks."
• Variety learns from Bob Odenkirk at PaleyFest that the "first season ended and you sort of felt like it was a clean slate. But with family, it's never a clean slate. I love continuing to explore it, as challenging as it is."
• According to Mashable, Peter Gould compares the show to building the Transcontinental Railroad: "We built half of it on Breaking Bad and now here we are starting from the west going back east. You kind of hope you don't end up three states apart."
• The Los Angeles Times praises Rhea Seehorn's "sharp performance as Kim, who acts as one of the angels of the better nature for Bob Odenkirk's Jimmy McGill with a down-to-earth blend of warmth and dry wit that makes you pull for their relationship despite our knowing it has to end."
• Bustle wonders about Rebecca: "Did she abandon Chuck when he got sick?…Did Chuck's strange affliction find its origins in the stress caused by Rebecca leaving him? (Or even dying?) Or are the two events completely unrelated? More importantly, when will the show give us answers?"
• Forbes interviews Gordon Smith, who explains that Jimmy went to Chuck because he "knows he's done wrong and he can't just let that stand. He marginally has Kim in his corner but he's one good sneeze away from losing her. So if there's any avenue he hasn't explored, he'll take it."
• Vince Gilligan tells Collider.com, "When you do hear music on Breaking Bad or Better Call Saul, it counts for something, and when in doubt our philosophy on both shows is to do whatever other shows don't do."
• Re/code Media with Peter Kafka interviews Peter Gould, who characterizes Breaking Bad and Better Call Saul as shows with "old-fashioned cliffhangers, if that makes any sense. We really see the job of each episode is to make you want to watch the next episode."
• Collider.com deems Jonathan Banks the TV performer of the week, commenting that "an episode like 'Gloves Off' also shows how delightfully staid Jonathan Banks' presence can be on the series."
• Vince Gilligan explains Better Call Saul and Breaking Bad's teasers to Creative Screenwriting, that "we try to open each episode with a reason to keep watching. In other words, with a promise to the audience that their time will be well spent."
• Albuquerque's KRQE reports that Better Call Saul is up for an award from the Location Managers Guild for outstanding achievement in location management.
• Zap2it gets New Mexico restaurant suggestions from the cast and crew of Better Call Saul.
• For recaps and reviews of Season 2, Episode 5, "Rebecca," check out A.V. Club, Den of Geek, HitFix, Los Angeles Times, The Telegraph, TVLine and Vulture.
To stay up-to-date with all the latest news, sign up for the Better Call Saul Insiders Club.
Read More