Q&A
Better Call Saul Q&A – Jonathan Banks (Mike Ehrmantraut)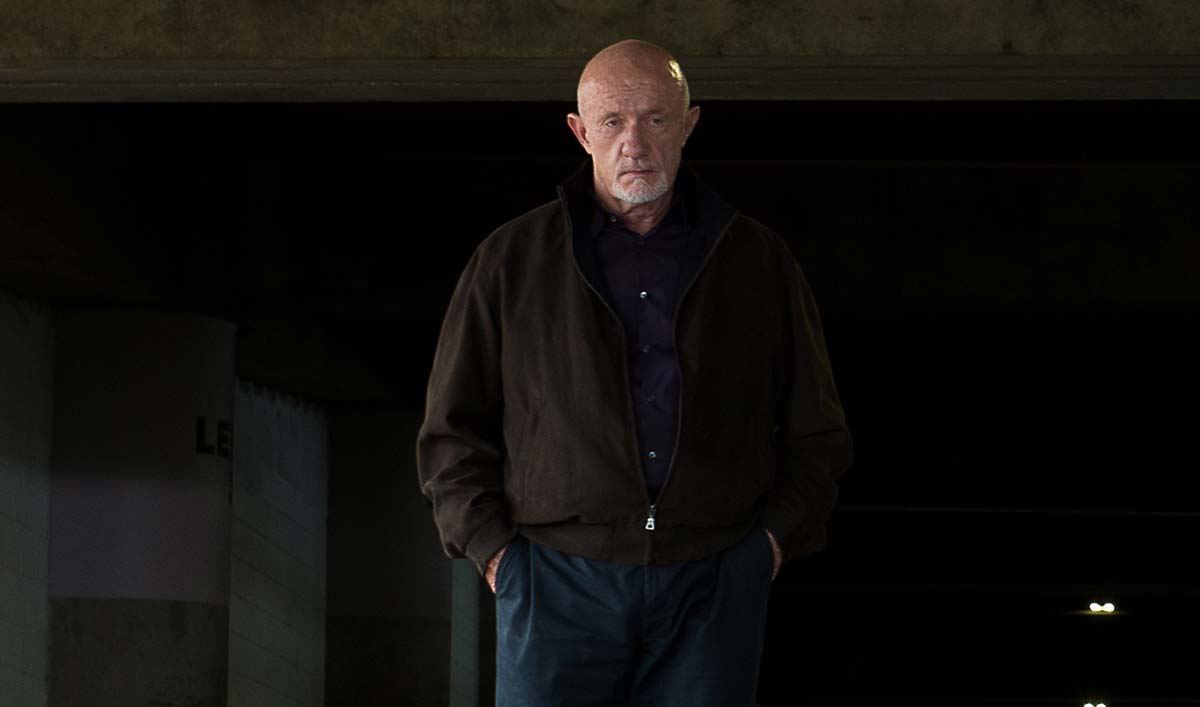 Jonathan Banks, who plays Mike Ehrmantraut on AMC's Better Call Saul, talks about exploring Mike's backstory and what's really in his brown paper bag. 
Q: This series is called Better Call Saul, but Mike is a pretty big presence. What would a series all about Mike be called?
A: Well, it would be over pretty damn quick because Mike ain't getting any younger. It's going to be Geriatric Mike soon if they don't hurry!
Q: We knew so little about Mike's history in Breaking Bad. What was the most surprising thing you learned about him up to this point in Better Call Saul?
A: It doesn't surprise me because I think about Mike's backstory a lot and I probably will forever. Ideas will come. For example, we've never seen Mike touched by a woman except for his daughter-in-law. We've never seen him treated gently. I have a feeling it would be like touching a beast who almost collapses under the touch of tenderness. Nobody has ever been tender with him. It would be interesting to see what his reaction would be to that.
Q: What do you relate to most about the character?
A: Mike's been around a long time. Jonathan's been around a long time. I've done a lot of things I'm not proud of. Mike certainly has done horrible things that he'll go to his grave with, that he doesn't forgive himself for. I guess the similarity is I don't forgive the injustices that I've done to people in this life, but it doesn't mean I don't go on.
Q: We know the dynamic between Mike and Saul on Breaking Bad, but how would you describe the Jimmy-Mike relationship at this stage?
A: Jimmy is still a huge irritation to Mike. At this point, Mike realizes that Jimmy is a good lawyer and is good at what he does. Maybe Mike feels begrudgingly about that, but he's beginning to be a little bit surprised by Jimmy.
Q: Your character is the kind of guy who keeps everyone around him in line. Are you that guy for the other actors on the set?
A: I like to go onto that set and make it a good day for everybody that's there. I like to think that is who I am as an actor at this point in my life. If I can bring a little joy, good manners and recognition of my fellow actors, the crew, the producers — everybody that's around me — I want to make it a good day. I know that sounds trite, but I want to go in there and make it a pleasant place to work.
Q: What's actually in Mike's brown paper bag?
A: A pimento sandwich…
Q: Are you just covering for Mike?
A: No, I had a pimento sandwich! Trina [Siopy], our prop mistress, makes great pimento sandwiches on the freshest of white bread.
Q: Do you have a burning question about Mike that you're hoping will get answered in Better Call Saul?
A: I don't want to build my hopes up in any one way because I really do trust my writers about where they go. I'm not crazy about being in that stupid booth, though. When Peter [Gould] said to me, "We're going to put you in a booth," I thought, "Great! That's a funny idea!" I didn't know I would be there for so long. [Laughs] They come up with such great stuff. Gordon Smith wrote that love letter of a monologue that I got nominated for an Emmy for, so I'm along for the ride and I enjoy it.
Watch: Mike opens up about his son's death.
Q: No doubt you get recognized on the street frequently. What's the one thing people have said most often when you do?
A: I'll tell you what usually happens. They'll come up to me and engage with me as Mike and then I begin to speak and say, "Hi, I'm Jonathan. How are you?" I can see the look on the face and how they think, "This isn't Mike." [Laughs] I can see the disappointment.
Q: We've asked several of your colleagues, now it's your turn: If you were in a legal bind, who would you want as your lawyer: Jimmy or Saul?
A: Oh, wow. Good question! Well, their expertise is the same. Either one is fine with me, but at this point of the story line, I only have one choice and that's Jimmy. So, I'll take Jimmy.
Read an interview with Bob Odenkirk, who plays Jimmy McGill.
Better Call Saul airs Mondays at 10/9c on AMC. Receive show exclusives by signing up for the Insiders Club.
Read More