Press
Forbes Rates Saul No. 1; Elle Commends Bob Odenkirk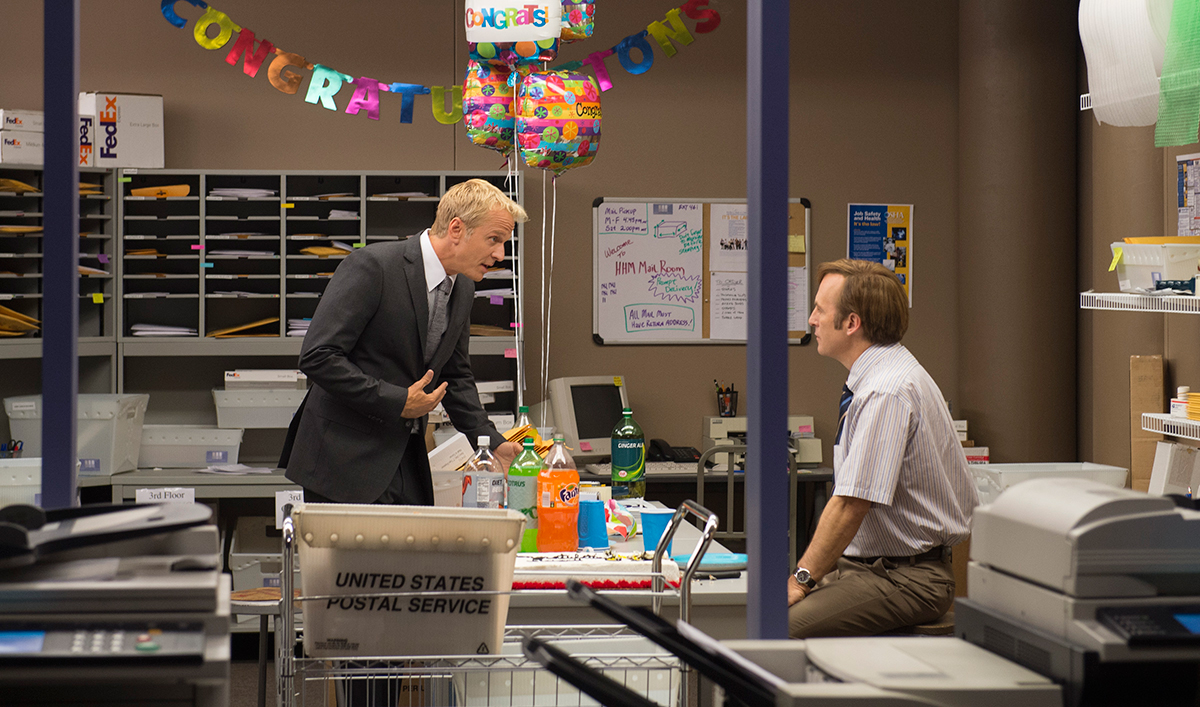 This week, Forbes honors Better Call Saul as the year's No. 1 show, while Elle sings Bob Odenkirk's praises. Plus, David Cross, Odenkirk's frequent comedy partner, talks up Saul. Read on for more:
• Better Call Saul is Forbes' top show of the year because Vince Gilligan and Peter Gould "chose the right character" from the Breaking Bad universe for a spin-off.
• Elle commends Bob Odenkirk, calling him "an insanely charming leading man, adept at far more than comedy, and playing the younger, more idealistic Jimmy McGill really showcases his dramatic chops."
• David Cross tells The Daily Beast that Better Call Saul was his No. 1 show of the year because the drama was "just great storytelling. Everything about it was great: the cinematography, the direction, the writing, the acting."
• USA Today names Better Call Saul the No. 3 show on TV in 2015: "How do you answer those who said we didn't need a Saul-centered prequel to Breaking Bad? You give them a new show so fabulous, it makes us think we did."
• The Hollywood Reporter takes a look at Golden Globe-nominated shows like Better Call Saul, which "was probably better than AMC or anyone else had a right to imagine (since such projects are fraught with peril)."
• Newsday recommends binge-watching Better Call Saul because the "hugely enjoyable spinoff/prequel of Breaking Bad begins strongly, gets better."
• The Atlantic's preview of 2016 TV highlights Better Call Saul's Feb. 15 return, noting that the show "quickly found its own voice (a surprisingly tragic one) and took off partly thanks to Bob Odenkirk's amazingly nuanced performance."
• Gothamist lauds Better Call Saul as one of 2015's best shows, saying it "could have coasted on Bob Odenkirk's goofy, colorful title character, but instead decided to go much deeper. 'I broke my boy' remains one of the most powerful moments on TV this year."
• Radio Times, lauding Better Call Saul as one of the year's top 20 shows, says Saul was "arguably Breaking Bad's standout character, and here he was treated with the respect he deserves, his personality injected with complexity and pathos."
• "Living up to the standard of quality set by Breaking Bad was no small order but Better Call Saul pulled of the combo of being as good as BB fans hoped while also establishing itself as its own show, with its own pace and rhythm," writes 411Mania in naming the show one of the best of the year.
• Above the Law describes Better Call Saul as "everything I have ever hoped for in a legal television show."
• Chicago's Daily Herald believes that Better Call Saul "soars, thanks to former Naperville resident Bob Odenkirk in the title role, fellow Bad co-star Jonathan Banks as the brooding, dangerous Mike Ehrmantraut and a cast of surprising new characters."
• "We expected it to be funny, but we didn't expect the show to end up being one of the best dramas of the year," Engadget writes, as it suggests binge-watching Better Call Saul.
To stay up-to-date with all the latest Better Call Saul news, sign up for Letters From Saul.
Read More