Press
AFI Honors Saul; EW, TVLine Tease Season 2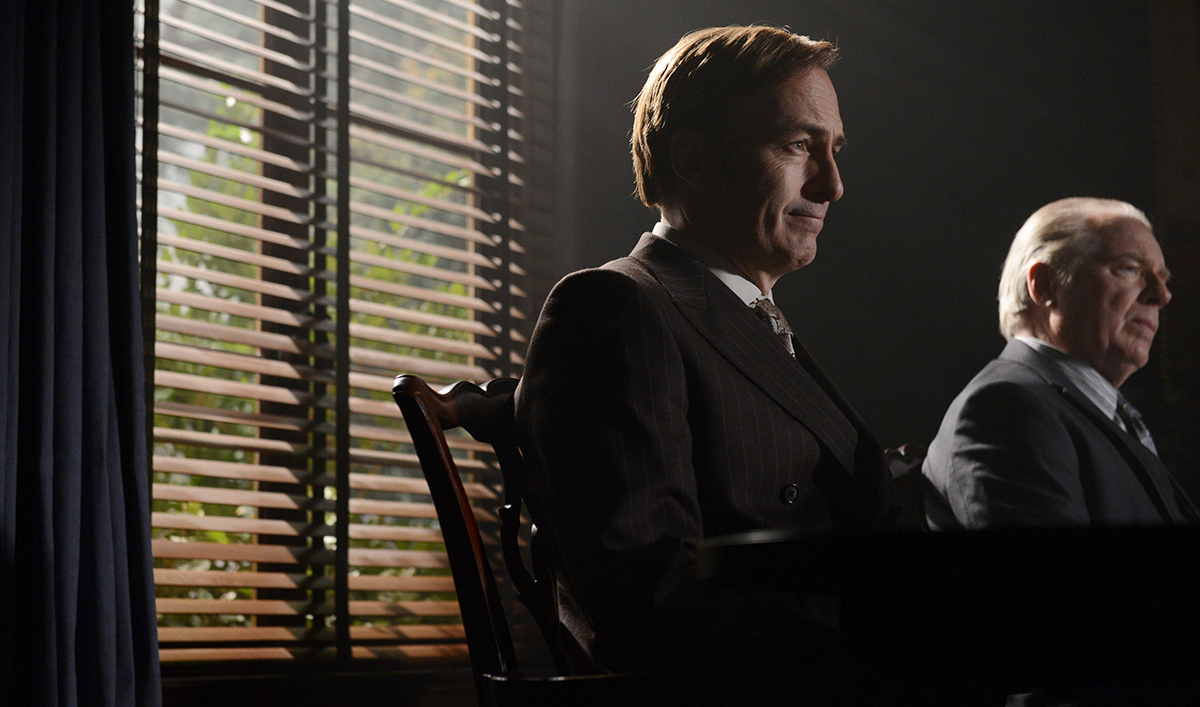 This week, Entertainment Weekly and TVLine tease Season 2 with photos and a trailer, while the AFI honors Better Call Saul. Plus, the drama is included on several lists of 2015's best shows. Read on for more:
• Variety reports that the AFI honored Better Call Saul in the TV portion of its annual awards.
• Entertainment Weekly debuts two Season 2 photos, one of Jimmy and Mike and another "a visual representation of Jimmy's struggle."
• TVLine spotlights a Season 2 teaser, observing that "it seems Bob Odenkirk's titular lawyer is having an identity crisis."
• USA Today recognizes Better Call Saul as one of 2015's top 10 shows: "The long-underappreciated [Bob] Odenkirk shines in his star turn, perfectly capturing small-time con artist Jimmy McGill on his seemingly hopeless quest for quasi-legitimacy."
• The Los Angeles Times names Better Call Saul one of the year's best new shows, observing that Bob Odenkirk's "performance as a good-hearted screw-up on his way down is shaded in ways the earlier series only suggested."
• Yahoo TV celebrates Better Call Saul as one of the year's best dramas, saying it "took on its own tone, its own rhythm, its own distinctive set of dramatic priorities that rendered it an engrossing, completely different creation than Bad."
• The Guardian deems Better Call Saul one of 2015's top 10 shows, saying it was "far better than it had any reason to be. It was funny, obviously – one initial plan involved making it an out-and-out 30-minute sitcom – but it had real depth."
• Better Call Saul is one of The Denver Post's top 10 shows this year because it "proved it could turn to comedy in an instant, and back again, with [Bob] Odenkirk's amazing help."
• "Bob Odenkirk's remarkable performance in the Breaking Bad spinoff brought a depth to Saul Goodman that wasn't present in the parent series," writes The Orange County Register, honoring Better Call Saul as one of 2015's top 10 dramas.
• Better Call Saul wins HitFix's Television Critics' Poll of the best new shows of 2015.
• "Five-O" — which features "a haunting, crushingly emotional performance" from Jonathan Banks — wins kudos as one of the year's best episodes from Yahoo TV.
• E! Online has Bob Odenkirk's reaction to his best actor Golden Globe nod: "What an exciting surprise for me! The Hollywood Foreign Press have been so supportive and willing to see what we came up with on Better Call Saul."
• MTV thinks one of TV's best characters is Jimmy, who, compared to Breaking Bad's Saul, is "a sweet, younger, funnier man who is starting to walk the murky path between right and wrong."
• Channel Guide Magazine chooses 17 things worth celebrating in 2015, including the Chicago Sunroof, which is "the story of how Jimmy ended up in prison."
• TheWrap interviews Bill Burr, who says of Breaking Bad's Kuby, "I got my fingers crossed, because I would love to play that guy again. I'd love to do anything with Vince Gilligan."
To stay up-to-date with all the latest Better Call Saul news, sign up for Letters From Saul.
Read More